If your baby gets into the fridge untended, you can be certain of two situations—first, an upset belly from unwanted food, and second, a mess around the floor.
Not all children are drawn to the fridge and play with it. But for some, it is like a light to a moth, just like mine. My two little kids used to mount the fridge for fun when they were around 4 years of age.
And now that you are here, I assume that the fridge is an issue for you too, and you are looking for ways to baby proof refrigerators. Well then, let us get right into the guide.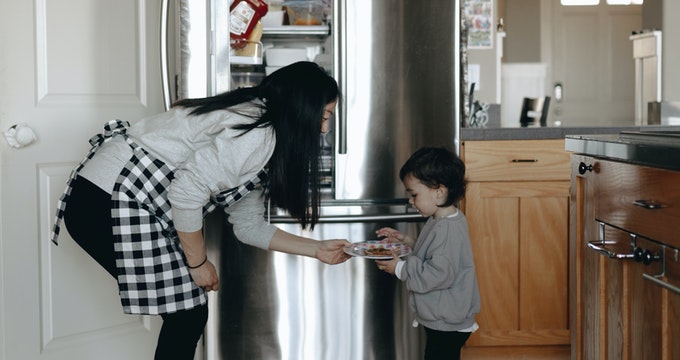 How to Keep a Baby or Toddler Out of The Fridge?
Your little kid can now walk and start to explore for experience in every corner of your house. You have placed child locks on the cabinets, removed unsafe chemicals. But, just like almost everything else in the house, the freezer can pose a threat to your children. Or even if it doesn't, it can irritate you.
Dig in to know the simple ways to child proof refrigerators.
Baby Proofing Refrigerator: 5 Simple ways
If your kids have become obsessed with exploring the fridge, it is high time to develop a solution as a parent. So, I present you with 5 most simple tips to babyproofing your refrigerator, and here they are: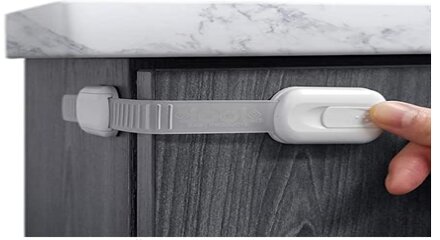 The first way is, you can buy Child Safety Strap Locks to childproof your refrigerator. You most probably already used it for your cabinets, oven, drawer, dishwasher, or closets while childproofing your house.
If not, Child Safety Strap Locks are effortless and tool-free installation. These Strap Locks can take up to a minute to childproof refrigerators and are discreet, practical & hassle-free.
These safety straps attach with a strong 3M adhesive to secure your home and can adjust from 3″ to 7″. They will fit almost any size of appliances.
Also, it comes with 10 years of manufacturer warranty.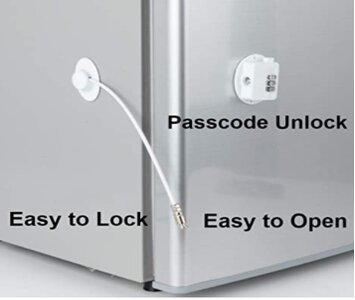 Coded fridge locks are designed to set your code and press the button to open your freezer lock. So, no trouble of losing keys, therefore, no need to look for keys.
Lock Combination Coded Fridge Lock's configuration is much more than just a freezer door lock. You can also use it to lock
Cupboards
Health care securities
Printer trays
Bottom freezer drawers
Sheds
You will find it easy to install, too, and no extra tool is needed. It just takes seconds to stick to the fridge. Simply clean the area you are applying the lock on, and stick the lockplates; do not require drilling or screws.
Lock Combination Coded Fridge Lock uses strong 3M adhesive tapes and 4 mm cable with a protective rubber case.
NOTE: It is advised to wait till 24 hours before using any force.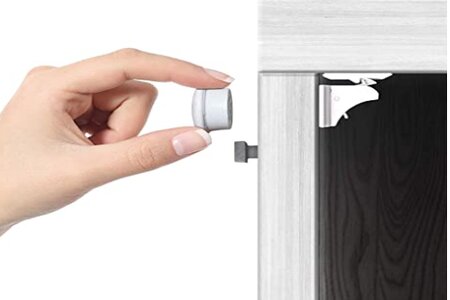 Magnetic locks are super convenient and easy configuration and come with a key made of magnets. Just put the magnetic key in the unlocking position, and you can easily remove the hasps and open the refrigerator lock.
They are easy to install, and no drilling is required. Just peel the damage-free 3M adhesive, then stick the refrigerator locks. It will also work pretty well for a side by side refrigerator.
Magnetic locks are solid and durable also. They use the strongest 3M VHB adhesive tested for a stronghold; wire cable with white protective rubber is also strong.
The magnetic refrigerator doors lock is secure and stylish and will help protect against your young children's unwanted access.
NOTE: Use it after 24 hours of sticking; that will work better.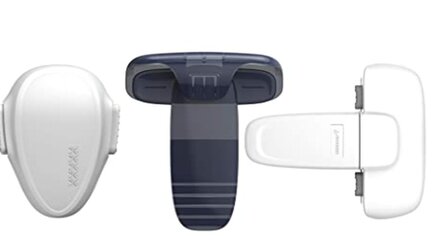 Latch catch toddler cabinet locks are a one-hand operation. It will unlock and open the fridge door simultaneously just by pulling the two buttons of the lock. In addition, their self-locking system will lock the fridge automatically without any extra steps when you close the fridge door.
A unique double button design makes it easy for adults to open with one hand, whereas harder for babies with both hands.
Exclusive design for childproofing refrigerators ONLY. No spare parts and belts are needed—no tension of clamping the lock when opening and closing. They come with two different color ranges to pick from; black and gray.
Their unique T shape design makes installation and functions much more effortless and elegant. And has a larger area for adhesive to install the lock, no need for drills or extra tools.
3M Tape with viscous solid. Only 3 steps to install the fridge lock- tear, paste and press.
NOTE: Effect will be better after 72 hours.
#5 Simply Restrict Access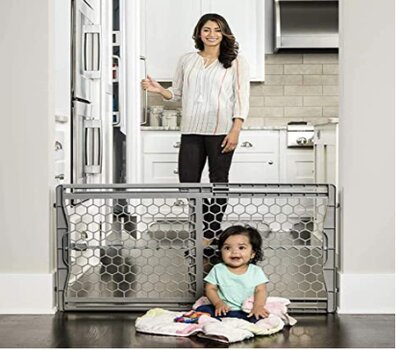 The final step you can take is to restrict your children's access to the kitchen, fireplace or wherever you keep your fridge. In that case, your option is a baby gate. A good and protective baby gate should be enough to keep your children off the fridge. In addition, it will also keep him/her safe from unnecessary hazards and danger in the kitchen (or wherever you keep your fridge in).
Also read:
Curved Baby Gates for Spiral Staircase
Best Baby Gates for Wrought Iron Railing
5 Ways to Childproof Sink Faucet
Final Recommendation:
Finally, if you tell me to recommend one of the following ways for you, I would say choose Latch catch toddler cabinet locks. In fact, this is the one I used to seal my refrigerator doors for my 4year toddler. And it worked wonders for me!
I bought their two different color shades, black and gray. And that configuration incorporated them into a part of our fridge after installation and didn't attract the baby's attention at all. Plus, they have an elegant look that matched my home decor perfectly.
Also read:
8 ways to Baby Proof Bookshelf: The Ultimate Guide
10 tips to Child Proofing Toilet Paper Holder
Childproof Blinds with Cords: Easy solution
Best Baby gate for uneven walls or a huge open floor
How to Child Proof Garbage Can?
Babyproof your Stairs with no wall