The term "baby shower" is comparatively new, but the celebrations and rituals incorporated with pregnancy and childbirth are both ancient and enduring.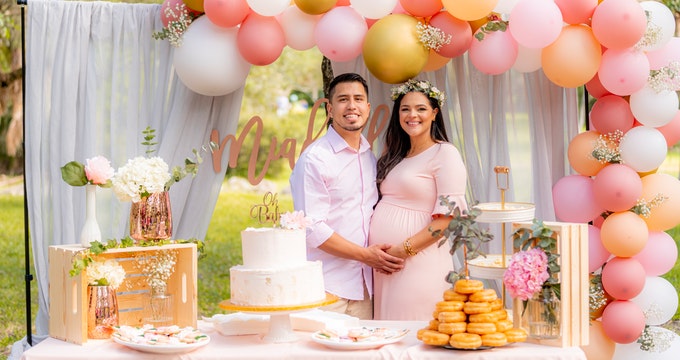 The baby shower is the family's first opportunity to gather friends and family members to help play a part in their child's life, especially when it's the first baby. People who mind for them, want to be included in the child's life, and a baby shower bestows an opportunity for them to give gifts and help, showing their love for the family.
It allows the new family to thank their close one before the stress of a new baby and lack of sleep begins. Etiquette dictates that not the parents but the best friend or a close female relative like the maternal grandmother has to take the reins; however, the etiquette of the baby shower has changed in the last few years.
Hence, when planning or hosting a baby shower, you might have a couple of questions on your mind. Do fathers accompany baby showers? What do guys do during a baby shower? Can I put them on the guest list? And many more.
Let's talk about whether guys go to baby showers or not first.
Do Guys Go to Baby Showers?
No, typically, they do not. However, they can, if the baby shower is Co-Ed.
Baby showers that include only women are still quite common because this is how the tradition was carried out for much of history.
It was the early 1900s when the Modern baby shower came to the United States. Back then it was strictly about close female friends of the mother. It was socially established that men were not allowed to attend baby showers.
As with many societal traditions, development was slow to happen, with societal pressures ensuring things kept largely in place.
Why don't guys go to baby showers?
Baby showers are not always just entertainment and games. Sometimes it's an occasion for women to be honest and open with the new mommy about what to expect during and after birth. Some of these concerns may involve complex details about unmentionables. Therefore, guys may find it uncomfortable being there.
There's a lot of anxiety that comes with labor. Thus, to help the new mother cope, other moms will sometimes discuss their own birth stories, in particular too, which might be too much for some men.
Also read: Things to Know Before Drinking Ensure while Pregnant
Are Baby Showers Strictly For Women?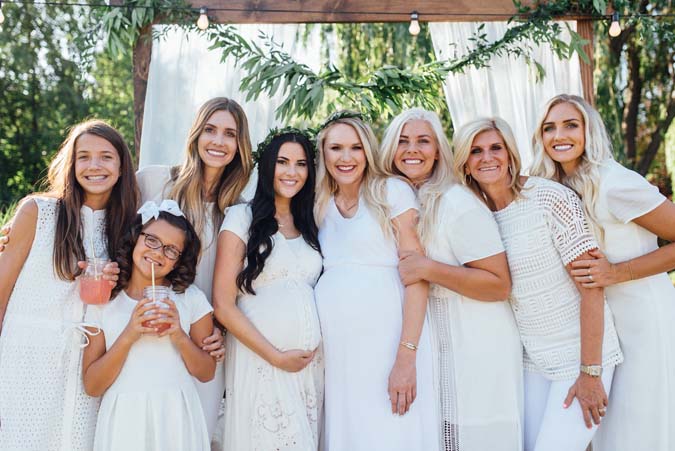 Co-ed baby showers are becoming more and more popular, while common baby showers consist of women only.
Having the dad-to-be attend an orthodox baby shower is totally acceptable and appropriate as most dad-to-be will want to thank guests before they leave.
More and more people are now opening for co-ed baby showers. Rather than women-only affairs, men get to be part of the celebrations as well.
Who Should You Invite To A Baby Shower?
The baby shower is one of the most significant events before the new baby arrives. Daddy-to-be will want to share the special time with her friends and family members as well as Mummy-to-be.
After all, they are in this together. And that is why they both get to include people close to them in the guest list to share in their journey as they become parents.
Close family members and friends should be summoned to the baby shower. Always conferring with the mom-to-be on the guestlist is mandatory, she might have any co-workers or friends she wants to add to her special day.
The new mom also may have a few people she does not want to accompany, so it's best to run the final guest list by her before sending out invitations.
If you have a few distant but important relatives who cannot attend, don't worry, you can consider Skyping them during the thank you speech.
Can A Men Throw A Baby Shower?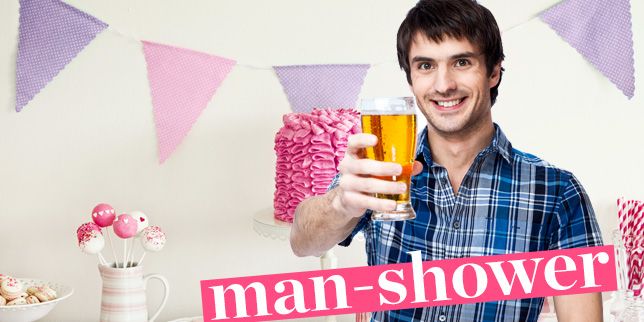 Rather than having the shower for mum and dad combined, you may have separate showers for the two. Dad-to-be can have his shower or diaper party, strictly for chaps.
Fathers need support too. Therefore, having friends and family members get together to share their dad's stories may help.
Men aren't expected to enjoy the oohs, the cry fest, and all the mushy stuff at baby showers. Thus, their separate showers will help them open up in a manly way and let the dad-to-be process anxiety.
Get the fellows to get together at the same time that the baby shower is on? But instead of mingling, have them in a different place like a living room, where they can watch sports, drink, and hang around while waiting for the ladies.
Fun Ideas for A Men Version of A Baby Shower
Baby shower occasions have a usual formula: from finding the best places to have a baby shower party to invitations, decor, cake, food, games with rewards, and the oohing and ahhing over tiny baby clothes and cute gifts.
Traditionally, most guys will say they have been just excellent with that until now. The "diaper party," or baby shower for dudes, is properly becoming a thing.
Beer-diaper cake centerpieces, Invitations with themes like "Huggies for Chuggies" are all part of these fetes for dads-to-be, the newest trend.
Possibly, you can drink beer out of baby bottles and the guest of honor can wear a T-shirt that says, "The dude behind the bump."
Also, you can enhance a cake to look like a beer can with a diaper.
10 Cool Tips For Men Version Of Baby Showers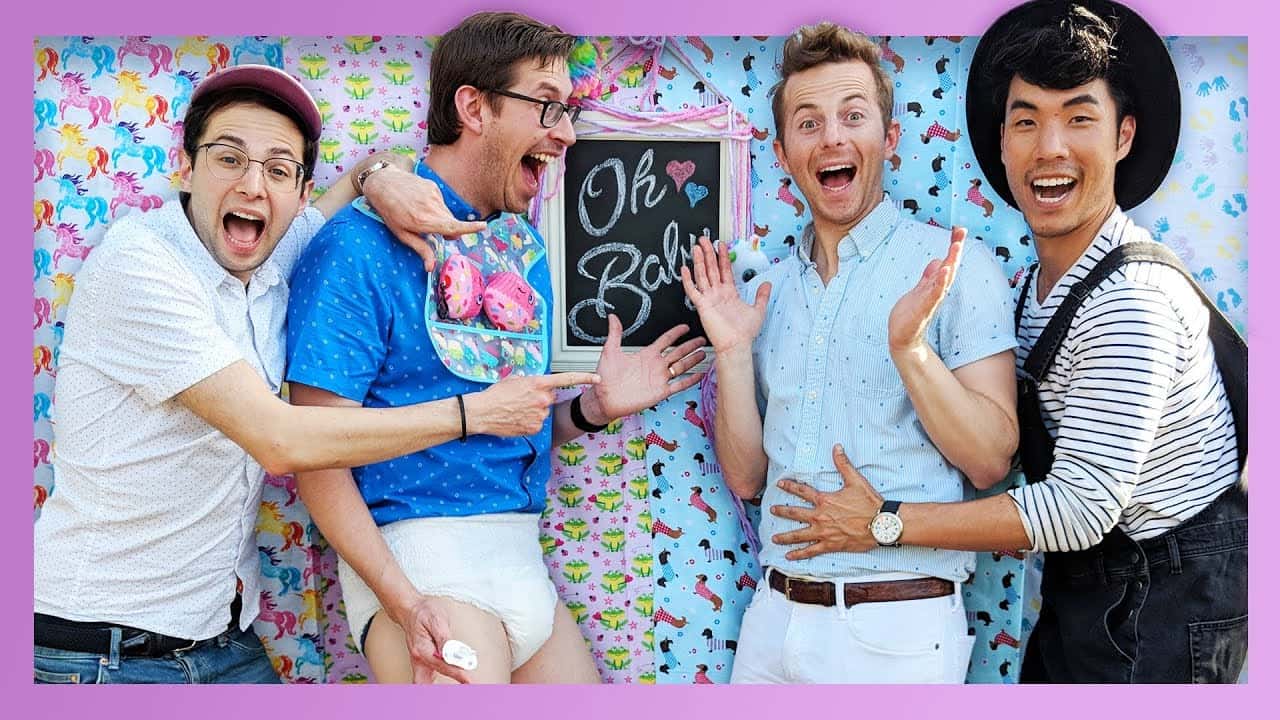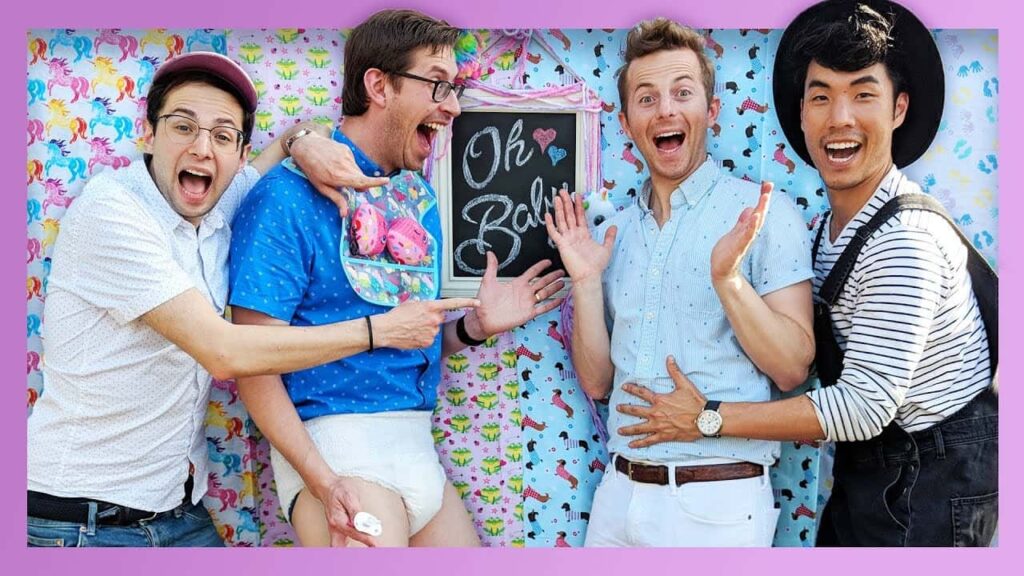 1. Choose A Dad-Tastic Theme
One of the best places to have a baby shower can be possibly a poker night with a barbecue in your backyard.
For a rocking party, stock up on festive "Daddy Baby-Q" party supplies, including decorative cupcake wrappers, bottle toppers, and more.
Or, for a more buoyant feel, you can decorate drinking glasses and more with charming mustaches and bow-tie chalkboard labels.
2. Design a Man Cave
Whatever your theme and location, add some firm elements to your party to make the estrogen-challenged guys feel at home. For a posh yet man-friendly lounge setting, you surely can hire a professional party planner.
3. Send Out Manly Invitations
Certainly, the guys may be cool with just typing up an email invite; merely a printed one will make the party feel more exceptional, just like the celebration of his approaching fatherhood should be.
4. Update Traditional Baby Shower Elements
The diaper cake which is traditional, will still be appropriate for dads—won't he be changing diapers after all, moms?
5. Serve Guy Friendly Food
Guys might be fine with a bag of chips and a case of beer, but their taste buds will likely appreciate some gourmet goodies as well.
I recommend attaching various snack selections with spicy beef jerky, pork crisps, and wasabi peas, each paired with a local craft beer.
Here are the 51 Most Delish Baby Shower Appetizers by Delish.
6. Focus on The Bar
It isn't right to focus on anything brewed, because the guest of honor at a mom's baby shower has to renounce. Luckily, dads-to-be don't have that problem. A tasting counter of whiskey or tequila can be a fun and decadent action for all involved.
7. Tempt With Tipsy Treats
Liquor can also be included in the sweets and treats on a daddy's dessert table. The cream cheese frosting is spiked with lime and orange punch and zest.
Want something a little, cheekier? Give the soon-to-be dad a reminder of diaper duty with poop emoji cupcakes.
8. Modify Standard Baby Shower Games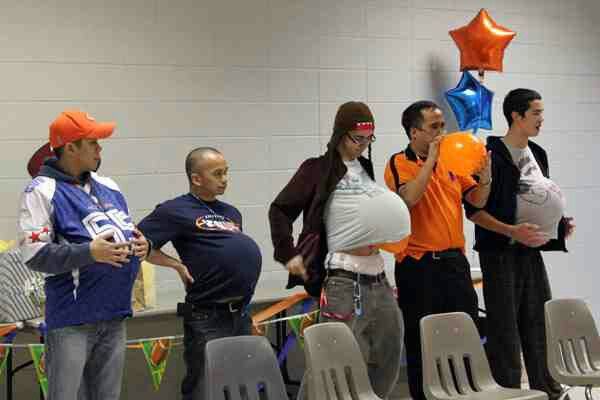 Adding some baby-themed games and activities can bring the focus back to the guest of honor's approaching fathership; whether or not the men are busy playing golf or dealing poker.
Of course, you can insert these with testosterone to boost crowd appeal. Diaper-changing competitions, pin the sperm on the uterus challenges, and sperm-shaped cornhole toss will all get the men's competing juices flowing.
The guy friends can also spend some time at diaper parties encountering what it's like to have a giant baby bump by putting balloons under their shirts.
9. Give Baby Gifts Just For Dad
Dads-to-be aren't likely to get thrilled about uncovering frilly onesies or the most eco-friendly bottles, so instead, recommend his friends to bring gifts geared more to his tastes rather than typical items.
One cool option is a diaper-duty tool belt to stock the man with must-have items for changing times.
Another option is a kid's car seat, which will not only amuse the dad-to-be but is also a great option if you want to gift something that will be useful in the long run.
If you want to gift something more budget-friendly that is also practical, opt for portable diaper changing stations or baby dinnerware. For instance, baby weaning bowls are a necessity, as they are very important when introducing babies to solids. Many of them have a suction feature, that will also help daddy to prevent the mess while feeding.
10. Pass Out Functional Favors
For favors, send the guys off with something they'll use, like Jack and Coke kits, other fun options like beer steins loaded with bottle openers, bar towels, candy, personalized golf balls and tees, and perhaps custom-made can koozies.
What Do Guys Do on A Baby Shower?
Men do the typical stuff that is done during baby shower occasions. They can play some fun games, for example, have couples change a diaper while holding hands or off to the hospital rush race.
There are endless activities some can do which will keep everyone happy. Oh! And additionally, they give presents.
Since co-ed showers are comparatively new, the host needs to consider suitable activities for both genders. Therefore, you will want to changeover things up a little bit in order to have a program designed to provide for both gender roles.
4 Ideas on What to Do at A Baby Shower With Husbands Or Dads?
1. Give Them A Chance to Prepare Food
Men may not enjoy baby showers as much as we women do and for them, coming to a baby shower is pretty reluctant. Give husbands and dads a chance to bond and get to know one another while the women chatted., this can take off the edge.
You can give the men a role in preparing the food, just like, "Hey, would you mind being the one to watch over the boiling?"
2. Create Gift Fun
It is fun to challenge men to bring their favorite go-to baby item. And have their wife do the same! Then let the couples in participation surprise each other with what they brought.
As their friends reveal the item, they can explain to the guests why this is their favorite gift. If they do not have kids already, this can be even more fun to find out what they pick!
3. Make the Men Get Mushy
As one of the shower activities, the therapist in me loves this!
Guys are normally less likely to talk about their feelings without being incited, but they can oftentimes amaze us with their insight and emotion when asked. Have both of the parents write the best lesson they ever learned from their parents.
After the advice is written down, the guest of honor can read the advice and guess who gave it; whether it comes out funny or not doesn't matter.
It is not only about making the men feel included but will likely bond the women to the men when hearing things they have probably never spoken about.
4. Make Them Come Up With a Lullaby-
For a fun and inventive game, pick three songs that hit on the radio. Have the women and the men divide into groups, and ask them to pick their favorite song or music.
Next, tell them that their task is to come up with a lullaby to the song's rhythm and tune. Such a fun way to confront the men to get in touch with their inner warmth and nurturing side.
Closure
Today, baby showers are not strictly women only, with more and more baby showers becoming receiving of men to accompany. Of course, this is a personal choice of the mother and will ultimately come down to her likings. The male also has to want to attend, which isn't constantly the case.
A baby shower's point is to support and share the love with the expecting parents as they prepare for the new arrival. Letting men join in may create a warmer, more loving environment. It allows everyone to be able to show their love and enthusiasm for the joyous new arrival.
Nevertheless, as more and more couples have decided to allow anyone to attend, the social obligation of letting men attend has gone down, which has led to an expedition in co-ed baby showers.
In my opinion, a very needed change indeed.