My daughter was put into the mamaRoo by the nurse right after my delivery. I am also been a fan of this magnificent 4moms mamaRoo from day one.
It's a standard procedure to put the baby in the baby swing, especially in hospitals, to comfort the newborn. This product is a mixture of hard work and sheer brilliance, making every day easier for us.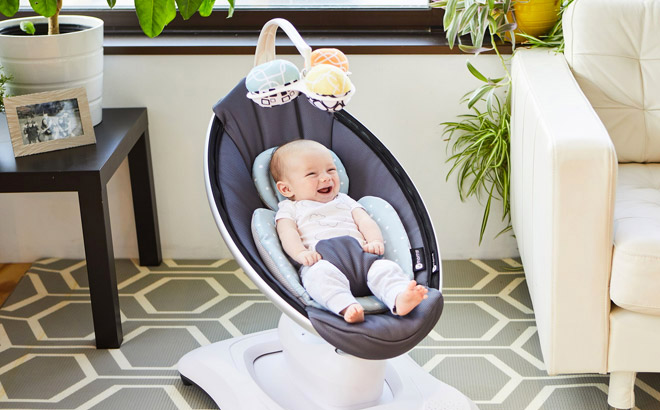 To pick a baby swing out of an ever-rising market is a tough job. I've used it, and here I am writing mamaRoo swing review to make sure that you choose the best possible swing for the little one.
Table of Contents
4Moms mamaRoo Product Specification Table
| | |
| --- | --- |
| Product size | 33 x 19.5 x 25.5 inch |
| Item Weight | 19 pounds |
| Available Color | Glossy white frame with three fabric options |
| Manufacturer recommended age | From newborn to 6 months |
| Battery Required | NO. AC powered |
| Manoeuvres | Static |
| Warranty | One year manufacturer's warranty |
| Activity Includes | · four built-in music with the option to plug in the phone.· Unique motions are ensuring five unique movements.· Toy balls on top captivating the baby gears. · Adjustable seat |
MamaRoo Baby Swing Full Review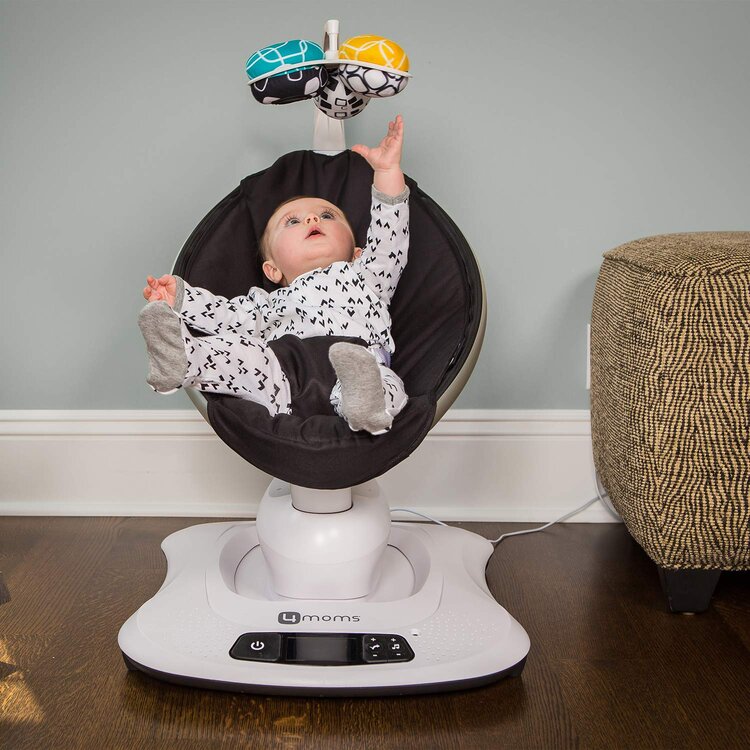 Brand 4moms has revolutionized the industry bringing in new features in their baby gear. MamaRoo baby swing has heavily impressed me with all the quality and features it has.
The price of the Mamaroo is more than a Rockaroo. Of course, you don't have to break a bank for the money.
But when you see the additional features you will get, the price becomes justified.
In terms of rocking or swinging options, there are five distinctive motion modes for that. It also has a unique sound system to set the mood. I'll get there in a moment. First, let me explain the modes in short.
The five modes we are talking about are Kangaroo, Car ride, Tree swing, Rock-a-bye and wave. These are all handy modes to soothe the baby and give away a feeling that you are holding the baby.
You can already sense that this piece of technology is very efficient. So, the manufacturer took the liberty and made it even better. You have full control when you operate from the bottom of the swing. Apart from that, there's a dedicated app that allows you to enjoy full control of the MamaRoo. That's not all. Here, I've pointed out core features to portray a complete picture of how great the swing is for the baby.
Built quality: The mamaroo is sturdy. Quality plastics are gathered for the making of this product. Seat fabrics are nylon made and easily washable. You can remove them and put them in a washing machine.
Swing options: You'll get five swing options that we already talked about. You can control the motion speed with the mobile app or the base. You'll be surprised how well the simulated real-life movements.
Speed control: Speed is easily controlled with an app. Sleep helps relax the baby and also to rest. Usually, the speed is a little slower when the baby is relatively young, or I must say, newborn. A little older baby can enjoy a more significant pace.
Height adjustment: Recline of the seat is also adjustable on this high tech. You can choose the height of the chair as per your preference and your daughter's need. The height
Music: This part is quite astounding of the 4moms mamaroo. I remember plugging in my phone with the baby swing while trying to feed my daughter. It's fun and kills the monotony. This innovative product also adds four fixed music, which is utterly relaxing and enjoyable too.
Is it too loud: With all the music, it still isn't that loud, which is a good case. With distant and slow music, everything will seem a bit more relaxed.
Games and fun: There's a removal toy bar for the baby. Unlike some RockaRoo, it gets the attention it deserves, but that is not up to the standards of this mamaRoo. The toy balls are detachable, and you can place then the baby is in the mood for fun.
Price– The money required is standard for what you are getting. It is justified looking at the features but, indeed, not a steal.
Fitting- Brand 4moms is useful baby equipment that fits babies up to 25 pounds or six months. As I said before, my daughter was placed right in on the first day and used the swing till she was five months old.
| PROS | CONS |
| --- | --- |
| Five dedicated Movements, all are top class | Speakers are not up to the mark |
| Futuristic additives and performs well | The toys are rather bland and can't occupy the child for much longer |
| Built-in music, phone plug-in options | Some customers faced a problem with Bluetooth |
| Fabrics are easily washable | Hefty price tag and even costlier upgrade |
| Controlled by phone | Enter your text here… |
| Good, compact size | |
| Seat recline and a robust lock to hold it up | |
Why is MamaRoo different from a regular swing?
The footprints followed by the 4moms mamaroo is just on a different level. Mamaroo comes with new sets of features that were not available in any of the previous baby swings.
What made me believe this? It was the movements. Those were so much identical to how I hold my daughter. The company paid a lot of attention to this fact. Also, the seat recline is a new feature that many of the regular swing dreams of.
There's more to it. Features like music, washable fabrics make a crucial difference. Brand 4moms are on the highway to success with this high tech baby swing.
With all the positive, a slight negative difference is also there. The price segment is a bit high for this mamaroo baby swing.
Frequently Asked Questions (FAQ)
Is 4moms mamaRoo safe?
Yes, 4moms mamaRoo is very safe compared to the other products of this sort. Good fabrics on the seat cover, height adjustments, and weight limits are the blueprint of this product's safety measures.
It is one of the safest swings available in the market. It would help if you were not making a habit out of it, as continuous usage can have detrimental effects
Can a baby sleep in 4moms mamaRoo swing?
Babies enjoy a sound sleep in the new Mamaroo swing. The rocking can help them fall asleep, and then they can be placed in a suitable environment.
It can be good training for babies that are six months old. They learn to sleep on their own and soothe themselves.
Babies quickly develop a habit of rocking and staying awake unless you pat them. This habit is something that babies can't be put up with forever. So, after a specific time, you should break the habit.
What age is mamaRoo suitable for?
From newborns to six-month-old babies are suitable for the rockaroo. You should pay attention to the age and weight limit. Babies, when they exceed 25 pounds, should not be put into the 4moms mamaroo.
When the baby tries to climb out of the rockaroo or easily sit by itself, the baby swing is no longer appropriate.
Can you put a newborn in mamaRoo?
You can put the newborn in the mamaRoo because the design allows accommodating babies up to 6 months.
The seat is specially built for infants allowing free movements and abundant motions.
Due to the weight limit, it can only accommodate babies up to 25 pounds, but that is not such a headache as you have to get rid of the habit in the later stages.
4Moms mamaRoo Swing Review: Verdict
Coming from a mother who used it, this product is a magnificent one. I was so satisfied; I even gave them a five-star rating. With all the modern additives, the control and the movements are better than ever.
Also read: