When it comes to caring for your baby, you want to choose the safest and most comfortable option.
There are bunches of options to calm your children down, like baby gear, bouncer, or swing. But one device has been around since long before modern parenting came on the scene: the baby swing!
Many choose not to use a traditional baby swing because they seem old-fashioned or hard to clean. However, many parents swear by these devices and claim that many babies sleep longer in a swing than at any other time during the day.
Other parents enjoy keeping their children in a bouncer with soothing motion, which is similar to a swing but sits flat on the floor.
Baby Swings vs Baby Bouncers: A quick summary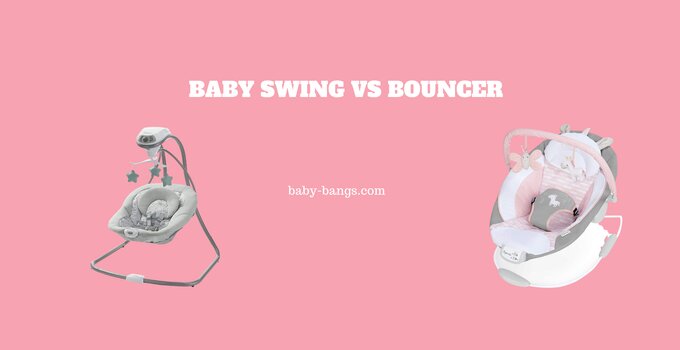 A baby bouncer or swing are both devices that calm a fussy baby, comfort the child, and allow new parents to have some free time. However, there are important distinctions between these two items.
The main difference between a baby bouncer generally sits on the floor while a swing generally hangs from a stand or frame.
In addition, the best baby bouncers are more closely related to a baby rocker as it does not move automatically. And it has a handle where you can push your baby back and forth or side to side, so they don't get bored with being in one position for too long.
Baby bouncers are a good option if you only have one moment during your day when you can sit down, relax, and hold your baby. Because you can use this device instead of having to hold them your entire time.
Baby swings are made to continuously rock back and forth or side to side, giving your baby unlimited access to something that moves without you having to work for it.
Also read: Exersaucer vs Jumperoo: The Ultimate Guide
When to use a baby swing?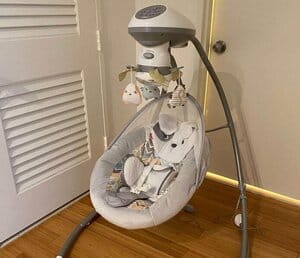 Some parents love the idea of a swing because babies love the fact that it mimics what they feel like when they are in their mommy's tummy. Babies often sleep more soundly on these devices than they do on their own at home. And it is because they resemble the feeling of being inside mommy's tummy!
Types of baby swing
There are 4 different types of baby swings available. Each fills a slightly different meaning and purpose and has its own benefits. So it's best to see what type is right for you before you make your purchase.
Full-size
Full-size swings are larger and weigh more than their smaller counterparts, which makes them less portable.
Travel swings
Travel swings are perfect for taking with you when you're on the go. Since they are small and lightweight, you can easily bring one with you to grandmas' house or take it when you travel. Or, if you already have baby gear, you can go for the normal baby swing.
Portable baby swing
A portable swing is a similar option to a full-size swing. But it folds flat into a compact carrying case for easy transport and storage. The average weight limit for portable swings is around 20-25 pounds.
Battery or plug-in operated swings
Many swings are battery powered rather than mechanically powered with power cords, which allows you to put them in just about any safe place in the house – no need for an outlet nearby.
Battery powered devices also tend to be more lightweight, which makes them better for travel use as long as you carry the batteries required.
With a plug-in swing, you won't have to worry about running out of batteries when you need them most. And that's why I prefer the plug-in swings with AC adapters.
What are the age and weight limits of baby swings?
Generally, most baby swings have weight limits of twenty pounds or less and age limits of six months or less.
However, some models of best baby swings go up to twenty-five pounds and eight to nine months. So it is very important to know what your child weighs and how old he/she is before purchasing one to make sure the swing safety.
Read the full guide here: Maximum Weight and Age Limit of a Baby Swing
Where do I put a baby swing?
Swing stands are available to place the device in any room of your home without taking up too much safe space! You can set it up in an out-of-the-way area where no one will bump into it or accidentally knock it down while trying to get around it.
Another option is to purchase a travel swing that is smaller and lighter than standard options but still has all of the extra features and benefits of a larger model.
Note: When deciding between an in-home swing and a travel option, it is important to think about where you will be using the device most.
Benefits of baby swings
Some of the benefits of owning a swing include:
The best baby swings can make your life easier because you don't have to hold the baby all day long. And its main job will be soothing babies.
It's also useful for parents who are trying to transition their baby from breastfeeding or bottle feeding to eating solid foods on his/her own since it enables them to sit down and relax while giving care.
Daily activities such as showering, cooking dinner, and folding laundry become easier since you can stick the baby in a swing, so he/she is safe and entertained.
Disadvantages of owning a baby swing
There are some sacrifices with the baby's development that come with using a swing. The significant ones to know about are:
When babies are left in a sitting position for too long, it can cause their hips to become misaligned. Later on, it leads to issues down the road when they begin walking.
Another thing that parents do not realize is that while they sit back and relax while the baby swings, he/she may be working harder than they think.
How much do baby swings cost?
The best baby swings can range in price from $30 to $160 depending on the brand, model, and features that come with them.
My Favorite Swing Set
Graco Simple Sway Swing
After I gave birth to my daughter Lucy, we were looking to buy a swing. We did not want to break the bank, and we wanted to get the best value for our money. So we decided to purchase a simple and affordable Graco Swing. And apparently, many other parents have made this same decision because I saw it on every review website that I visited.
The Graco Simple Sway swing gently rocks your baby side-to-side, providing the soothing rocking motion they need to calm and relax. With six different swing speeds, you can find the perfect pace for your little one.
And the deep, plush seat and head support keep them cozy and comfortable. Its compact frame design allows it to fit easily anywhere in your home. And the two-speed vibration provides an extra layer of comfort.
Also read:
When to use a baby bouncer?
When babies are not sleeping, they are often happier in a baby bouncer or baby rocker. It is simply because most babies enjoy being upright rather than laying down all the time.
It means that most people who have used both options will tell you that baby bouncers suit newborns very well but swings suit infants better.
Note: Always look at what other people have said about the baby bouncer that interests you. This way, you can find out if they actually do what they are supposed to do or not.
For example, most parents claim those baby rockers are great for when the baby is a newborn. Whereas some parents have said that their babies do not enjoy them because they feel stuck in the baby bouncer seats in the reclined position.
What are the types of baby bouncers?
There are 3 types of baby bouncers-
Standard:
Standard baby bouncers are usually bulky and not very portable. They do, however, provide a sturdy and safe place for the baby to sit and bounce. And it may be easier for you since you can use both hands.
Note: Some parents will set up their stroller next to a couch at home so they can easily lay down the baby on it if needed.
Rockers:
Baby rocker bouncers are perfect for babies who need a little help falling asleep in a bouncer because of their gentle rocking motion. They are also very convenient for travel since you can easily pack them in your suitcase.
Bouncer/Swing Combo:
A combination of baby bouncers and baby swings provides both options in one package. They can be used as a baby rocker or stander when placed on the floor and also fold down easily to become a baby swing.
Note: Some parents like to buy two separate devices (one baby rocker/stander and one baby swing) instead of an all-in-one product.
Also read: Best Baby Jumper Walker Combo
What are the Age and weight limits of baby bouncers?
The age and weight limits for both baby bouncers and baby swings vary from product to product and your baby's movements.
You need to look at the product description or specifications to see what they are.
Many baby bouncers have a weight limit of 25 lbs and can be used from birth till 6 months old. Some others can accommodate older babies weighing up to 40 pounds and having the ability to use it until they are 2 years old.
Note: Make sure to read the safety guidelines carefully before use! For example, the instructions on a basic bouncer like Graco baby bouncer will tell you that you should not use it until the baby's head is up by itself. However, some other bouncers have age limits that start from birth.
If your baby bouncer has a removable toy bar, make sure it is attached tightly and your baby won't be able to remove it. Unless chocking hazard may occur.
Read: Baby Jumper Age Limit [Complete Guide]
How do I know if my baby is too big for a bouncer?
Despite the fact that you are using a bouncer or swing, weight is a crucial matter to consider. The prevailing rule is that babies can use bouncers until they can sit up on their own. If your baby shows signs of being strong enough to do this, then he or she is probably too big to sit in the bouncer.
How much do baby bouncers cost?
The prices vary depending on the type and brand that you buy.
You can consider paying anywhere from $20 to $150 for a new & best baby bouncer, with some brands costing more than others due to their popularity or different features.
Note: If you are interested in buying a new baby bouncer, then look at online reviews before you do so to see if the model that interests you has any issues that would be a matter of concern.
Advantages of Baby Bouncers
It helps control your baby's movements.
Most bouncers keep your fussy baby occupied from natural movements with so many entertaining buttons and toy bars.
Baby bouncers help parents to let them do some housework or other tasks.
It can be taken anywhere you go.
Disadvantages of Baby Bouncer
Too much time on a bouncer can harm a baby's development, Like-
If your baby moves a lot and you leave your baby unattended, he/she can tip it over if they try hard enough, which can cause injuries.
Too much time lying on bouncers tends to grow the possibility that your baby may develop a flat head.
My Favorite Baby Bouncer
Fisher-Price Portable baby bouncers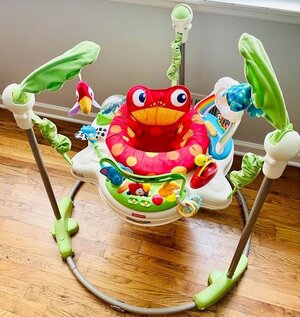 I like the Fisher-Price Portable Baby Bouncer. If you do not wish to spend a bulk of money on baby bouncers like me, you should consider this one. This best baby bouncer has a lot of good reviews, and the price is not high.
The Fisher-Price baby bouncer is a must-have for parents who want their babies to relax and enjoy soothing motion and music while giving some rest to their tired arms. This baby bouncer includes an infant insert that provides extra support for newborns.
As your baby grows, you can remove the insert and use the bouncers as stationary vibrating seats with two calming vibration speeds. With its lightweight design and non-skid feet, the baby swing can be moved easily from room to room or outside on warm days.
Things to remember before buying baby swings and baby bouncers
Safety:
Look for baby bouncers and swings that are sturdy, well made, and have no sharp edges or hinges. Especially if yours is a fussy baby.
Make sure to read all the safety guidelines before buying a baby bouncer or swing.
Age/Weight range:
Note the age and weight range restrictions on the box of both bouncers and swings or in the manual. Before selecting a baby bouncer or swing, you must understand how much your baby can weigh and exactly how tall they are.
If the weight limit is 20 pounds, then you would not want to buy baby bouncers and swings that can hold babies up to 40 pounds since they will have served their purpose by the time your baby reaches that weight.
Ease of cleaning:
No parent likes to deal with baby bouncers or baby swings that are difficult to clean. Look for both bouncers and swings that are machine washable. Or one that can easily be wiped down and has no small crevices or separate toys that need to be removed before washing the baby seat pad.
Ease of use:
Make sure the baby bouncers and swings you choose are lightweight enough for you to carry around your house.
If you plan on traveling with your baby bouncer/baby swing, then look for one that comes with a carrying case or is foldable for easy storage in the car.
Additional features:
Most baby bouncers and baby swings include additional toys hanging from a removable toy bar to keep your baby happy while they are playing. However, if you wish to save up money, then you could just purchase a toy separately.
Other baby bouncers and swings include vibrations to soothe your baby when they are upset. If this feature seems helpful to calm your child, choose one with different vibration speeds.
Some best baby bouncers have a function of baby gear to use when you are out about.
Special needs:
It goes without saying that any baby with special needs will need a baby bouncer and baby swing with added features to help them.
Parents of children with Down Syndrome should look for padding on the bouncers and swings baby seat and leg openings as well as a wide base, so their child does not fall through.
Some best baby bouncers and baby swings even have straps or safety harnesses to keep them secured to a chair or table.
Baby bouncers vs baby swings: Which one should you choose?
The best way to choose between baby bouncers and swings is to think about one thing: Whether you would prefer constant rocking motion throughout the day with limited activity from your fussy baby (swing) or if you would like them in an upright position for several hours at a time while you take care of the other things around the house (bouncer).
If mommy needs time to get chores done or a break from holding her little one, then the baby bouncers might be the way to go. If you would rather have a rocking motion going on throughout the day while you're at work or doing other things, then a baby swing may be your best bet.
Above all, either of them can be the best option and a game changer in your parenting life.
Read my other baby swing blog posts: