Being the parents of an infant, you must be gushing over the fact "has your baby is aged enough to be on a jumper?" Or is there any age limit for a baby to use a jumper?
Well, yes, there is.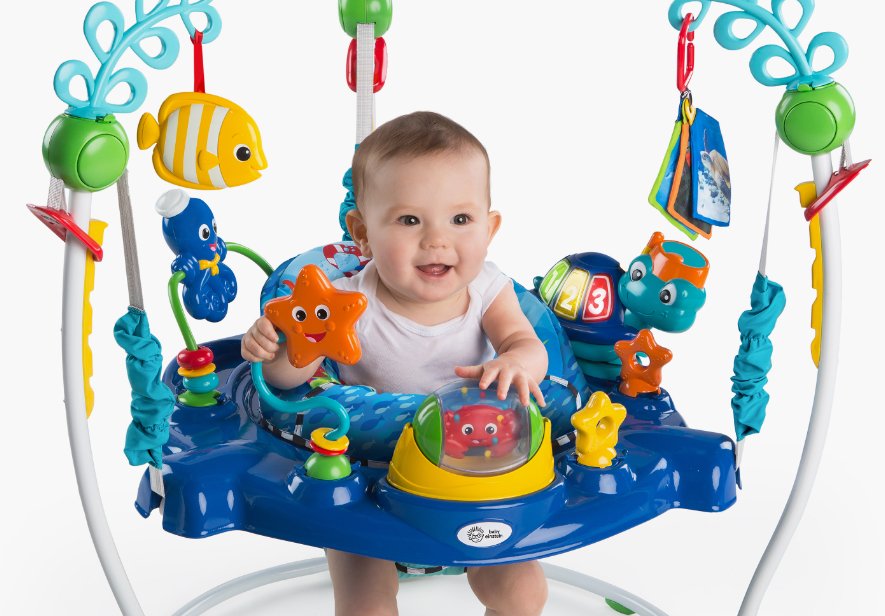 A baby jumper has multiple facets of benefits to your child, and it maximizes if used within a specific time frame. Though none of the theories has established any particular baby age limit to use a jumper safely, in general from 4 to 12 months is calculated to be the favorable time frame.
Proper exposure to the fact "baby jumper age limit" can make the baby jumper the toast of your parenthood.
Follow the write-up till the end to figure out more elements regarding a jumper for babies.
Do Babies need a jumper?
Truth be told, a jumper probably is not mandatory, but it is beneficial for your child's overall growth. It profits both the physical and psychological development of a baby. It even plays a dynamic role in enhancing the walking skills of a kid.
Healthy jumping and bouncing also help babies to gain leg muscle development. It appears as a form of healthy exercise to the child and enhances sleep patterns. Apart from the physical benefits, jumping can appease your ears with your baby's loud giggle and laughter as a jumper baby mostly enjoys this activity.
The bottom line is babies need a jumper for balanced mental and physical progress, and investing in the best baby jumper will sure pay you off.
At what age can babies use a jumper?
To maximize a jumper's benefits, parents must get a clear idea when a baby can indulge himself in a baby jumper. There is no such specific age to start using a jumper. Initially, after the first 4 to 6 weeks, you can give your child a lovely baby toy that can be grasped within the little fingers.
Many parents recommend 4 months and some other supports 6 months to be the appropriate age for the child to start using a jumper. But some prerequisites need to be considered, and they are:
When your child can hold the head or neck for several minutes without assistance, it is considered the proper time for a jumper. A 3 months old child can generally do so, but it varies from babies to babies. Some may attain this stage at 3 or 4 months, and others can take up to 6 months. Infants must be able to support the torso as well before using a jumper.
Arguably there is a physique and weight limit as well. Twenty-five pounds or less weight and 30 inches tall or less are considered to be the ideal limits.
The takeaway for you is to let your baby start using a baby jumper from 4-6 months as the maximum numbers of parents, and specialists recommend this age limit.
Check out my Favorite 3 Baby Jumper picks with high weight limits

Fisher-Price Rainforest Jumperoo
---
3 adjustable height position
Maximum weight limit: 12kg
Certified frustration-free

Baby Einstein Neighborhood
---
Lights and Melodies
Maximum weight limit: 11kg
4 height adjustments

Disney Baby MINNIE MOUSE
---
12 toys and activities with extra toy loops
Maximum weight limit: 11kg
Long Battery life: 96 hours
When do babies stop using jumpers?
There are no complete guidelines on when to start using a baby jumper; the same goes for when to stop them. Some suggest 6 months, and some suggest that 12 months of age is apt to stop using a baby jumper. But several facts can be taken into consideration.
Whenever the child starts crawling or climbing, it is the right time to stop using a jumper.
Once the baby learns to walk, the baby jumper is not needed anymore.
According to the manufacturer's guide, most brands offer the maximum weight to be 25 pounds, more than that should be restricted. There might be height restrictions as well (read the manufacturer guideline carefully).
Safety Warning: Do not keep your baby on jumpers for more than 15 to 20 minutes. However, many of the experts suggest that the time can be increased gradually. Be wise and keep it safe and allow your little one the highest 20 minutes on a jumper. The frequency should be no more than twice a day.
Can 3-month-old use a jumper?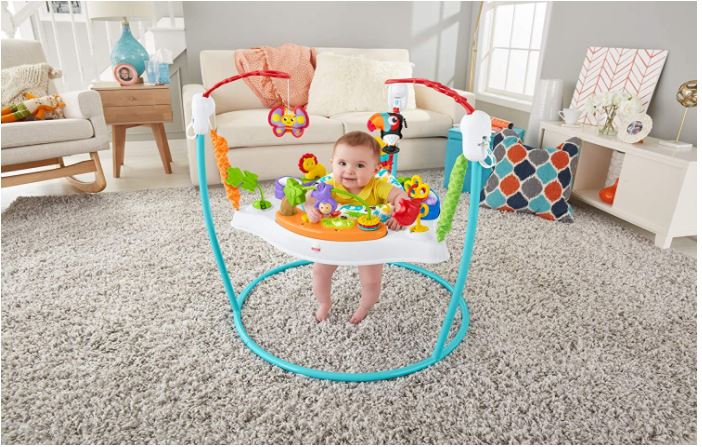 To be utterly precise, yes, a 3-month-old baby who can hold the head and neck without any support can use a baby jumper. Even records claim that a 2-month-old baby may use a baby jumper; it merely depends on whether the infant is ready physically or not.
Can you bounce a baby too hard in a bouncer?
NO, absolutely not. It can be fatal for your little angel. Often, babysitters due to lack of experience and even parents bounce baby too hard on a jumper.
It may result in shaken baby syndrome, behavior disorders, seizures, permanent disabilities, hearing and speech disorders, cerebral palsy, sight issues even blindness, severe brain damage, and other health concerns.
If not so severe, hard bouncing can result in prolonged vomiting, lessened speech or response, breathing problems, loss of appetite and breathing issues.
The Ultimate Buying Guide: Things to consider before buying a Baby Jumper
An efficient buying guide can prevent repetitive buying; thus, check the buying guide below to identify the best among the ordinaries.
Material
Regarding the frame, high-quality plastics are good, but metal frames are the safest. Always avoid low quality plastic frames as it can lead to breakage due to continuous usage. The material must be strong enough to hold a baby's weight.
The seats should be padded to add extra comfort. Washable, preferably machine washable material, works great to limit the manual hassles.
Seat Size
Different brands manufacture different seat dimensions. If you have a chubby child, consider the seat size to be wider. And for regular or thin kids the, standard seat size would do well. Apt seat size is mandatory as loose or tight seats would be discomforting.
Seat flexibility
During the usage time of a baby jumper, babies can grow by a couple of inches. A baby jumper with a higher adjustable range is convenient to adjust the seat altitude. No matter how much your child grows, you can always change the seat altitude as per the requirement.
Toys
Every jumper comes with a baby toy bar to entertain the infants. An excessively loaded toy bar may annoy your child, and he/ she may not want to play. Even fewer or no toys on the bar can make a kid bored. An adequate amount of baby toys work great. Toys with educational purposes as buttons, levers, bright shapes, and colors can benefit children in the future.
Sound and Music
A high-end baby jumper can also add music and sound systems. Choose one with soothing nature sounds, lullaby, or soft music. If your child has rhythmic movement disorder, sound containing beats can help them calm themselves.
Safety
Research the customer reviews to find out such models with no prior accident records. Robust construction with a metal frame is reliable. Make sure you don't buy anything that contains harmful substances. A seat altitude that goes up to the armpit length of the baby is safe for jumping. Consider the overall measurements.
Baby Jumper Height and Weight Limit
Every jumper comes with manufacturer specifications regarding the minimum and maximum height and weight limit measurement. Before buying any particular baby product, match the specifications to your baby's body measurements. It is essential to ensure whether the jumper can support your baby well or not.
Mobility and Storage
The baby jumper must be portable and easy to carry so that it can fit in the diaper bag. Foldable seats, easy assembling and disassembling of featured products are good for taking around.
The baby jumper must be compact in size to store them effortlessly and should not take up a lot of space.
Price
A baby jumper is quite essential, but you should never carry the price too far. Baby Jumper usually costs $20 to $200, choose anything that suits within this budget range.
Know the Deal: Advantages and disadvantages of Baby jumper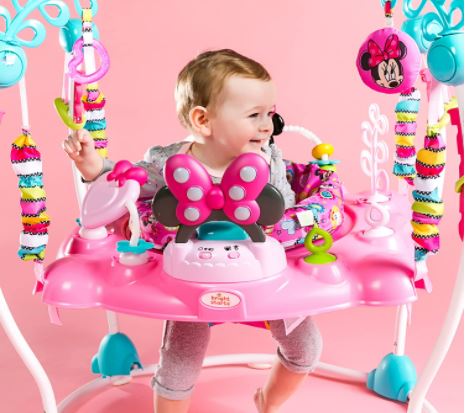 Even once an angel turned into the devil, so can be the baby jumper. A baby Jumper or bouncer is supposed to support the overall development of your baby. But at times, it can be both efficient and harmful to your little one. Let's analyze the facts:
Advantages of Baby Jumpers
Improves overall Motor skills which means the movement and coordination among the large body parts such as your baby's arms, legs.
Healthy jumping and bouncing improve and strengthens leg muscles. It also plays an active role in muscle development.
Develops pre-walking skills as jumping involves the functionality of lower body parts. It helps the baby understand to use the bottom limbs (feet, legs) of the body.
Helps to build a routined sleep pattern. As jumping is a healthy physical activity for infants, it also tires the baby and ensures sound sleep.
The attached toys and music can be super educative as well. Calming sounds soothe their nerve. Babies can be trained to determine shapes, sizes, patterns, and colors through the toys.
It is a good entertainment source for the infants, and they thoroughly enjoy the time on a baby jumper.
Helps to enhance the body balance among the little stars. Advances in eye and body synchronization; thus, Babies start learning to stand on their feet properly and balance the bottom part of the body.
A jumper baby remains busy for some time, and parents can enjoy some free time as well.
Disadvantages of Baby Jumpers
Baby Jumper may delay the walking process in infants.
If babies outgrow the guided height limit and still use the baby jumper, eventually it may result in improper body posture and overall physical imbalance.
There are chances of certain accidents due to broken harness, lowly built material, baby's tendency to climb or crawl out.
Conclusion
A baby jumper is highly recommended until the baby jumper age limit is correctly followed. And to summarize the overall discussion, the proper age limit starts from 3 to 6 months and ends within 12 months of age. Let us know in the comment section would you like to gift your infant the baby jumper and when?
Also read: