Baby swing is an excellent product for newborn babies. Parents are now putting more trust into these accessories. I am a mom-to-be, and recently I've put a good amount of time researching the baby swings manufactured by 4moms.
MamaRoo and RockaRoo are the two most celebrated products by this company. Here today, I've wrote an article to show you their comparison and eventually help you make up your mind about which one to purchase.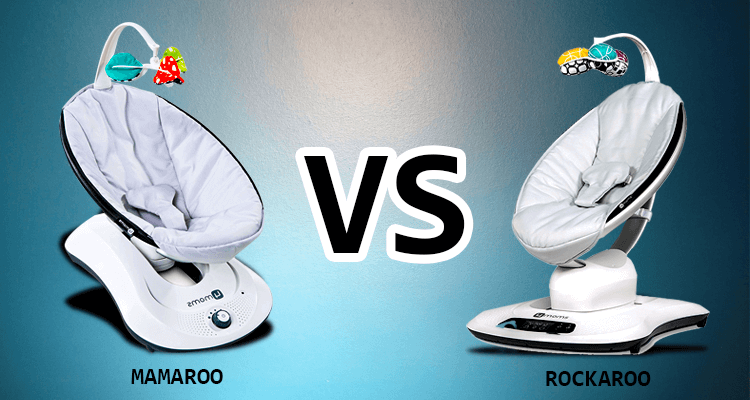 4moms Mamaroo vs Rockaroo (Key Differences)
Buying a baby product is never easy. You have to make sure the product itself is the best in quality and, of course, meets your needs on the ends like budget and space.
I've covered all the similarities and the dissimilarities of the MamaRoo and RockaRoo baby swings. And I am eventually reaching a verdict at the end of the discussions. Here we start with a comparison table followed by a brief review of the two chosen baby swings.
Features
MamaRoo
RockaRoo
Product dimension
33×19.5×25.5 inch
16.5×29.6×27.5 inch
  Weight
18.6 lbs
16 lbs
Motion option
5, Kangaroo, Tree swing,

Rock a bye wave, Car ride

1, forward and backward
Speed control
5 speed option
5 speed option
  Reclinable seat
Yes
No
  Sound system (built-in)
Yes
No
App control
Yes
No
Compatible with MP3
Yes
Yes
Washable seats
Yes
Yes
Toy bar
Yes
Yes
  Limits
Up to 25 lbs
Up to 25lbs
Price
A bit higher than the RockaRoo
Comparatively less than the MamaRoo
4moms RockaRoo Review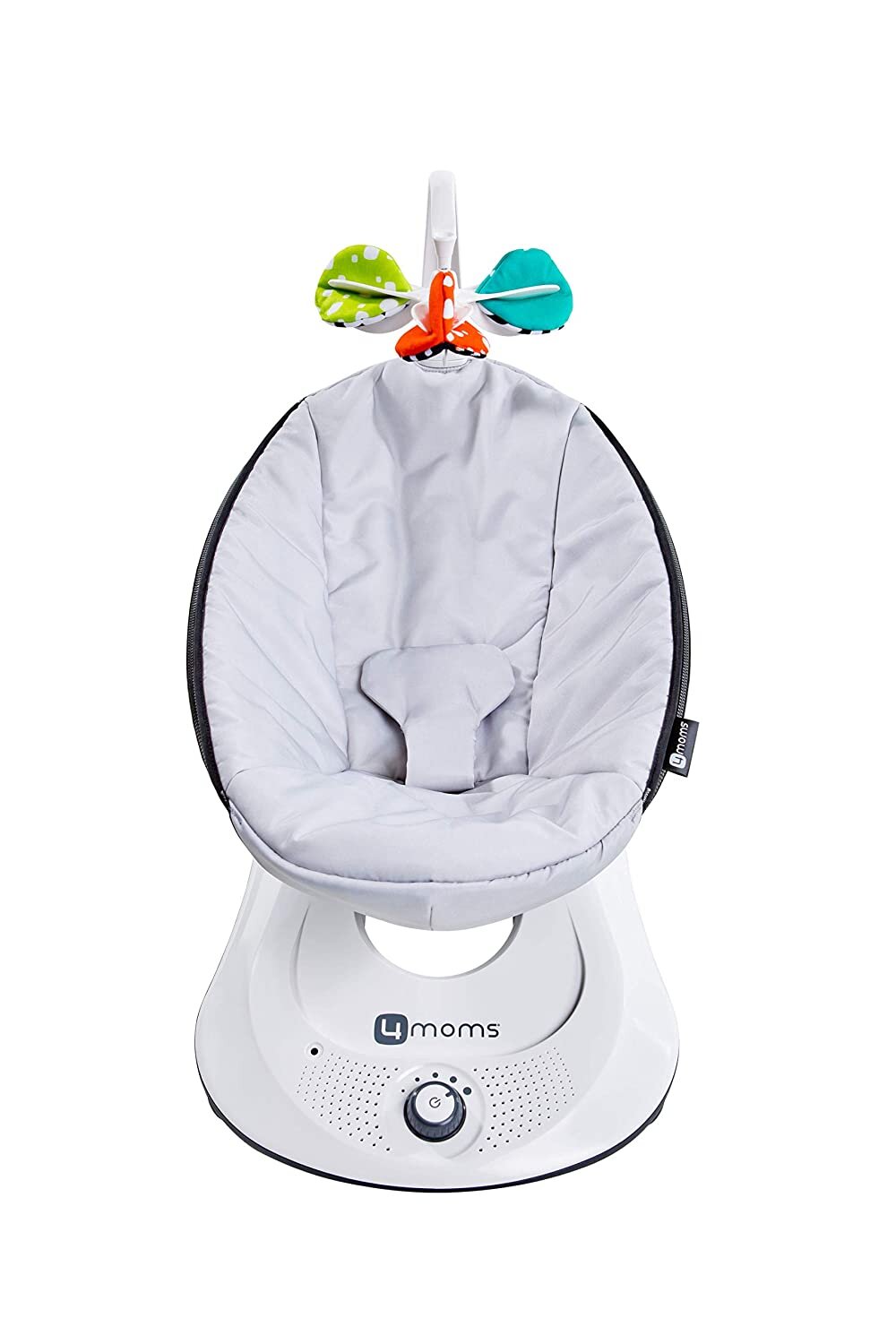 RockaRoo is the product that first changed the consumers' view of traditional swing. So, the effect ought to be a special one. Parents are super happy with what they are getting out of this product.
RockaRoo is a simple yet modern piece of product. Thanks to fantastic technology, it takes up a lot less space nowadays. RockaRoo by 4moms is like one-fourth of the traditional baby swing. So, you'll get some extra free space for other baby stuff.
The 4moms RockaRoo gives a smooth transition in terms of forwarding and back movements. The movements are impressive as they can soothe the baby to sleep. Babies love the rocking feel and play to their hearts content.
You also get five-speed options. The speed of the RockaRoo has to be set according to the baby's age.
Typically, newborn babies are put into the RockaRoo, and they are placed there until they are 6-month-old or 25 pounds. You can check the maximum weight and age limit of a baby swing here.
The tech is built to save some of your precious time. The installation is easy, and it is AC-powered. Just plugin, and you have a fully functioning baby swing. Also, there's a point to plug in your phone to enjoy some music.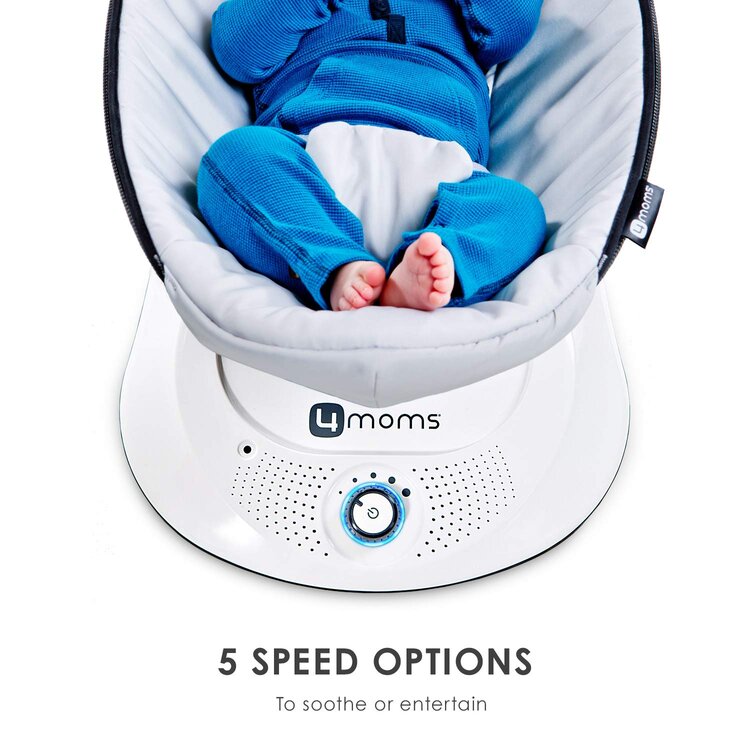 Yes, you can listen to your favorite song without worrying about your baby.
RockaRoo is a well-established product in the baby swing section, and you already know a lot of its features. Here are some notable features of the 4moms RockaRoo.
Key Features
Efficient yet back and forth movement
The toy bar is stuffed with play balls which comes with two color options. This mobile station helps direct the baby's attention
A direct electric connection powers the swing. So additional batteries are not required
Assembly is super easy and takes less than a minute
The seat is removable. The washable chairs are super comfy too
It is good for newborn babies to babies that are up to 25 lbs or at least 6-month-old
Pros
Compact design helps save space
Comfortable and safe for the baby
Good rocking motions
Cons
Only one motion, and the seat is without recline
Not so smooth when put into maximum speed
Overview of 4moms MamaRoo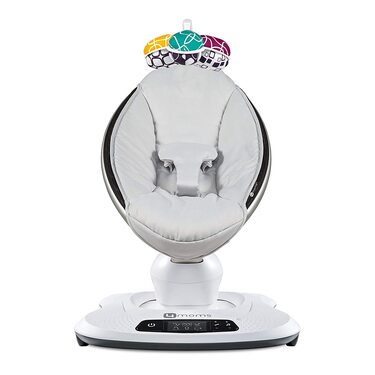 MamaRoo by 4moms is a product to look out for. We are only in the 6th year since the baby MamaRoo was introduced into the market; since then, this magnificent product has already captivated a massive demand.
This baby swing is a little bit expensive than the rest, yet the sale is endless. A huge number of customers re-adjust their budget because, you know, they loved it so much.
4moms MamaRoo is backed up by the sheer brilliance of the company and its effort to market such a product. Five distinctive motions that are installed into it give away a unique vibe. The base of the MamaRoo accommodates the control panel in an illustrated manner.
Traditionally, baby swings were effortless in the mechanism. But now, with the MamaRoo, you get tons of futuristic features packed into it.
Also read: Top 7 Swing for Big Babies
The motions, music, and the toy bar, these things are groundbreaking implementation to this tech. We can see some of the previous models' features, but the MamaRoo takes a huge step forward with each update.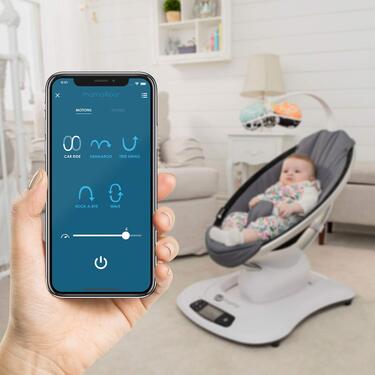 Keeping the technical superiority aside, 4moms MamaRoo pays a great deal of attention to the baby and their comfort. The washable seat fabric is an excellent example of it.
One part where it can improve is the toy bar. Consumers were left wanting more from the toy bar. Other than this fact, the baby swing is nearest to perfect.
Here are the highlights of some key features of 4moms MamaRoo.
The main takeaway is the motion and movements. It has five different actions, with speed control
It has music built-in and also Bluetooth compatibility. So, you always have the option to plug in your phone
You can control all the functions on the MamaRoo through your phone
You'll get an option to recline the seat as your need
The toy bar and the seat are removable. They are washable too
Pros
Good build up along with quality fabric
Multiple controlling options
Movements are pretty effortless
Cons
The toy bar could be more playful
Also read: 10 Best Outdoor Baby Swings
Conclusion
Not every product comes with a specification you desire. So, there's always a dilemma whether to go for it or not. I talked about both of these products with their respective fan base and, undoubtedly, top class.
MamaRoo offers much more activities than the RockaRoo but with an added price increase. So, I hope this comparison of Mamaroo vs Rockaroo helped you to conclude your purchase.