There's a reason why vintage or old fashioned baby swings are still controlling a large portion of the market. It is because the swings are super easy to use and relatively cheaper.
The vintage retro baby swings might not look very appealing at first but they come with the same ulterior functionality of putting your little ones to sleep.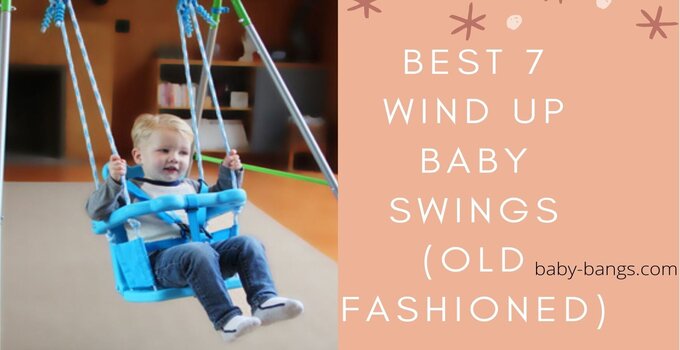 Not just functionality, I've seen multiple customers opting to buy the retro baby swings just for the aesthetics.
There's no denying that the vintage swing's clean design and effective functionality are adored by parents.
Here are 7 such wind up baby swings that take you back down memory lane. I've reviewed these swings precisely without any exaggeration and also explained things you need to consider before buying a swing for your baby.
So, without further ado, let's get started.
Do they still make wind up baby swings?
You can still buy wind up baby swings from toy stores or all the big ecommerce names, and I've personally bought one as a gift from G TALECO GEAR Amazon Store.
But, after a successful business period of 50 years, all the big manufacturing companies, like Garco and Fisher-price, have decided to discontinue their wind-up swings.
The industry now is more focused on delivering safe and modern swings that are more effective and enjoyable to the baby.
Best wind up baby swings Set Reviews (Top picks)
Canvas Cushion Seat included

ALEKO Indoor Outdoor Swing

Heavy duty: For any age groups

Weather-resistant (indoor outfoor use)

Operates through batteries

6 melodies with options to control the volume

12 soothing melodies & more

Adjustable seat positions
1. Outdoor Indoor Swing Set with Canvas Cushion Seat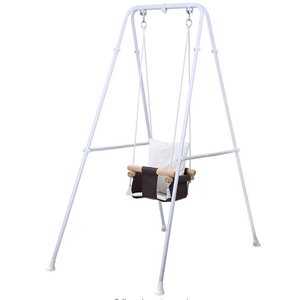 This swing can be a perfect gift for the newborn and her parents. The swing comes with marine grade materials and passes all the necessary certifications like the ASTM.
The toddler swing is manufactured by Taleco Gear, a veteran in the baby gear industry, and this swing is yet another successful product by the company.
It features a clean appearance that matches almost any space, interior or exterior.
The stand makes sure that the swing is ready to set up amid woods or beside the pool.
The whole swing was sort of a benchmark for simple yet elegant design. And it is nicely complemented by the technicality of this swing.
Key features
Dimension: The product has a dimension of 29.5 x 13.8 x 4.1 inches.
Weight: It weighs 15.97 pounds.
Weight limit: The weight limit is about 150 pounds
Age limit: The age limit recommended by the manufacturer is from 6 to 36 months.
Materials: Plastic and wood are combined to develop this product. The wood is natural beech wood. And the top that holds the frame in place is marine grade.
Seat: The seat is 100% cotton and UV protected. It is also free from any kind of irritation.
Frame: The frame has a solid triangular structure to start with. On top, you'll see heavy-duty carabiners. The screw caps are anti-reversal, and on the bottom, the frame has a non-slip rubber fit
Reading their technicality, it is now apparent why the swing is so profitable.
Things I Like
Both indoor and outdoor usability
Easy to set up the baby swing and even easier to clean.
The whole swing can stand on its own.
The seat on the swing is made safer with the use of wood.
Simple in design yet superb in functionality
Environment friendly and odorless.
Things that could be better
· It can be challenging to get the correct measurement of the ropes. If you can't tie the ropes in the right proportion, you'll have a tilted seat to one side.
2. ALEKO BSW02 Child Baby Toddler Vintage Swing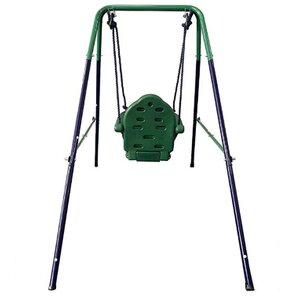 If you want a baby swing that your baby loves and at the same time goes with your living space, here is that Aleko made toddler and baby swing is the ultimate integration of fun, safety and style.
The swing is functional regardless of the season and can be cleaned very quickly.
Aleko, a US-based company, started in 2005. Since then, the business has come a long way, and it is now a well-established name for outdoor products.
In an era where wind up baby swings are losing their worth, this swing here is setting the tone for a new revolution.
In a baby swing, you look for qualities like compact, adjustable, durable, and safe. Aleko made baby swing is a combination of all of the above.
Let's have a look at their product specification to understand such vast popularity of the product
Dimension: The swing has a dimension of 54 x 54 x 46 inches.
Weight: The item weighs 6 pounds only
Weight limit: It can accommodate 55 pounds
Age limit: The swing is designed for children from 9 months to 36 months.
Built material: The built material of the swing is alloy steel.
Seat: Large seat to accommodate babies. The seat dimension is 15 x 10.5 inches. You get two colour options for your seats. The plastic on the seat is slip-resistant.
Rope: The rope that attaches the seat against the frame is also tested thoroughly. There's an additional safety harness present. The ropes are adjustable. So, when you need to lower your swing, you should adjust the ropes.
Frame: The alloy steel construction on the frame is also powder-coated to protect it against rust, and the frame is very sturdy.
Things I liked
Whether it is indoors or outdoors, this baby swing is enjoyable.
The seat doesn't slide at all.
Security of the swing is top-notch.
The seat height and the rope are adjustable. So, when the baby grows, you can adjust the swing height.
The product is utterly durable, especially the frame. The frame has strength written all over it.
You can clean it very quickly.
Things that could be improved
Some may find it difficult to install it outdoors.
Safety harness could have been more robust by using a five-point harness instead of three.
3. G TALECO GEAR Multi-Use Swing Stand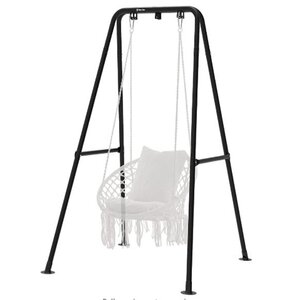 Who doesn't like a hammock that has the function ability to work also as a baby swing?
Next up, I have a heavy-duty hammock that is ideal for mother-child time.
The swing stand lets you enjoy and relax every moment. The swing has a simple A shape design that is suitable for your backyard as well as your living room.
You can use multiple different swing seats that are sold differently and weight-bearing quality is a significant plus for this swing.
But if you plan on swinging your baby in this, you'll need to attend every second as the swing is more of a hammock and missing the seat belts.
Telco makes gears that are never out of fashion. Minimalistic design with comfort guaranteed, this swing is destined to be a top-selling swing.
Let's get to know the swing a little better by reading its features
Dimension: The product has a dimension of 33.5 x 14.5 x 5.5 inches
Weight: It weighs about 20.8 pounds
Age limit: There's no limitation for this swing as it's not a dedicated baby swing and can accommodate a person of all ages.
Weight limit: It does have a weight limit, though. The weight limit on this swing is 300 pounds.
Seat: While buying, you'll only receive the frame, and you have to buy the seat separately, thus allowing you to buy seats that you like.
Frame: The stand is made of 1'3″ diameter steel. The whole frame is powder-coated and weather resistant. The frame has a stable base for your safety.
Things I liked
The swing is durable and sturdy
No tool needed for assembly
Gives off tree swing vibes
Option to personalize the swing
Great for family time
Long steel frame with buckle and base
Things that could be better
Could've added a stock seat.
Little small for adults.
4. Ingenuity Soothe 'n Delight 6-Speed Baby Swing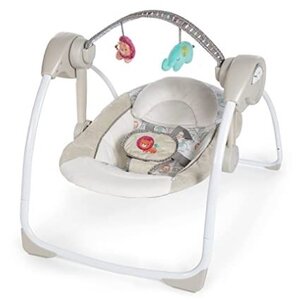 Ingenuity soothe n' delight is a catchy name to start with, and it also does a glorious job of keeping the baby safe and charmed. The swing is yet another excellent baby swing that has multipurpose functionality.
This portable swing has a signature style and is a perfect gift for baby showers, birthdays or Christmas.
I think that Ingenuity has done a marvelous job bringing this product onto the market. Their ever so growing sales indicates that there was a need for such a product.
All this good talk might make the gear sound dreamy, but it isn't. Looking at the features next will clear out any confusion.
Dimension: The product has a dimension of 22.5 x 28.5 x 23 inches
Weight: The item weighs about 7.01 pounds
Age limit: The age limit on this baby swing is from 0 to 12 months
Weight limit: The weight limit is a bit low compared to other features. The weight limit is only 20 pounds.
Built material: The whole construction is based on metal.
Swing option: It has six adaptive swing options. The swing is also controllable with timer settings.
Powered with: The swing is operated through batteries.
Seat: The seat is made of comfy fabric. All fabric made materials like headrest, pillow, seat pad is machine washable.
Toy bar: There's a removable toy bar on the top of the swing. And it features two plush toys
Music: There are six unique melodies with options to control the volume.
Things I liked
Compact and space-saving along with a toy bar for the baby to play with.
Controllable motion with seat adjustability
Rare head support and all fabrics washable
Overall awe-inspiring built quality
Straightforward installation
Portable
Things that could be better
Battery needs to be changed every week or so.
Lose swing
5. Fisher-Price On-the-Go Soothing Baby Swing: Easily Portable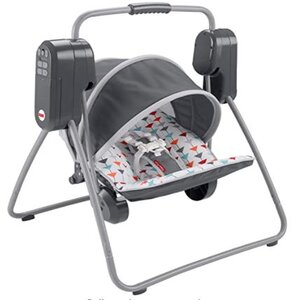 Baby swings are most lucrative when they are convenient to the parents. This baby swing by Fisher-Price is an ideal example of it.
Fisher-price, as a brand, has been in operating in the baby product industry for over 80 years now. And still, the aim is to make the baby gears functional and enjoyable.
This wind-up baby swing here has a bit of everything. Built with premium-grade plastic, the company paid a great deal of attention to safety regulations and entertainment while their prime concern remains comfort.
Let's check out more about this fantastic swing
Dimension: The product has a dimension of 27.17 x 26.38 x 29.92 inches.
Weight: It weighs 10.9 pounds.
Weight limit: maximum weight capacity in 25 pounds
Age limit: The age limit is around nine months or until the baby tries to climb out.
Swing speed: There are six swing speed settings.
Canopy: The canopy on this swing is adjustable and comes with UPF 20 sun protection.
Seat: The seat on this swing is padded, and the whole seat pad is washable. The fabric is comfort guaranteed.
Add-ons: It has music, sound, and vibration to calm the baby and make it enjoyable.
Things I Like
It is portable and convenient in both indoor and outdoor, thanks to the ergonomic carry handle on top of the swing.
You can fold the swing flat.
Sun protection is an innovative addition.
The package it comes with is fully recyclable. Just select the "ship in amazon package" option at the checkout.
Things that could be better
The swing settings are a bit tricky for a new user.
The seat is kind of slides.
Battery consumption is relatively high on this swing.
6. Ingenuity Comfort 2 Go Portable Swing: Best for travelling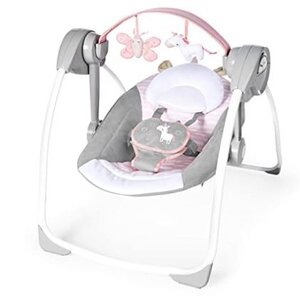 This baby swing is mom's most excellent helper in these distressing times.
The product is a technological brilliance as it can mimic the mother's original motion and soothes the baby.
The electric baby swing is produced by Duomilee, a market-leading company in recent times.
Duomilee has been in business for over six years now, and they are rocking the industry by introducing new techs and features in baby gear. The company saw the massive uprising of their sale in recent times.
This particular baby swing has proven its worth in the market. Safety measurements, strength, and ease of operation all played a vital part in making it one of the top-selling baby swings.
Here're some of their main features:
Dimension: The swing has a dimension of 23 x 14 x 5 inches.
Weight: It weighs 8.93 pounds.
Age limit: It is recommended for babies from zero to nine months old.
Weight limit: Maximum weight accommodation is 25 pounds.
Built material: The frame of the swing is made out of premium grade iron.
Swing settings: 6 separate swing settings. This gear has a unique time setting that moves the swing for 15, 30, or 45 minutes.
Seat: The seat on this swing is top-notch. The seat pad is also adjustable. Babies are easily clammed once you've placed them in the seat. Also, to ensure safety, it has a five-point seat belt.
Toy bar: The toy bar is very engaging and instantly attracts the baby's attention towards them. The toy bar is covered with soft fabric, and while folding the swing, you can remove the toy bar.
Sound: You get sixteen melodies with the baby swing. You get a USB cable for the operation. You can operate the swing with batteries.
Things I like
Effortless assembly. You can assemble the whole gear by yourself, and you won't require any tools.
Toy bar is a great plus. It helps the baby concentrate and enjoy at the same time and ensures a healthy and happy baby.
The swing can be operated by a USB or batteries. For such indulgence, you can use the swing outdoors as well.
Great attention towards safety measurement. Intensive tests like durability, impact, the chemical are carried out before the swing is sold. This product also has the CPSC certification.
The design is practical and effective. Every tool or features that is used has good functional significance.
Things that could be better
Seat cloth needs upgrading.
7. Fisher-Price Moonlight Meadow Swing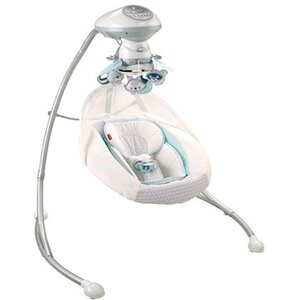 More products could have made a list, but the moonlight meadow swing by fisher-price deserved it more than any other swings.
Fisher-price is a well-established company that has already earned our faith, and so far, their products haven't disappointed.
This swing has a futuristic design to start with. It swings in two motions but soothes the baby very peacefully.
Nature sounds, self-discovery mirrors are features only available on this swing, and you can't take away the effectiveness is increased.
The Papasan style seating arrangement makes it cozy for the baby and the toys, along with the toy bar help with eye-tracking.
So, the baby is resting in the swing and growing to be a healthy, charming baby.
Here are the features that made this swing appealing:
Dimension: The item has a dimension of 36.22 x 38.19 x 42.52 inches.
Item weight: It weighs 1.71 pounds
Age limit: recommended for babies from 6 to 18 months.
Weight limit: 25 pounds is the maximum weight you can put on.
Built quality: Steel construction for
Swing settings: Two swing motions are available. One is like the cradle, and another one is like the swing.
Sound settings: sound system features 16 sounds and nature sounds.
Seat: The seat comes with head and body support. The seating arrangement is like the Papasan style. The whole seat fabric is washable.
Toy bar and the mirror: There's a toy bar on the top with three toys for the baby to play with. Another very unique addition is the mirror along with the toy bar.
Powered with: The baby swing is powered with batteries, but you can plug them in to save the batteries.
Things I liked
Sensory development of the baby
Playfulness and good security
Unique swings featuring Smart Swing feature that mimic motherly movements
Adjustable seat position that easily convertible
Engaging toys
Soothing sounds
Things that could have been better
Bit noisy
Not very space-saving
Can be shaky
Things to Consider Before Buying Wind up Baby Swings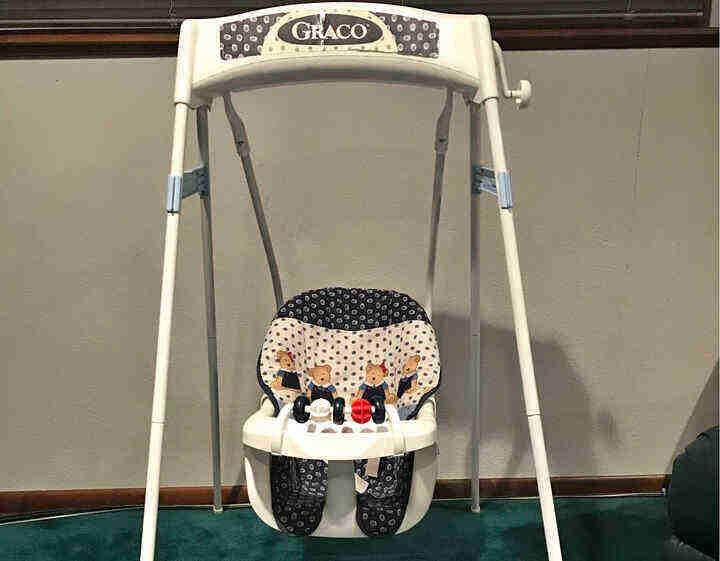 You can't compare a vintage baby swing with a modern one. But the vintage swings have managed to survive, thanks to the love of the consumers. Here is the consideration you must make before you buy a vintage baby swing.
Type of swing
We see various types of swings every day. And as a growing industry, we'll likely see more of them.
Based on swings available today, they can be categorized into four broad categories. They are Traditional, portable, High-tech and outdoors swing.
Each has its own quality. Traditional wind-up swings are the simplest of all but babies love the back-and-forth swing. You should consider the baby's comfort first.
Vintage Design
Vintage design is a statement piece. Guests in your house might whisper 'worth it' too.
The design is very simple yet intriguing. Most vintage baby swings have a centrifugal based rocking system.
The frame has great importance in making up the design. It gives an edgy look and also provides strength to hold the baby.
Swing motion
Swing motion is also a core consideration you must make. You'll find swings with multiple swing motions to calm the baby.
Some may go side by side; some may vibrate the baby to sleep and some feature the traditional back and forth swing.
While the modern swings add a motion based on advanced technology, the traditional swing has a more natural away of doing so.
You should set your priorities about the swing as this is a subjective choice you have to make.
Built structure
Built structure and installation is another factor that determines sales.
Vintage baby swings generally come with an A or H shaped frame and a seat in the middle.
Also, the installation is not straightforward. It requires more time compared to the modern ones.
It is better to go with a swing that has an easy installation process.
Safety
There's no doubt that modern swings are safety oriented compared to the vintage ones.
In the modern swings, there're seat belt, ergonomic seat and strong structural integrity that keeps your babies safe.
In the vintage ones, you might have a chance to give your hands a break, but you have to keep a constant eye on them. A lot of vintage baby swings don't feature safety harnesses while the modern ones have a five-point safety harness.
FAQs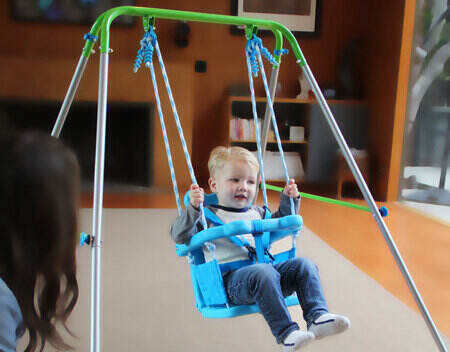 Is it worth buying an old-fashioned wind-up baby swing?
Of course, it is.
An old-fashioned wind-up baby swing may not give you modern additives like compact, light-weight, and toy bars, but it will surely calm your fussy baby.
And in the end, that's all it matters.
Is it safe to have vintage wind up baby swings?
Baby swings themselves have a bit of a mixed reputation, let alone the vintage wind up baby swings.
These baby swings are considered safe, but it has their share of downsides.
With proper supervision, like not letting your kid sleep on the swing, you can use the baby swings safely.
Where to find baby swings from the 90s?
Garco is your go-to option if you want to buy baby swings from the 90s.
You can also find the product on Amazon, eBay, Walmart and other ecommerce platforms.
My final opinion about Old Style Baby Swing
Vintage baby swings can be easily trusted because of their proven track record. There are tons of retro looking swings with modern features too.
I am also a huge fan of vintage looking baby swings and if you opt to go with a minimalistic yet retro swing, I suggest you check out the Taleco made baby swings.
Modern wind up baby swings are up there on top too. I suggest you go with the moonlight meadow by Fisher-price or the electric swing by Duomilee if you are looking for advanced features.
Also read: