Are you in search of a simple parenting guide on baby swings for your precious one? but confuse about the maximum weight and age limit of a baby swing?
Not to worry anymore!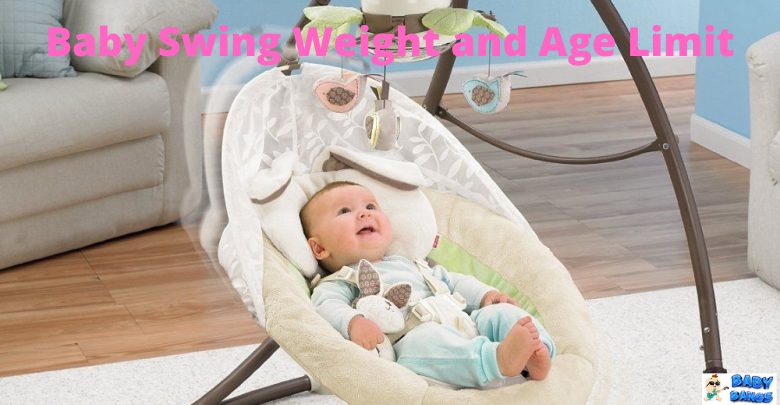 Most manufacturers do not set any baby swing age limit for their swings as all babies are different. Some babies are ready to quit it up around 6 to 8 months while others can take a little longer.
In this article, I am about to discuss all the following topics regarding the baby swing age limit for you and your baby's betterment, which is just 6 minutes reading away.
It brought so much curiosity to my mind before I started using a baby swing properly, including the following:
What is a Baby Swing?
A baby swing is a seat of a swing for infants and toddlers, to keep them soothed, and comfortable and stop them from crying. It is slung from a sturdy frame and is powered by a battery or electricity to gently rock back and forth to imitate the womb rocking motion.
It comes with a safety harness to keep babies locked in and prevent them from falling.
A baby swing is the most ideal and common means to soothe and calm a baby. The gentle swaying motion mimics the motion that the baby experienced 9 months in the womb, so it makes them feel familiar and safe with the surroundings.
Like many new mothers, I quickly discovered the essential importance of having a baby swing for my newborn child.
This soothing baby product offers solace movement for my little one while allowing me some hands-free time or just a moment to relax.
At present, there are quite a few options for baby swings on the market, including different toy and entertainment choices, folding and transportable models, swinging and movement settings, and many more.
When to put a baby in the swing?
While buying a baby swing for my infant for the first time, the question that first came into my mind was, if my baby is too young for the swing or which swing shall I pick as per an Ideal baby swings age range weight limits!
And I came to know that, regarding the baby swings age range, there's no specific age limit. Well, if your child can brace his/her head enough and not flump too much in the seat, then your baby will be able to go on swings. Even newborn babies that are up to 21 days old can also go on baby swings.
In fact, I started using a baby swing for my infant as soon as I brought my baby home from the hospital. But make sure it has some support to keep your baby's head from rolling back.
Apparently, I found out it is a great idea to bring your child to its swing early on time. That way your baby will have some time to get comfortable with swinging and he/she will be happier every time when you put them in it.
Also read: Baby swings and Baby bouncers: Differences
Is there an Age Limit for Baby Swings?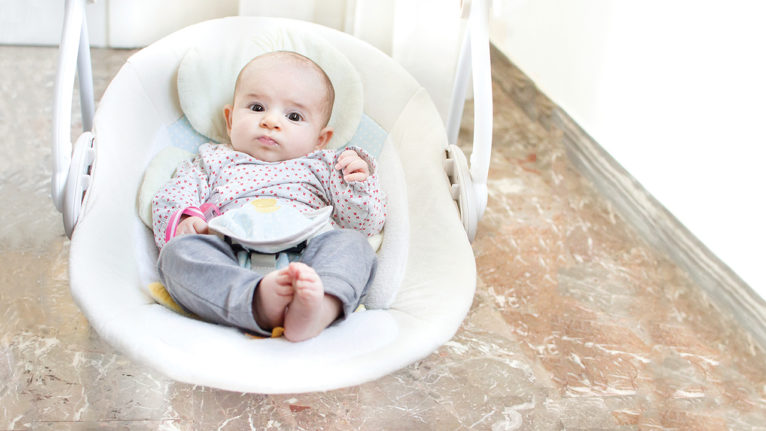 Your baby should be able to give up the swing at the age of 6 months or so. It may appear to be too early, yet at this age, they will start to investigate more exercises that will require them out of the swing. At that age, they should start to get ready for crawling and walking, playing with toys on the floor, or outdoor baby swing.
The outdoor baby swing age limit is between six months to four years. Doctors recommend that once your baby is able to sit up and has stable control of their head, your baby can use an outdoor baby or toddler swing.
Preferably, what is the weight limit for a baby swing?
The average maximum infant swing weight limit is 30 pounds or 13.60 kilograms. Although, the weight limit of a baby swing varies from swing to swing. Each brand manufactures different kinds of baby swings. Each swing comes with its weight capacity.
Whenever you want to purchase a baby swing for your little one, the thing you must examine is the weight limit of the product. Because if your baby's swing age limit and weight limit are not according to your baby's age and weight, don't buy that swing or stop using it if you've already bought it.
It can be uncomfortable or can cause safety issues for your baby.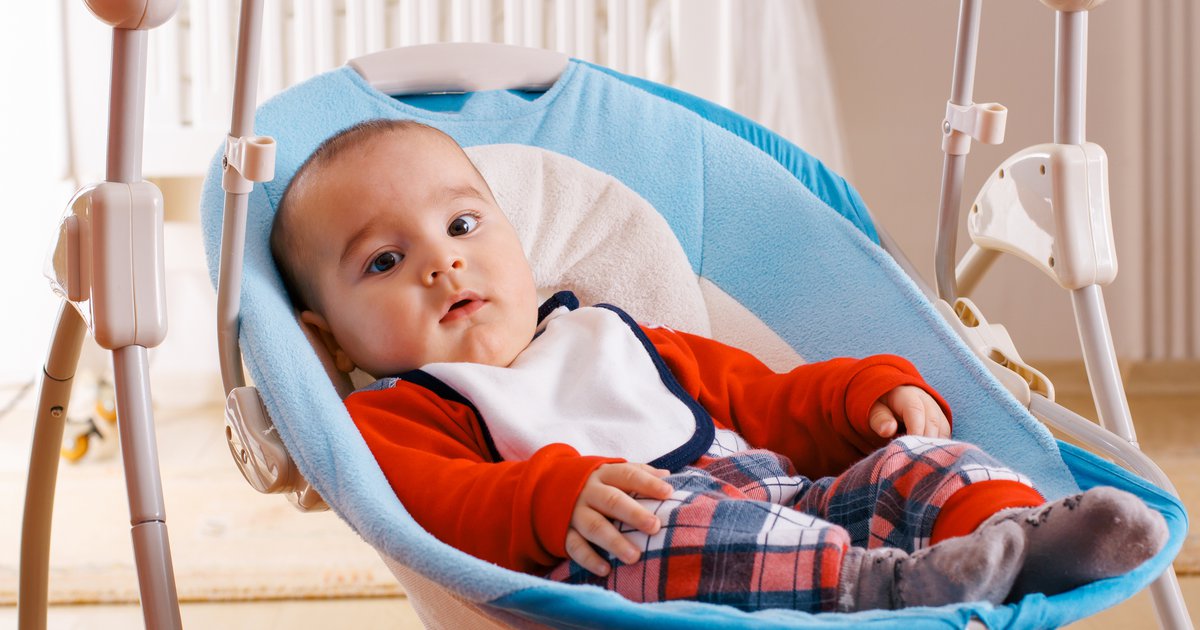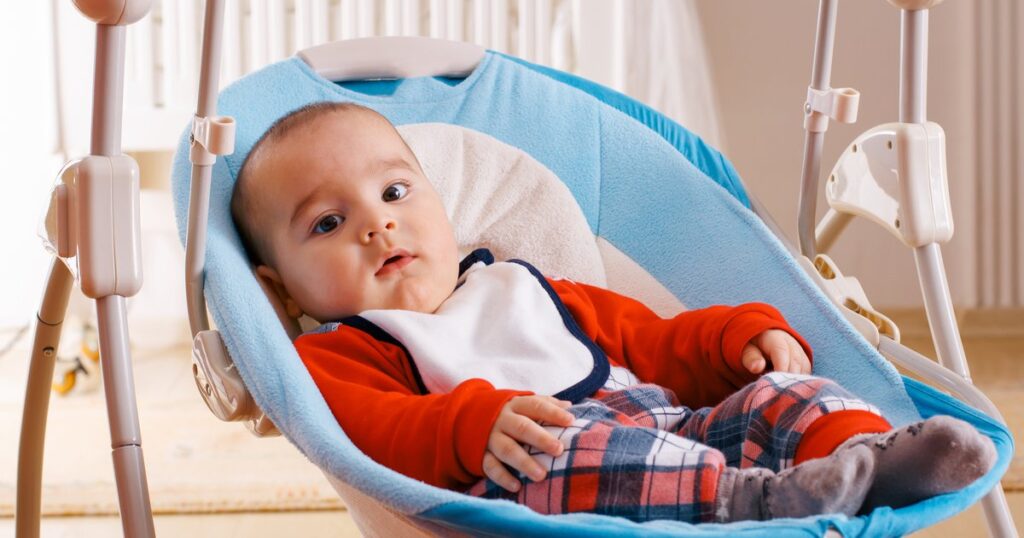 Some of you might be looking for swings that have higher swing age and weight limits for your older or big babies. This question is also basically pointing you to the fact that you want a swing that has over 25-30 lbs weight limit and has enough room to accommodate the baby.
Yes, some swings do have about 25 lbs weight limit, and the extent is good enough to make past 6 months of age.
Or perhaps, the swing you got your baby when he/she was small starts becoming uncomfortable as it no longer matches along with your baby's age and weight.
In that case, you should think about bringing a new swinging set to your home according to the size and weight, to keep your baby comfortable and safe. Because as parents, there is nothing more important to us than to ensure our child's safety and comfort, RIGHT!
Is It Safe to Use Baby Swing?
When it comes to new moms and dads – or other family members – picking out a swing for a baby, there are several different things to consider, however, one of the most crucial factors to think about is safety.
While most babies just love spending time in their swings, it's important for us to look for safety competence and keep in mind certain usage tips to keep our little one soothed and secure.
As I mentioned earlier, babies can be put into a baby swing as newborns. However, there will be a time when your baby outgrows the swing both mentally and physically, in that time you should not leave your baby unsupervised in the swing alone or sleep as it can cause serious safety issues.
It is important that, if your baby is premature, you should talk to your doctor before putting them in a swing. A professional will be able to tell you if the swing has adequate support for your baby.
Some signs that parents should stop using the swing include the following.
1. The Baby Will Try to Climb Out:
Your baby no longer wants to be in the swing if your baby tries to climb out from the swing. It also can mean that he or she could hurt themselves trying to get out. This is a sign that it's time to move to the next level.
2. The Baby Throws an Outburst Whenever You Put Him in the Swing:
Well yeah, this is another sign that your baby no longer wants to be swinging at all or only in that particular swing because of comfort issues.
Besides that, it is important to apply the following safety precautions to prevent accidents and make sure that the baby is safe, secure, and comfortable.
3. Manufacturer's Instructions
Always use the swing as intended by the manufacturer.
4. Baby Swing Placement
Never put a swing on an uplifted surface, such as a table.
5. Weight and Age Limit
Make sure you don't cross the infant swing weight limit and age limit before buying a swing for your baby.
6. Safety Harness
Make sure the harness is fastened securely even while your baby is asleep.
7. Supervision
Keep the baby in supervision even at home.
8. Blanket and Toys
Don't place blankets or toys in the swing except when they are asleep.
9. Time Limit
Keeping them in the swing all the time will restrict their movement and there is a likelihood that your baby might have his/her first walk late or even crawl. By using too much of a baby swing, can make your baby overly attached to the swing.
10. Reclining
Always make sure newborns are reclined as far back as possible.
11. Second-Hand Swings
Don't buy a second-hand swing for your precious one.
Conclusion
It's always more than essential to pay attention to the baby swing age and weight limits. Now you know the crucial pieces of information that you need to be sure you're using the swing in the safest way possible.
Hoping your child has a delightful swinging experience until they are ready to move on to the next chapter of their lives.
Happy parenting!
Also read: