Is it even possible to baby proof cabinets and drawers without drilling?
If your child has hit the age to move around, you must be googling this question way too much.
To answer your question, yes, it is. Indeed you don't have to drill your favorite home decors to protect your little ninja.
My daughter is to be one this year and moving around like a tornado with a tendency to peep into the drawers. And her curiosity leads me to tolerate some office files destroyed by her.
Till then, it was acceptable. But I was alarmed when my baby got severely hurt with a screwdriver she discovered from a cabinet. Only then I realized it's a two-way thing; either your baby will get hurt or he/ she may ruin the valuable stuff.
It took me long to figure out the perfect ways (both DIYs and commercial locks) to ensure baby proof cabinets to troubleshoot any potential danger.
If you have a little brat like me, this content is probably the handiest thing you will ever explore on the internet. Keep reading.
Get Over Furniture Drilling: 3 Simple DIY Methods to Childproof Cabinets and Drawers
No drill, no fuss; I have tested DIYs, which prevent your baby from opening any drawers or cabinets. Go through these simple methods carefully and make sure you follow the instruction appropriately.
Method 1: Elastic Bands or Rubber Bands or Cords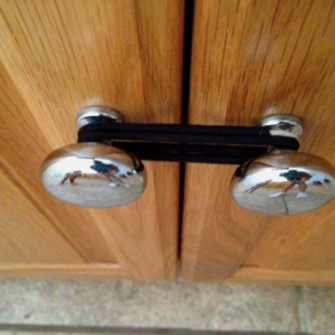 Well, I agree that this is probably not the permanent solution but will work until you get a sturdy cabinet lock. As simple as it sounds. Make sure to opt for the strongest rubber tie or cord you have at home.
Place the tie/ cord around the knobs or handles and make double or triple looping to get a tight hold. Also, an eight shaped loop can make the bond strong. This hair tie/cord hack is generally difficult for a child to crack, but there are chances the smart ones may succeed in opening it over time. Consider it as a temporary solution.
Method 2: Yardstick or Dowel Rod for Vertical Drawers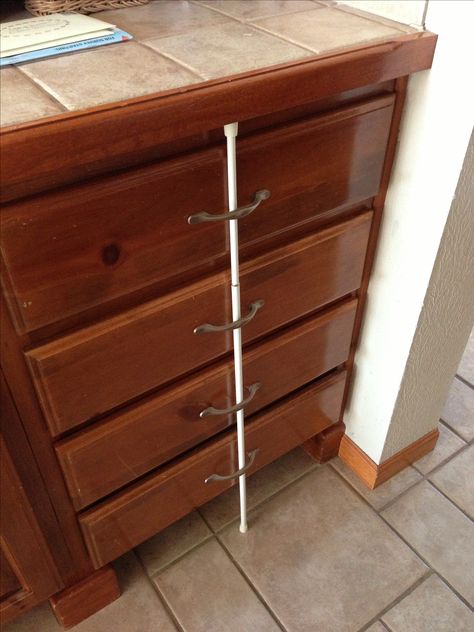 It is a temporary solution for baby proofing as these yardsticks are usually not appealing to the home decoration. But this method is useful and works perfectly fine and keeps the drawers out of reach from the babies.
If you have cabinets with vertical handles, just put a yardstick or dowel rod or use a curtain rod through the handles. This method is applicable only for closed handles.
Every time you intend to open the drawers, you have to pull out the rods. But this process is not easily accessible by the babies, thus proves to be fruitful.
Method 3: Zip Ties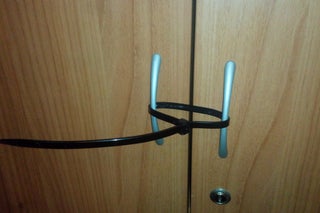 Once locked, Zip ties cannot be unlocked without knives or scissors, even by the adults, let alone the toddlers. Extremely easy to implement. It takes few seconds to set a zip tie around the handles.
For zip ties, always go for drawers or cabinets that you do not need to open frequently. It gets irritating to cut the straps every time to open drawers. Thus less accessed drawers are perfect for zip ties.
Again, always get extra zip ties to still have another one ready in hand once you cut one.
10 Cheapest No-Drill Cabinet Locks Reviews
1. Safety 1ˢᵗ Adhesive Magnetic Lock System- Best for Easy Installation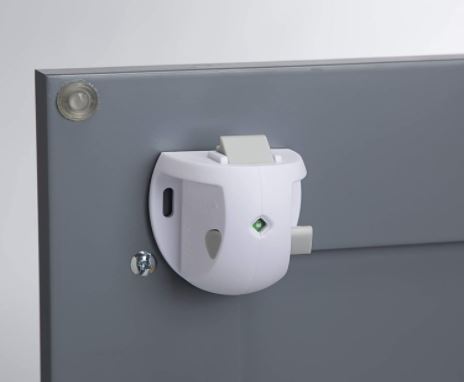 This award-winning adhesive magnetic lock comes with a pack of 8 high-quality, risk-free locks and two keys. These locks are installed discretely; this is not even visible from the outside.
Peel and stick installation technology keeps the installation process extraordinarily minimal and tool-less. You can disengage The Magnetic Lock System while not using it. It also comes with an indicator light, which lets the users know when it is activated.
The tested technology is sturdy and firm enough that your child would never be able to open it. But the unlock system with magnetic keys is way more convenient and time saving for parents.
2. Cabinet Locks Child Safety Latches- Best for Baby Shower Gift
The whole pack comes with ten pieces of high-quality spring locks, which turn out to be extremely easy to install (does not require drilling or any extra tools). These spring locks only use 3M adhesive, and the overall material is nontoxic. Thus safe to keep around your little one.
These spring locks are great when it comes to convenience; "peel off and attach" installation technology and invisible design (cannot be seen from outside) keep the usage process super easy for parents. It does not focus on any specific room or area; instead, it can cover the entire house's cabinets and drawers.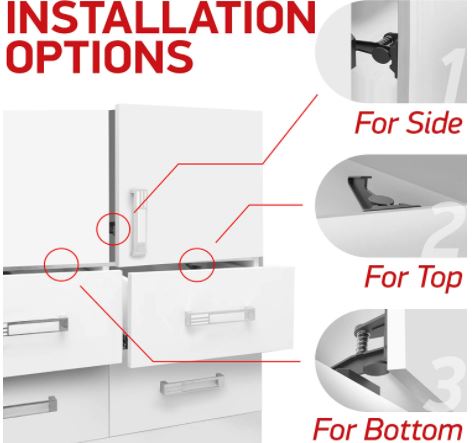 The package also includes four electric plug protectors, 4 4 corner guards, a fun giraffe themed door pinch guard, and an E-book story. A complete package to gift any of your dearest parents or even to keep for yourself.
Also read: Best ways to Baby Proof Entertainment Center
3. Invisible Magnetic Cabinet Locks Child Safety Kit- Best for Durability
Apart from all the necessary features, these invisible magnetic locks have some fantastic deals to offer. These are not just a set of locks; preferably the package includes a full kit of 8 locks, eight magnetic keys, eight latches, socket covers, two key bases, four outlets, and 4 table corner protectors.
A lifetime warranty also backs a complete package for your toddler protection. The easy installation process does not require any extra hassle or tools. 3M adhesive strap and high-quality material ensure an overall sturdy built.
Without drilling or damaging the furniture, it can be used on a wide variety of drawers and cabinets. The full package ensures added safety to the little ones.
4. Adoric Sliding Cabinet Locks- Best for Reusability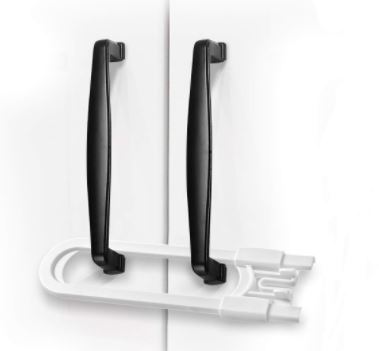 Unlike the adhesive based ones, these sliding locks are more convenient and do not leave any mark on the furniture. As these are not conventional locks, they can be reused repeatedly for a long time.
These "U" shaped locks are a maximum of 5 inches in length and suitable for annular/D shaped handles, mushroom-shaped knobs, side by side refrigerators, and different cabinet handles.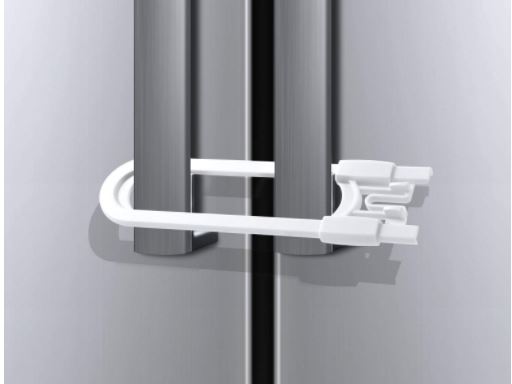 Installation is super easy; users have to squeeze the buttons to unlock and lock the latch. The whole process is more than impossible for the little troublers to crack. Thus extremely appropriate for your baby-proofing journey.
5. Jambini Magnetic Cabinet Locks- Best for Invisibility
Infused with all the necessary features, it sidelines any unnecessary extravagant aspect. These magnetic locks are the go-to product for baby proofing. It comes with microscopic suction holes and 3M adhesives; these are the epitome of strength.
The sturdy built and invisible installation prevents child tampering and provides extended protection to the cabinets. When I say invisible, these safety locks are not seen from the outside at all. Only the installer can locate them.
These can be installed on any cabinet or drawers. Hassles less installation, utmost efficiency and durable lifespan, Jambini Magnetic locks are the real deal for child safety.
6. QT BABY Baby Proofing Cabinet Locks-Best Double Safety Lock Button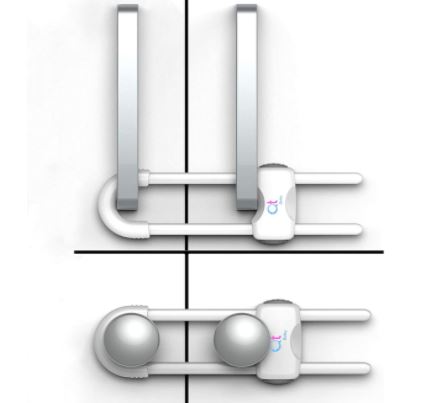 Though it may not look so appealing but will provide utmost safety to the drawers and cabinets, the locks can be adjusted within 1 to 6 inches to be appropriate for various handles, knobs, closets and even refrigerators.
The U-shaped latch comes with a dual safety lock button, which also eases the installation process and time. The sliding feature only requires any adjustments to squeeze the dual button simultaneously and is unlocked.
The lock buttons are strong enough to prevent any child from opening it. These locks are risk-free and promise the highest protection in a convenient design.
7. Munchkin Xtraguard Dual Action Multi Use Latches- Best for Versatility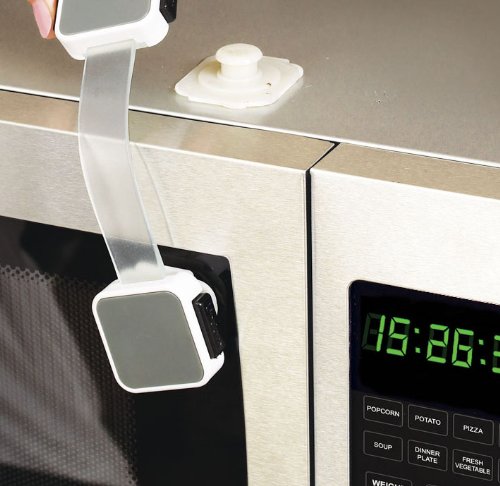 When it comes to drawer or cabinet locks and baby proofing, Munchkin manufactures the best quality products. This dual-action lock is efficient and versatile at the same time. The white color straps complement the furniture and overall ambiance of your house.
The mechanism requires dual buttons to unlock the latches as it is a strap, no need for any added effort for installation. This dual protection formula is impossible to open by even the cleverest or the strongest kids. You can also use this to baby proof your oven drawer.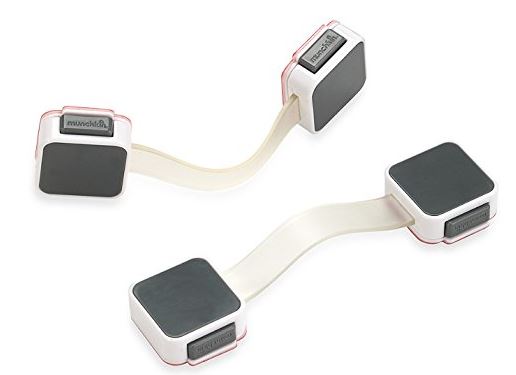 The fascinating part of the lock is its multipurpose usage facility. From drawers, kitchen cabinets, doors, fridge handles to even toilet seats; these cabinet locks are applicable for all.
8. Kiscords Baby Safety Cabinet Locks- Best for Side by Side (closed) Handles
Manufactured in the USA, this military-grade lock comes in handy for baby proofing any closed handled door, kitchen cabinets or drawers. The nylon-made structure ensures extreme strength to resist kids from opening any drawers and cabinets.
It can be adjusted from 1-5/8 to 7 inches, which covers any conventional sized handles. The straps can be opened by pressing the buckle, and both the straps are attached to the handles. Once the users feel to remove this lock, they have to cut it out.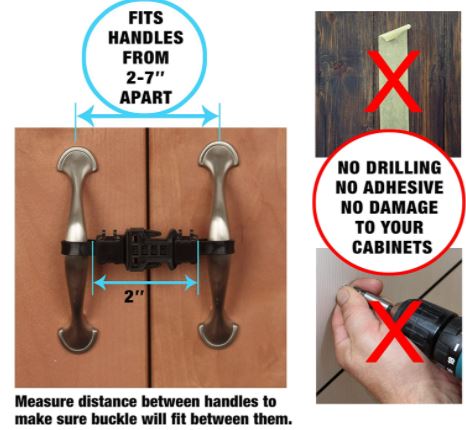 It can be placed within seconds, and parents do not need to put extra effort. It can tolerate up to 120 lbs., not possible for the little ones to unlock or break the lock.
9. Adoric Child Safety Locks 4 Pack- Best for High-Quality Material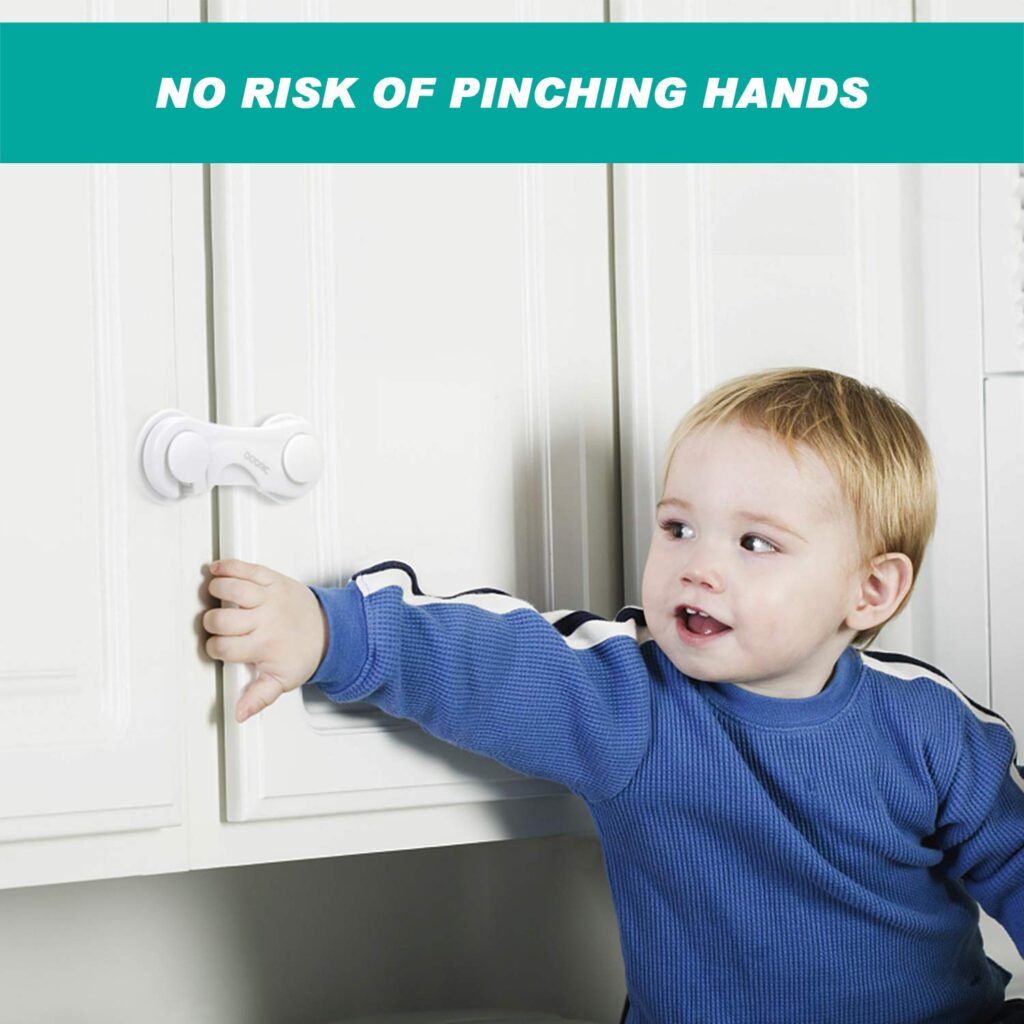 Adoric, as a brand, is working to provide the best-quality baby proofing products for a time now, and this set of locks is their most splendid addition.
It Guarantees child safety from cabinets and drawers with high quality four packs of locks. It comes with 3M adhesive tapes and can be attached effortlessly to any drawer, cupboard or kitchen cabinet. Considering the performance, this is one of the best locks in the business.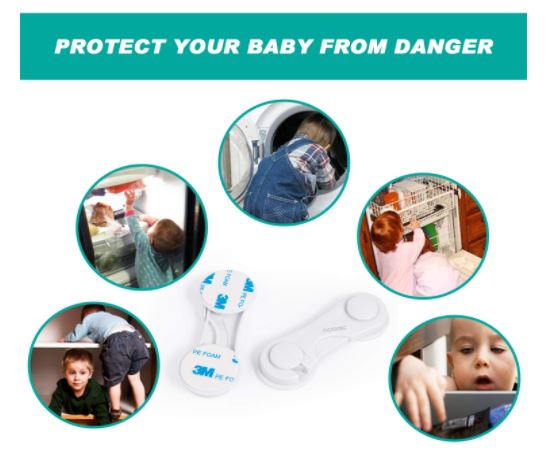 High-end material quality backs these locks; a grade ABS material ensures expanded durability, Nontoxic and odorless material is appropriate for homes with kids. The manufacturer claims one year of refund warranty for any dissatisfaction.
10. Safety 1st OutSmart Flex-Lock- Best for Strength
It is proven against toddlers' pull force from 36 to 47 months, and these locks are super strong for baby proofing. It can even fool your trickster toddler with the displayed decoy push button.
This tested technology can be installed on both knob and handle system cabinets. It is adjustable from 3″ up to 8″ knob/ handle distance. Once installed runs for a long time; thus no need to replace it any time soon.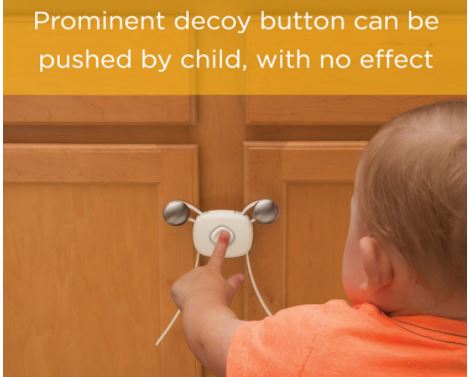 Though hard for the babies, the usage is comfortable for the parents. The installation process is so easy and time-saving. These locks can cover all the cabinets (kitchen, bedroom or dining or shoe cabinet) and drawers typically, from the toilet to office drawers.
The importance of No Drill Drawers & Cabinets Locks
Child Safety/Risk-Free Home
What matters most for any parent is child safety. Once the baby starts crawling, they often want to explore all the cabinets or drawers. These drawers or cabinets, especially kitchen cabinets, may store dangerous things such as knives, electric parts, scissors, stoves etc.
Toddlers can harm themselves badly if they come in contact with such dangerous things. Again the drawers can fall over them and lead to serious injury. These locks can protect babies from any hazardous damage.
Protection for Important Files or Fragile Items
Extra curious toddlers can damage essential office files or even fragile items that you may have stored in drawers. None of us would like to have our valuable gifts broken by our kid, would we?
Thus safety locks can also keep valuable household things, expensive crookeries, office files and documents out of reach from your naughty little angel.
Protects the Overall Decoration
As these locks support no drill technology and are mostly adhesive, sliding technology, or strap-based, these are not dangerous for the furniture.
You can go wild about locking all the cabinets, doorknobs, cupboards or cabinets without fearing destroying the beauty of the furniture. Moreover, the locks flaunt a great appearance and compliment the aesthetics of your house.
Related: What to Do When My Child Swallows a Marble?
Peace of Mind for Parents
Being a parent, you need to be sure that your child is safe back home to ensure a peaceful day, whether you are in the office or doing other household chores within the house. Child safety is everything you could ever ask.
You deep down know that your kids cannot reach these drawers or cannot get their hands stuck into the drawers with these locks. It appears to be a tension relief mostly for the working parents.
Super Easy to Use
These locks are convenient; they are easy to install and remove. No rocket science is needed to operate them. You mostly need a key to unlock these locks.
There are multiple designs available in the market, but all locks are relatively easy to use—no added pressure to the parents.
Low Cost
Though these locks play a huge role in child safety, surprisingly, these are quite budget-friendly. There are different price ranges present in the market considering the quality, but even the tightest budget can afford them.
Otherwise, you always have our DIY suggestions; opt for them.
Conclusion
All the methods and products I have mentioned are low cost but not low-key.
My years of experience and tested recommendations back these baby proof cabinet hacks so that your parenting journey becomes less hectic.
Never neglect the idea of a "baby proof home" because it is all about your child's security. Do DIYs or go for commercial locks, protect your baby and enjoy parenting.
Also read:
Childproof Floor Vents WITHOUT Damaging your Floors
Best Pressure Mounted Baby Gates to Baby Proof Home
7 Best Baby Gates With Cat Door
Tips to Child Proof Garbage Can
Baby gates for metal stairs (Top 3)