We have all been there. Your child is getting older and you are looking for a way to keep them safe in your home without having to worry about installing permanent gates that require drilling into the walls or fencing that can't be easily moved around
You want something simple, low-cost, and best of all – easy on your back!
Pressure mounted baby gate is the best solution. They are affordable, provide excellent security for your little one, and best of all – they don't make any holes in your walls or floors!
I will discuss the 10 best pressure mounted baby gates with pros and cons to help you find what works best for you.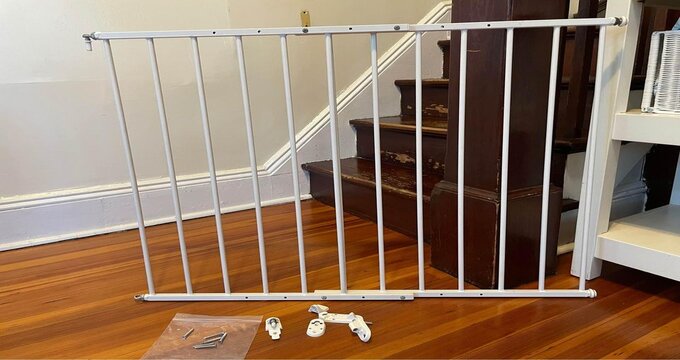 Types of baby gates
There are many kinds of baby gates available on the market – from simple pressure mounted options to more robust and convenient hardware-mounted models. Here is a quick overview:
1. Pressure Mounted Baby Gate
These are the most common type, especially if you have never used one before. They offer unbeatable convenience because they do not require any tools or drilling into your walls/floors – all you need to do is just place them in the doorway and that's it!
You can easily move them around as needed or take them with you when traveling without too much hassle.
2. Hardware Mounted Baby Gates
These are often considered the "next step" for parents who wish to keep their children safe in an open plan home or larger dwelling. They are usually sturdier, better looking and more durable than pressure mounted models. However, they require some tools (drill), which can be a con if you lack them! Also, the installation will take up to 20 minutes (depending on the design).
Most hardware-mounted baby gates come with extensions so that they can fit doors of any widths between 28 inches and 60+ inches wide – amazing versatility! The only downside is these tend to cost slightly more compared to other varieties.
3. Collapsible Baby Gates
This type of baby gate may seem like a great solution at first because of its portability and ease of use. You just expand the gate when needed, put it away during other times.
However, collapsible baby gates are not as safe or sturdy as others, so do not be fooled by their convenience!
4. Walk Thru Baby Gates
These are usually made out of metal which has a nice look to them, but they can also come in wood finishes for those who prefer more natural looking materials. They feature a door that opens up, allowing adults thoroughfare while keeping children securely locked inside.
There is no drop bar on these types – instead, there's an optional lock (usually used with hardware mounted models) included to make sure your child stays safely behind the gate at all times. Installation is easy and does require tools – just put them under the door and tighten.
Most models feature a pressure spring system that keeps it held open until you wish to close it – nice touch!
However, most children quickly learn how to push these down by themselves, which can be dangerous if they are not securely installed or have other extensions added to them for extra support.
Crib Baby Gates
These are designed specifically for baby cribs. So this should be your number one pick when looking at different varieties available on the market today!
Crib baby gates come with all kinds of features, but the main thing is to secure properly around your child's bed while allowing adults through without any trouble, thanks to their convenient walk-thru design.
They also have additional options like storage baskets, double doors and more! Some parents complain they are a little bit pricy compared to others but seeing as how you will only need one – it is worth the investment.
X-shaped Baby Gates
These offer even more convenience than pressure mounted models because their design makes them perfect for doorways that come in multiple shapes or angles (like at the top of stairs).
They usually feature two bars that can be extended from either side to fit any doorway width up to 54 inches wide with no problems whatsoever. There's also an option for extensions so if your staircase comes out wider than 96 inches – you should have no problem finding a model that fits perfectly without any hassle!
Installation takes just seconds thanks to its unique "click & go" technology and no screws, drills or tools are required.
Plus, the bars can be folded in when not needed, making it a perfect travel baby gate for those who wish to take their safety solutions with them while going on holiday, etc.
Best Pressure Mounted Baby Gates : Top 10 Picks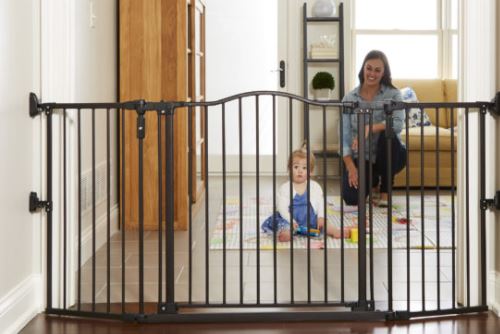 It is an excellent product for parents who are concerned about their child's well being. It is easy to use, the sturdy baby gate can be installed in any doorway or open up to 48″ wide It can easily fit doorways with trim or mouldings up to three inches thick.
Since the installation of this product does not require tools, it makes it very user friendly and convenient if you want to move your child's play area around. The Toddleroo by North States baby gate comes equipped with two extensions to accommodate gate opening between 38-48″.
It is also very easy to install, making it an excellent product for parents with small children.
The Toddleroo baby gate comes in either white or black finishes and can be purchased at toy stores, retail shops, and online retailers like Amazon.
There are more pros than cons of this child safety gate!
Pros
It is easy to set up and take down.
The gate can open both ways, inwards or outwards. This ensures no obstructions at the bottom of it when opening inward, which prevents a child from squeezing under it, for example.
The gate swings shut automatically, so it is easy to use.
It has a steel frame for added sturdiness and durability.
It is easy to clean.
Cons
No overhang on the doorways.
Lock is sturdy and durable.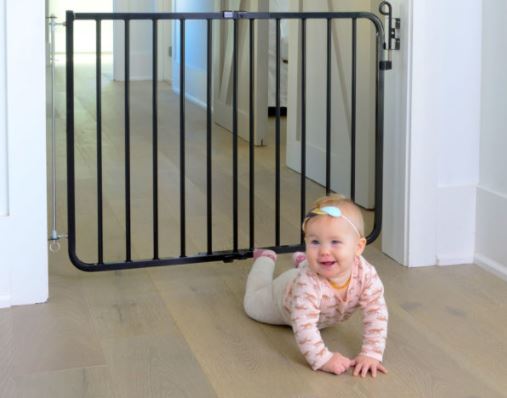 The Cardinal gates are designed to fit standard wooden gates. The gate frame fits across your opening, and the long arm goes on top of your door with an adjustable tread plate so you can lock it before shutting it.
There are rubber bumpers at either end that will keep the hinge side open if there is a problem.
The hinges are adjustable to fit the slope of your gate and you can get them with a tilt stop for more security, or without it, if your door is at an angle where there would be no way to enter from either side.
The arm has enough clearance on both sides so that children will not hit their heads when going through.
The arm is 74 inches long, and the lock end is adjustable to fit different widths. The gate weighs about 28 pounds with no tools necessary for assembly.
It will provide years of secure service in all climates except saltwater locations where it cannot be used outdoors because of corrosion.
Pros
The Cardinal Auto Locking Gate is a sturdy and durable option for cattle owners. It can be used on large and small farms and at two or one stall gate.
This gate is very easy to use
The Auto Locking Gate also offers two locking positions: low and high, so you can choose how tall of a design your cattle gate needs to be.
This is a great option for people who have no experience working with electric fence systems, as the installation process does not require any additional tools or welding equipment and can typically be completed in less than an hour.
Cons
Cannot typically be unlocked from outside the vehicle if locked inside.
Also read: Best Baby Gates for Entertainment Center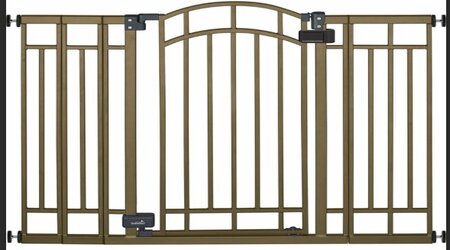 This awesome baby gate is perfect for larger openings, entryways, doorways, between rooms, homes with two levels. It comes in white only, but the colors are very neutral so they will work at just about any home.
This extra tall gate (Model: SUK615) is a great and safe solution to protect your little ones from falling down the stairs. It features an extra tall height of 42″ and dual hardware mounting options, making it suitable for bottom or top rail installation.
This product meets all ASTM standards as well as JPMA certification requirements, so you can have peace of mind knowing that this baby gate will keep your child secure in any situation!
Pros
-Unique design
-Easy to install and use
-Extra tall gate: 42″
Cons
There isn't much that can be said against this gate other than the fact that some children might try to climb it if you aren't watching them closely enough – which I don't think is unusual of most gates anyway!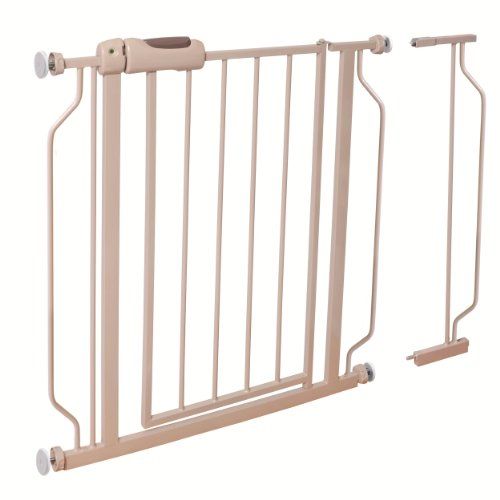 This stylish baby gate is crafted with a solid wood frame that matches the color of your home. It's simple to install, even without tools! The door swings open both ways for easy pass-through and close securely behind you to keep little ones safe at all times.
The Everflo Easy Passing Thru baby gate provides parents peace of mind by ensuring their children are protected from household hazards such as refrigerators, ovens, electrical cords or stairs. If you need to keep your little one safe and secure, the Everflo Easy Passing Thru baby gate is an excellent choice for you!
Key features:
Solid wood frame matches your home's decor
No need for tools to install the baby gate – simply twist and lock!
Door swings open both ways, making it easy pass through for adults or older children.
Pros
It can be used in the narrow or wide door opening, allowing you to customize how much space your child has access to.
Sturdy enough for pets up to 50lbs
The gate can be used as a room divider once your baby gets older and no longer needs the extra level of security from this barrier.
Cons
Cannot be used at the top of stairs
Does not cover a large area
Summary: This gate is an excellent option for those with limited space or who just want to increase their home safety.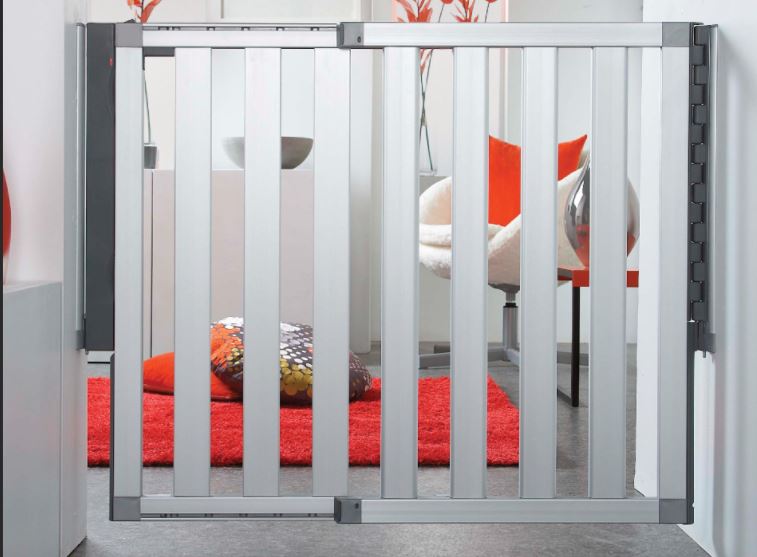 This gate is a great solution for people who live in urban areas and want to keep their children safe.
Architects design the Munchkin Loft aluminum baby door and it has an open, modern design that complements any home decor style.
The Munchkin Loft baby door is very easy to install and used in most standard doors.
It has a unique child safety latch that locks automatically when the door closes, providing maximum security for children of all ages.
This door is also tested to prevent children from escaping through the space between banisters of stairs.
Key features:
The Munchkin Loft aluminum baby door is the only one that uses a pressure fit design and has no screws.
The product dimensions of The Munchkin Loft are 25″ W x 38 H".
The Munchkin Loft aluminum baby door is available in both white and silver (silver being more popular).
This product has been around since 2012, so it's definitely worth the investment to purchase one for your home!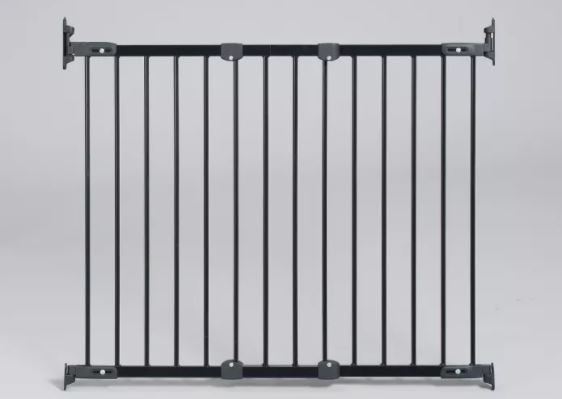 The ChildCo Safeway Baby gate is a great addition to your home for those with young children. It fits openings from 36″ – 42.25″ and provides plenty of room for larger breeds as well.
The double lock ensures ultimate safety; the four-point pressure mounting system means no hardware is required, so it can be moved anywhere you need it around your house. Whether traveling or just want extra protection at nighttime, this baby gate will keep everyone safe and sound!
There is no need to worry about your little one escaping or any other harm that could come their way with the ChildCo Safeway Baby gate in place.
It is the perfect addition to any home with small children and will allow you to rest easy at night, knowing your little ones are safe behind it!
Key features:
fits openings from 36″ – 42.25."
four point pressure mounting system for easy set up and takedown
double lock ensures ultimate safety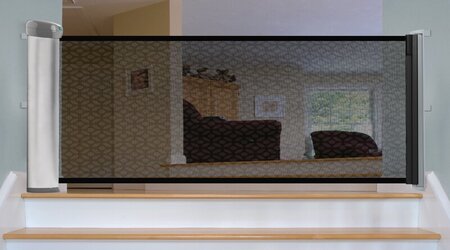 Summer Infant gate is a great solution for those that want to keep their little ones out of high traffic areas. For example, this gate would be ideal for people with pets, as it keeps larger animals from going into certain rooms.
The design allows the gate to retract when not in use and stretches across doorways up to 23 feet wide or against walls measuring 18 inches tall by 27-38inches wide.
This retractable gate includes an extra set of hardware, so you have options on where you can put it – depending on your needs! Suppose you are looking for something more permanent. In that case, this option may also work well because it installs without tools and comes with all necessary mounting hardware installation easy peasy lemon squeezy.
Key features:
Retractable, extends up to 23 feet
Easy on and easy off pressure mounts
Features dual locking system (one hand operation)
Installs no tools required in less than 30 minutes!
Pros
Keeps animals out of high traffic areas
Retractable, easy to store when not in use
Cons
Not suitable for children who can climb or very tall toddlers. Some parents have noted that it is difficult to open with one hand, especially if carrying something heavy!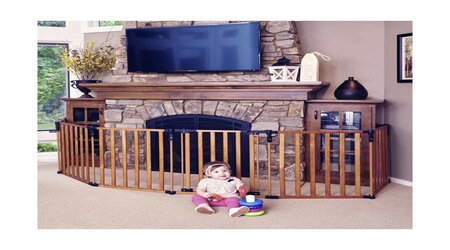 The North States Superyard Metal Baby Gate is great for keeping your child in a room. It can be expanded to fit openings up to 192″ wide, which makes it perfect for doorways, hallways and even rooms with weird angles or odd shapes.
The gate has an easy release handle that opens the gate in both directions, so you don't have to struggle when you're carrying laundry baskets or groceries through it. It's also a pet proof gate. If you're looking to keep your dog in one area, this gate is perfect because it easily locks with a simple slide of the handle at any height and has an optional walk-through door that can be installed on either side (right or left).
The Superyard easy close Metal Gate is extremely sturdy and durable with powder coated steel construction, making it strong enough to hold even larger dogs. It includes six panels that expand from 29″ – 42″ wide by 31½" high which means it will grow as your child does without buying additional pieces.
The North States Superyard Baby Gate is ideal for use indoors or out—and its fun colors make it easy to find when you need it! This three-in-one gate comes in various configurations to fit your child's needs. You can also babyproof fireplace hearths and stovetops with this gate.
Pros:
Easy release handle opens a gate in both directions
Easy to install and can be used indoors or outdoors
Fun colors make it easy to find when you need it.
Can hold larger dogs based on the weight of your pet (weighs 21 pounds)
Cons:
– The included hardware could improve, but this can easily be fixed with stronger screws/bolts.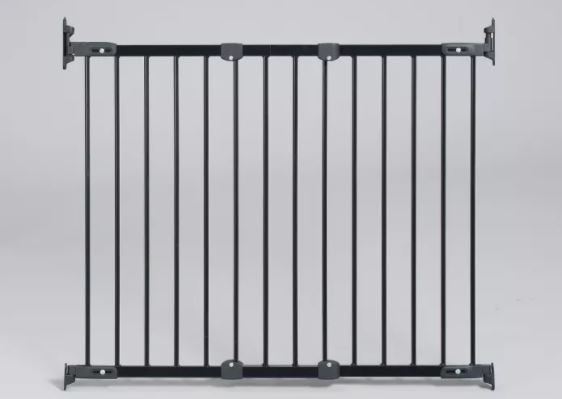 The Munchkin Easy Close Pressure Mounted Baby Gate is an inexpensive, convenient solution for parents who need to ensure their little one stays safe.
This baby gate fits doorways up to 47″ wide and stands 30 inches high with a pressure-mounted design that's easy to install without the use of tools or hardware. The stay open feature lets you keep it open while your hands are full, then easily closes when not in use.
The rubber bumpers on each side protect walls from damage and prevent swinging into them by accident. Two extensions are available to use this product at any size, opening between 29 "-47". It also comes with six safety clips which ensure there isn't a risk of the child climbing over the gate.
This baby gate is made of steel for durability and has a two-inch gap between the bars to make it difficult for young children to climb.
Key specifications:
Fits doorways up to 47″ wide
Pressure mounted design for easy installation without using tools or hardware.
Stay open feature lets you keep the gate open while your hands are full, then easily closes when not in use.
Rubber bumpers protect walls from damage and prevent swinging into them by accident.
There are two extensions available to use with any size opening between 29 "-47".
Comes with six safety clips
Made out of steel for durability and has a two-inch gap between the bars to make it difficult for young children.
Bars are one and three quarter inches apart.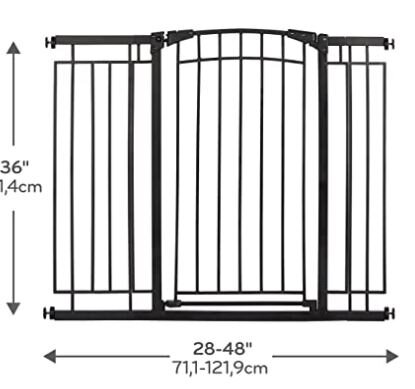 This gate has been designed with convenience in mind, allowing you the freedom to open and close it smoothly without having to step over or remove it entirely each time.
The expandable design means that this product can be applied at any point between its minimum width of 26″ up until its maximum width of 42″, giving you plenty of space whatever shape your room may take on for different stages from babyhood right through toddler years!
As well as being easy to install on walls or staircases, there are also two pressure mounted options included, which allow you to secure the gate on either hardwood flooring or carpeted areas.
Key features:
The gate can expand up to 42″
Pressure mounted for easy installation on hardwood floors or carpeted areas.
Pros:
– The pressure mounted options allow a secure installation on either hardwood floors or carpeted areas.
Cons:
– A bit expensive
Conclusion: Evenflo Barn Door Walk-Thru Gate is a good option for parents looking to install the gate on different types of surfaces.
Things to look for while buying Pressure Mounted Baby Gate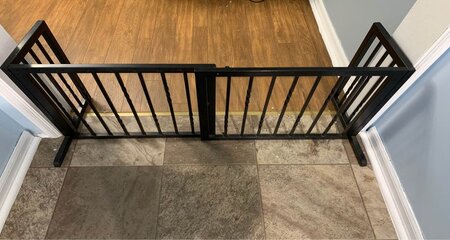 Height:
A good gate should be at least 57 inches tall. This is the average height of a six-month old baby and it allows you to keep an eye on your little one as well. Another important factor is that the child cannot climb over this height, which can present certain dangers if they succeed in doing so.
Sturdiness:
A pressure mounted gate needs to be sturdy enough for safety reasons and easy to install without worrying about leaving any marks behind. The best way to check this quality is by checking how many pounds per square inch are needed for the product not to have given under pressure – usually between 15 and 40 psi (pounds per square inch). For instance, this will allow you not only to protect your home from your curious baby but also to install it in your staircase or at the top of a stairway.
Comfort:
A good pressure mounted gate must be comfortable for you and your child when they cry because they cannot go downstairs to play with their friends. Also, consider that this product will be used every day, so it needs to look nice! You can find beautiful gates that are both safe and functional here.
Ease of Use:
The best pressure mount doesn't need tools for assembly – only one pair of hands is needed! This way, you won't have difficulties putting up the gate together even if you're doing it alone (with maybe some help from someone else). And remember that in case of any problems, you can always contact the manufacturer for advice.
Easy to open:
A good gate should have a handle that allows you to use it with only one hand – which is convenient when your child's hands are full or if they are fussy and needs some attention!
Quality Construction:
They need to work smoothly every time without jamming up on their own (this happens more often than I would like). If possible, try out the product at home by opening and closing them several times so that they won't give in when your baby is crying behind it. This way, you'll know exactly what kind of quality pressure mounted gates you're investing in before buying them.
Tips on how to install pressure-mounted baby gates properly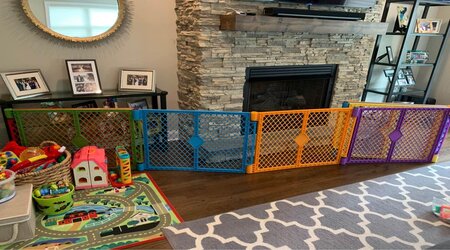 Make sure to measure the opening accurately before purchasing a baby gate. If you have an odd space, it might be difficult to find one that fits just right!
A good rule of thumb is for every inch of width the child will grow up to, buy another half inch in extra size. This way, your pressure-mounted baby gates are not too tight or loose on any given day!
If necessary, install two smaller sized safety gates side by side instead of buying outsize ones, which would cause them to lose their effectiveness as they stretch with time.
Ensure there are no more than four inches between where the wall meets the floor and where the hinge part starts so you won't need extensions. That being said, extensions are sometimes necessary if you have a low opening.
Make sure the gate swings closed on its own instead of having to slam it shut! There's nothing more dangerous than a swinging baby gate that could close onto a child's fingers or toes and cause injury.
measure your space accurately
use two smaller gates together rather than buying large ones which stretch over time
make sure to swing self closes! If not, then install something that can prevent kids from closing it on themselves!
Are pressure mounted baby gates safe for the top of stairs?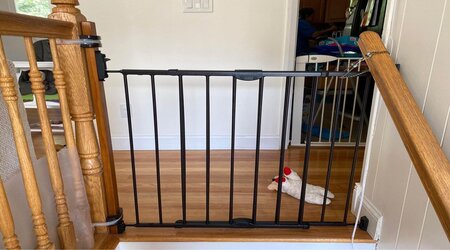 Yes, pressure mounted gates are safe to use for the top of stairs. These child safety gates typically have a leg at the bottom that is extended upwards on an angle towards the wall or railing, keeping it sturdy in place.
The pressure against this leg combined with your home's walls makes these gates more secure than hardware mounted ones because they don't rely on screws and holes drilled into your floorboards as other styles do.
This makes them safer too! When you're trying to keep children away from dangerous areas such as staircases (which can be incredibly frustrating when they get older), doorways, and cabinets, adding tension-mounted baby gates around these locations will help you calm down while maintaining security.
You should only purchase quality, reliable brands to ensure these products will be safe and strong enough for your needs.
Are pressure fit baby gates safe?
The short answer is yes; pressure fit baby gates are safe. However, there are some important safety considerations you should keep in mind when shopping for a pressure fitted gate. To avoid accidents with your new purchase of any type of child restraining device, it's best to check the product label and all instructions carefully before using them. It's also a good idea to have the gate professionally installed.
This will ensure it is properly fitted and secure, which can help prevent accidents from occurring in your home.
Do you need a baby gate at the top of the stairs?
If you have a hard time going up or downstairs, it might be best to use a baby gate at the top of the stairs. If your child is still crawling and getting around by pulling themselves upright, this could also work well for you. However, if your children are not mobile yet but likely will be soon, they may outgrow that gate quickly.
What can I use instead of a baby gate?
A broomstick or mop handle
Blocks of wood stacked in a doorframe, leaning on the wall at an angle. Be sure to put enough weight against it so that it won't tip over when your baby tries to push against it!
Make sure your child is not tall enough; pull them out and crawl behind! And be sure to check how much weight they hold so there isn't too much to fall on your baby!
A piece of furniture with drawers that you can close; put it next to the doorway and move the drawers when you want in/out.
Be sure that heavy objects don't topple over when your little one tries to climb up to get them!
A low and wide bookshelf: It might be a better choice if you have furniture with shelves than the drawer option since they can't pull out individual items from the shelf.
How can I make my baby gate more secure?
There are a few things that you can do to make your baby gate more secure. First, if the pressure on one side of the gate is greater than on the other, remove some screws from either end and re-insert them with their heads turned 90 degrees so they sit diagonally rather than flush against the frame. If this does not fix the problem, you need to replace your gate.
Finally, if it is a tension-mounted model and visible screws hold either side of the frame in place, tighten them so that they do not rock back and forth easily when pushed on from one direction.
At what age do you stop using baby gates?
There is no magic age that you should stop using baby gates. Use your best judgment and make sure to supervise any child under the age of two while they are around a gate, even if it is only open for short periods. Even though most children can climb over or crawl under a barrier by one-year-old, this doesn't mean they should be left unsupervised.
At what age can a child walk up and downstairs?
When a child is walking up and downstairs, they should be able to do so confidently.
If you wonder when your child can walk up and down the stairs unassisted or even if their coordination skills ever catch up with them, don't worry too much because there isn't one age where every child will be able to walk up and downstairs.
It's never too early or too late for a child to learn how to walk up and downstairs. Both kids are likely going to master this skill at different paces, which is normal! However, according to research, most kids learn to walk up and down at around 2 years old.
Conclusion
Pressure Mounted Baby Gates comes at an affordable price, but this doesn't mean they should be taken lightly! They offer great value for money yet do feature some limitations, such as being less sturdy than hardware mounted ones so you need to make sure installation is done properly; otherwise, your child may push against it until it comes down from its weight – dangerous!
Also, pressure mounts tend to have shorter extensions meaning if your door frame width exceeds 32 inches – you will also struggle to find a model that fits appropriately. However, they are very easy to install and do not require any tools like hardware mounted ones, so if you want something quick and convenient – this is the way to go!
Also read: