Every year nearly 1,00,000 children are taken to ER's for injuries on Stair.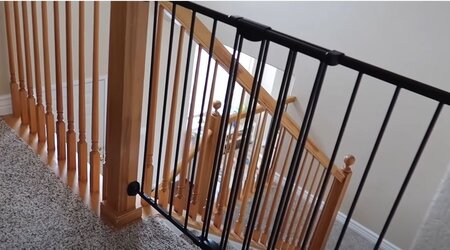 Do you ever think of keeping your tiny child safe when it starts crawling? We all have stairs at home, right? Do you think it is high time baby proofing stairs of your home? To ensure your infant's first steps are safe, you need to start babyproofing every piece of furniture along with the stairs too.
Just a bit of care and alertness can make your baby safe from any danger at home. In this article, I will be writing about the best ways of baby proofing stairs in your home or in a budget-friendly way. If you have not planned it yet, start thinking about babyproofing now.
When exactly you should start Babyproofing Stairs?
In my opinion, it's the best way to start planning about babyproofing your home when your baby is only six months old. Because, soon he will start crawling and when he will turn to 9 months, he will begin to stand up holding something firm. This timeline is not evident for all babies. Your baby may do so earlier or later.
How to Babyproof Stairs?
Actually, we should not judge or argue about which stairs will need to be baby proofed. All kinds of stairs, especially the steep ones, need to be baby proofed as soon as possible if you have a baby at home. No mother can satisfy her worries in these cases as there is no permanent solution to keeping your baby safe, aka, no baby gate. Using a baby gate is the best option. But why do we not try at least at our best, right?
Let me tell you how you can babyproof your stairs-
1. Installing stair gates:
I think it is one of the easiest ways to secure your baby from any related injuries to your stairs. You can use the Regalo Easy Step Baby gate. It is the comparatively best baby gate and easy to install. By the way, before buying it, make sure that you've checked the size of the baby gate and assure that it must cover the access areas of the upper and the bottom areas of your stairs.
Not sure which baby gate to choose? read my baby gate blog posts:
2. Use anchor:
You will get a manual description small book along with the babyproofing gate you have bought. I have seen people who could not find a way to keep the anchor wall, and that turned into accidents unwantedly. So, it is really important to anchor the baby gate. You will need to use a ring stand firmed with a wall that keeps the baby gate attached firmly so that it will not move if your baby comes nearby.
3. Restrict child's access to the staircase:
Well, this may sound like a norm to you. Just look after your stairs; they should not have any flaws in them. No marks will keep your baby away from danger. Keep some huge but easily portable stuff near your top of the stairs so your baby should not get attracted to go there for crawling.
Related:
How To Babyproof Stair Railings?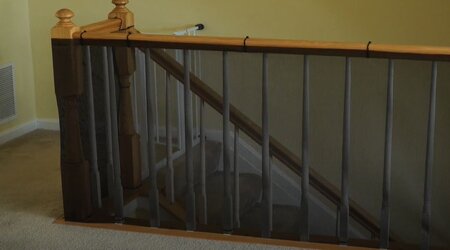 Railings are must needed item whether your baby is big or small. It is one of the safest ways of keeping your baby safe from stair related injuries. Sometimes, babies can get stuck in the middle portion of the stair railings. That is why baby proof your stairs as soon as possible.
Let me explain to you how you can do that-
1. Buy a Banister Guard:
You must safeguard your railing's banister. Stairway Net is a good banister that comes in rugged net fabric. You can measure the height of your staircase banister and order according to that size. Place it accurately, and then it will keep your baby safe from getting stuck among the railing's gap. This banister works on one side, and if you place it from both like from top to bottom, it will work on both sides.
2. Installing handrails:
Installing handrails is a very time-consuming task. You will need to measure the rails and place them with tools thoroughly. You may consider this step when you feel that the banister is not too trustworthy to you. Otherwise, it will be okay.
3. DIY solution:
If you have enough time to work on it, you can make your favorite style of babyproofing your stair railings. You will need zip lock stairs, a few rolls of pet resistant banisters, pairs of scissors, and it's done! But let me tell you, this will take a lot of time of you, but in the end, you will find the proper security you were asking for if these can be appropriately applied.
Also read:
How to babyproof stairs no wall?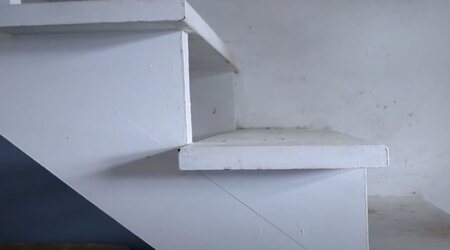 The stairs are essential to make baby proof before the baby starts crawling. When a baby starts crawling, stairs are not safe at the house, and stairs need a baby gate to keep the baby. Baby proof stairs with no wall make stairs more comfortable for the baby and safer.
That's why, below, there are some ways which will make stairs babyproof along with maintaining your comfort at home-
1. Keep the stairs clutter-free:
It is a good thing to keep your stairs clear, and all house members should practice this. Stair clutter means there will be lots of unwanted stuff on the floor. That's why the stairs must be kept clutter free for the baby so that he can't get hurt by those somehow. And putting the stairs or the nearby areas of the staircases uncleaned can bring unwanted danger for your baby. So, keep clean!
2. Put carpets on your stairs:
As we all know that all the stairs are made of finished wood, linoleum, etc., materials for the stairs which can create a reason for falling. Therefore, carpets provide some extra traction in walking and give some extra padding. As a result, if a child falls, it will not get badly injured for the thick and soft material.
3. Declutter your stairs:
Remove unnecessary things from the stairs which can harm the baby. So, a stair should be cleaned, and all should practice keeping the stairs clean. I will never be tired of suggesting this point to any mother. A toddler who has started to climb or walk can be injured or get slipped if these problems are not fixed timely. All you need is to stay alert.
Read my other baby proofing posts:
Things you must remember during baby proofing the stairs
I know, as a mother, you are concerned for your baby's safety. You need to keep in mind specific stuff while babyproofing the stairs or using the baby gate for stairs. These are-
How frequently the stair is used
This indicates how many times the stair is used. If the stair is used frequently, they need to set up like swing gate or something that will not make the barrier to their using stairs.
Space requirements for the gates
There are many gates for babyproofing. So, we need a gate according to our house measurements. You have to select the gate that will cover the entry space or your stair zone. Try to buy the larger versions of the gates for better safety for your baby.
Style and the design of the gates
You should select the gate design according to your house design. Therefore, your house's plan will be the same as you think. Styling is up to you as only you know better for your baby and your home.
These are the three basic things you need to consider while choosing the accurate baby gate and babyproofing the stairs. Steep stairs or frequently used stairs must be secured as soon as possible.
FAQs of Baby Proofing the Stairs
Do you put baby gates at the top and bottom of stairs?
Yes, a baby gate is needed at the top and the bottom of the stairs. We all know that the baby will start crawling one day, which can be dangerous because there will be a chance of falling from the stairs. Therefore, the gates are essential.
What can I use instead of a stair gate?
The stair barrier can be another solution instead of a stair gate. It is a practical and stylish thing which will protect children. Moreover, there are multiple options like Plexi glasses, functional barn door, etc. Hopefully, I will describe them to you in any other articles. But just be sure that there are options for sure.
How do I keep my baby from climbing stairs?
Parents can stop using the baby gates if they feel that they can navigate their baby. In toddler age, we can see these types of things which will keep your baby from climbing stairs. As I have said earlier, you can install an anchored baby gate and keep the areas clean. Do not go for the little one. Try to use tall gates as it is suitable for your child.
Is it possible to Babyproof Stairs Without Drilling?
Yes, it is possible to babyproof stairs without drilling because of the banister mounting system. In this system, the gates do not need to drill and are ideal for both top and the bottom stairs. But if you use the banister mount process, drilling will not be required probably.
Conclusion
I hope now you have gained some knowledge about babyproofing stairs. You must be thinking of applying them. Toddles find it amazing – climbing up the stairs, crawling over there. We, the parents, need to be careful about them. Try to use expandable baby gates. It will be easy for you then.
Moreover, do not put instability while anchoring the gate. Babies can fit any small item stuck under the gate zone. It is better to use expandable or movable firm gates than two gates together. If you have gone through this article now, you can easily choose the right baby gate to baby proof your stairs at home. Dear mothers, ensure your baby's safety through this. Good luck!
Also read: