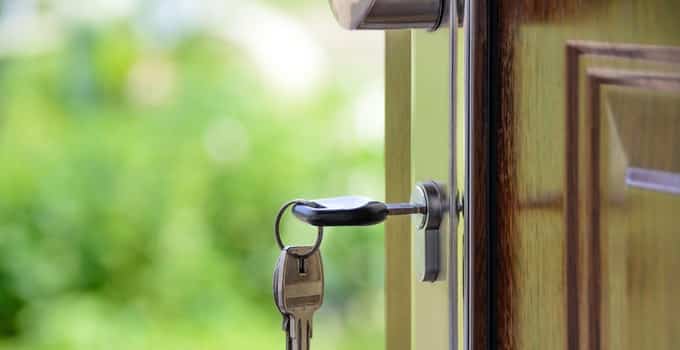 Whether you live on your own or live with your spouse and young children, the safety and security of your private home are naturally of the utmost priority and importance.
With this in mind, continue reading to learn ways to improve the security features of the windows and doors in and around the property and how to best prevent break-ins and deter burglars.
Upgrade The Locks
Although on the surface this may seem a bit of an obvious point, in actual fact you would be surprised to learn the number of people across the length and breadth of the country who are still using the standard lock and key fixtures that have been there since their property was built.
Upgrading your locks is one of the first defenses against unwanted intruders and can even deter burglars who are simply 'trying their luck' as they pass by the front of your house. It is particularly important if your house has been rented or there have been multiple owners in the past – you don't know how many people out there have a copy of your key.
Update The Window Frames & Panes
Another strongly advisable change to make to your property is to install timber windows sourced from reputable, respected and established window manufacturers which will not only increase the security level of your home but also provide a host of other advantages as well.
Timber windows and doors will ensure your home is substantially more energy efficient and therefore serve to reduce your energy bills, add stunning aesthetic detailing and also result in much less required maintenance in the future.
Increase Fence & Gate Security
One of the best ways to increase the overall security of your property is to improve the strength and security of your perimeter.
Ensure that every padlock and hinge are free from rust or, better still, automatically replace and upgrade each lock to a higher and newer standard after a set number of years, as well as making sure your back gate fits firmly and tightly into the space without too much room underneath or at the side.
Also read: Best 6 Baby Gates for Uneven Walls and Open Floor
Security Cameras
One of the most popular home additions to the exterior of properties to increase the level of security and subsequent protection of the occupants inside is to install a CCTV security camera system over both the front and back doors.
The high-street (as well as the online shopping world) is currently saturated with various models and makes of CCTV security systems and the world really is your proverbial oyster when it comes to choosing the right system that will suit both your property and your needs.
Vivint Security is one of the home security services to keep your home safe. Check Vivint price here.
Remove All Valuables From Sight
A shocking number of burglaries occur when the residents are sound asleep upstairs or in another room, and a large number of these break-ins are what are often referred to as opportunist break-ins.
Always ensure that laptops, phones and any other expensive pieces of technology or equipment, as well as jewelry, are hidden from view from the windows at all times, whether or not you are at home. Perhaps choose to work in a back room of your house on your laptop for instance, or pull down a blind if you need to work next to a busy street.
Motion Activated Lighting
Motion activated lighting, otherwise known as motion sensor lighting, is perfect for lighting those unoccupied spaces around the perimeter of your property, as well as over your front and back entry points.
Advantages of motion sensor lighting include an increased range of vision around your property and the chance to identify intruders via a linked-in camera system to your smartphone, tablet or computer. Such devices are available either powered by a battery or through the electrical mains.
Other Tips To Ensure Your Property Is As Secure As Possible
Aside from the aforementioned points regarding the windows and doors of your home, there are also many other ways to ensure your property is as secure as possible, including the following:
Never hide a spare key anywhere outside
Ensuring you have a working burglar alarm and smoke detector
Keeping your garage door and shed locked even if there are no valuables inside
Removing any ladders or tools from being on the show
Never leave the keys in the locks of your windows
Registering any bikes or other expensive outdoor equipment
Ensuring no gift boxes or packaging are protruding from the bins
Never leaving 'back in ten' messages on the door
Also read: