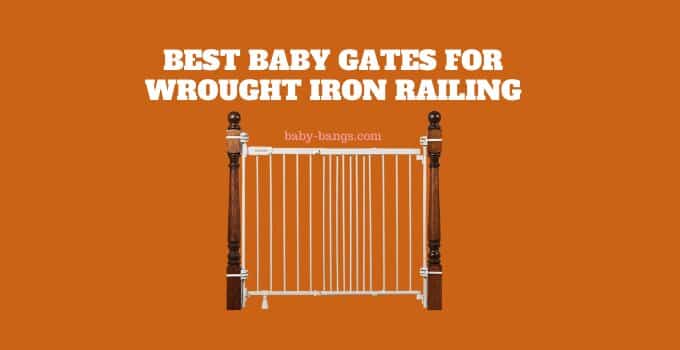 Before reading the article, you might be wondering how I came up with the best baby gates for stairs.
Well, we all know, when it refers to toddlers and baby gates, everybody's primary focus should always be safety. So firstly, I researched the reviews and evaluated the favorable and negative ones.
Second, I considered the available possibilities, such as width and height, as well as the materials used and how they're mounted. Finally, I inquired as to how those gates open and close. Is it practical for a parent who has their hands full when holding a baby? What kind of gate locking mechanism does it have?
After taking all these critical facts into account, I came up with this list of the best baby gates for wrought iron railing.
My Favorite 3 Baby Gates for Wrought Iron Railing
Below are my top 3 selections for the best baby gate for wrought iron banisters or railings.
1) Banister & Stair Safety Gate with Extra Wide Door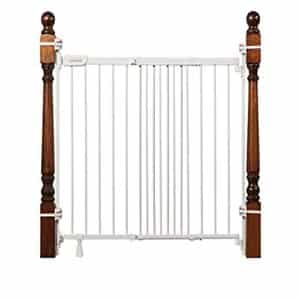 The Summer Main Street Stair Gates have a heritage with its basic yet elegant design, which includes a cool-toned gray finish, curved corners, and an arched doorway. It is 30″ tall and covers openings ranging from 29″ to 42″ wide, with three extension frames provided to fit wider doorways.
The 20″ entrance of the wrought iron/metal railings gate is wider than standard gate openings, making it simpler to walk through. The Main Street Gate has an auto-close function that allows it to smoothly close behind you and also a hold-open mode that keeps the gate door open as needed.
It also has a stopper to keep it from opening all the way to the top of the stairs. These gates can be used in stairs and doorways. A mounting hardware kit comes with the pack. The summer infant is simple to open or close, and it may even be done with just one hand. The product complies with CPSC, CPSIA, and ASTM standards.
Things I like
Ideal for extra-wide doorways, stairs, and open areas.
It will not swing open due to the built-in door blocker.
With the accompanying kit, you can easily mount this baby gate on staircases or use the no-drill doorway mount for in-between doorways.
Three expansion frames are included.
The door has an auto-close mechanism that gently closes it behind you.
For added convenience, there's a hold-open feature to keep the door open.
Limited warranty of 90 days.
Things could be better
The durability of the plastic wall anchors has been cited as the only drawback in certain evaluations. However, replacing them with a new wall anchor is simple.
Read: Best Baby Gate for Split Level Stairs
2) Regalo 2-in-1 Stairway and Hallway Baby Gate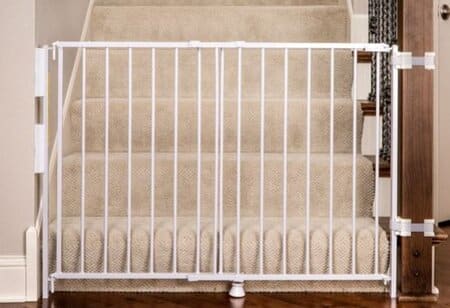 These wrought iron/metal railings baby gates for stairs are 30.5 inches tall and fits openings between 29 and 43 inches wide. They feature a walk-through door with no threshold to have to worry about.
You don't have to put holes in your banister or walls with this gate. It comes with banister adapters, including banister corner protectors, square banister adapters, round banister adapters, plastic wall spacers, and wall mounting hardware. The best thing? There's no drilling required!
This gate is an all-steel design, so it's durable, even for the most rambunctious little ones. The gate can also be easily removed for easy storage.
Parents love that they can use this wrought iron railing gate with a variety of banister configurations. It's durable, sturdy, and minimalistic, making a great selection for the top of stairs.
Moreover, it's certified by the JPMA (Juvenile Products Manufacturers Association) and the ASTM (American Society for Testing and Materials).
Read: How to Babyproof Stairs? (Complete guide)
Things I like
It includes banister adapters.
It's made out of steel and has withstood 18 months of use.
PDF user guide is provided.
No need for assembly.
Safety-lock design.
Limited warranty of 90 days.
Things could be better
Even my husband and I found it difficult to latch with one hand.
The foot would often come loose or break.
3) Regalo Extra Tall Metal Pet and Baby Gate with Banister Kit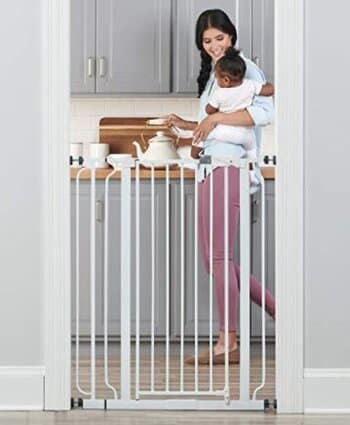 A crucial tool to baby proofing your wrought iron railing, the Extra Tall Regalo Top or bottom of Stairs Baby Gates are convenient and sturdy to perfectly protect your active child from the dangers of stairwells. The Regalo is all-steel construction and was built with durability and strength in mind.
This attractive gate is extra tall and stands 35 inches which provides further protection. Its adjustability is perfect to accommodate stair gates' openings between 34-55 inches wide. Its simple rotating latch allows the gate to swing open and makes it easy to pass us through.
The hardware mounting kits come with the pack. Specifically designed to be secure & sleek, the gate has hinges to create a tight fit and easy walk-through. It is a value bundle with Included gate, mounted level poles, banister corner protectors, square banister adapters (no need to put holes in your banister or walls), plastic wall spacers, round banister adapters, and wall mounting hardware.
This wrought iron railing gate is perfect for the doorway, hallway, and top or bottom of stair use. It can quickly be removed from the opening for easy storage. Includes safety-lock feature, which makes it perfect for children 6 to 36 months. Great if you have pets too!
Also read:
What are the best pet friendly baby gates with cat door
7 Ways to Baby Proof Dog Bowls (Simple Guide)
Things I like
Exceptionally tall and wide.
A safety-lock feature is included.
Installation and storage are both simple.
Opens in both directions.
Certified by the JPMA.
Limited warranty of 90 days.
A PDF user manual is included.
Things could be better
It can be challenging to open with one hand.
Here's a Regalo baby gate installation video:
4) Qdos Universal Stair Mounting Kit: Works with All Gates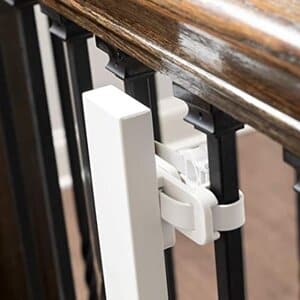 The Qdos Stair Mounting Kit is a versatile and universal method for installing baby gates on banisters & spindles. By avoiding any drills and screws into your banisters, it works great in terms of protecting your woodwork.
The Qdos Stair Mounting Kit is compatible with all types of hardware-mount & pressure-mount baby gates up to 34″ tall. It is available in Slate and White to match the most popular baby gates and fits square or circular banisters up to 4 "x4″ or 5" in diameter. The measurements of the product are 19 x 2.6 x 6.9 inches.
Wrought Iron Railing Baby gates Product comparison table
Here is a comparison table to make it quick and easier for you to choose between the best baby gates for wrought iron railings.
| | | | |
| --- | --- | --- | --- |
| Name | Install Method | Width | Height |
| Summer Infant | Hardware mounted gate | 31 to 46 inches extra wide | 32.5 inches extra tall |
| Regalo 2-in-1 | Hardware mounted | 29 to 43 inches wide | 30.5 inches tall |
| Regalo Extra Tall gate | Hardware mounted | 34 to 55 inches extra wide | 35 inches extra tall |
Things to remember before buying the iron railing baby gate
When it relates to baby gates for wrought iron railing, there're a lot of possibilities, whether you believe it or not. We didn't have all of these possibilities in the market when we needed a gate for our wrought iron railing.
In actuality, the one we had to use was a hardware-mounted gate with a wire mesh through. And guess what happened! My daughter used to stuff all of her toys. It was a nightmare.
Fortunately, that was around 20 years ago, since things have changed, and our choices have changed as well.
You'll notice that many of the baby gates have similar qualities. However, there are a few questions parents should ask themselves before making a purchase, whether from in-store or online sites.
Before you go out and buy a baby gate, consider these five points.
Fact #1: Types
Baby gates are divided into two categories.
Hardware mounted:
The most secure sort of gate in the world for wrought iron railing is permanent or hardware gates. Permanent gates are the only gate form that you want to use to divide rooms on various levels and at the top of the staircase. It's because they are mounted with screws directly into door frames or onto walls for sturdiness and to prevent fallings.
Install permanent gates that swing away from the staircase for further security.
Read: Best 5 Curved Baby Gates for Spiral Staircase
Pressure mounted:
Pressure mounted ones are installed by pressing against opposing walls and do not require any hardware. These gates expand to fit the right side of the opening you want to close. You should only use them to divide rooms like bathrooms and portions of the house that are on the same floor/ground. And, they should never be placed at the top of the stairs.
You may want to read: Ways to Child Proofing Toilet Paper Holder
Pressure mounted gates are convenient to move around the house and impossible to travel with because of their portability.
Fact #2: Dimensions
Wrought iron railing gates exist in a number of sizes, both in terms of width and height. The width and height of standard-sized gates range from 29-45 inches wide and 30 inches tall. Extra wide gates are also available and are suitable for regions of the house with a particularly large span. There are some that are 58 inches wide, with 4 to 12-inch extension kits available to safely block an even bigger entrance.
Some gates are very high. They're good for tall kids and those who can climb past regular-sized gates (and they'll all try!). The height of these gates ranges from 38 to 41 inches.
There are other barriers for places that are strangely shaped, like around fireplace hearths or walls that are angled or don't oppose evenly. So, don't just guess, measure the place and choose the right one.
Fact #3: Style
Since wrought iron railing gates will be a permanent feature of your interior designs for the next few years, it's nice to know there is a choice of types to pick from. You'll discover them all from white, beige, brown, and wood gates to black plastic gates, aluminum and steel gates, mesh versions, and metal gates with contemporary style.
Read: 5 Ways to Baby Proofing Wood Stove
Fact #4: Ease of Use
Consider a Hands Free or Auto Close gate if you're likely to have your hands full when passing through the safety gate. Gates that swing in and out are also a smart idea for the family who has many pets or high-density areas.
Fact #5: Extra Safety Precautions
Choose baby gates with slats that are no more than 2 inches apart to prevent your toddler's small hands and feet from being stuck. Avoid getting gates with horizontal parts in between top & bottom rails since this provides a ladder for the youngster to climb.
If you go with a mesh gate, be sure it is with fine screening.
How to attach a baby gate to metal banister?
Y-spindle rods are used to join baby gates to metal banisters by being fitted to the railing and attached to the wall studs.
For the installation of baby gates to metal railings, you'll need screws and a drilling machine to drill through the wall.
When installing baby gates to metal banisters, use Y-spindle rods.
Tighten them till the railing is pressed against them.
Ensure the baby gate is securely attached.
One Y-spindle rod will be used for the top of the gate and one for the bottom. Hardware-mounted gates are not appropriate with this procedure.
Related: Simplest ways to Baby Proofing Drawers & Cabinets without Drilling
Final Verdict
Wrought iron railing baby gates or in fact any kind of baby gates should only be used for increased security and not as a substitute for a caregiver or family member. Also, because all the baby gates on this list are hardware-mounted, be sure you have the right tools to complete the installation. Always remember to follow the manufacturer's instructions with pictures in them.
I know I've cited this many times earlier, but I can't stress how important it is. Because if you haste or overdo the assembly part or take shortcuts, even the best baby gates might fail. It has the potential to harm your child's life, which no one wants.
Also read: