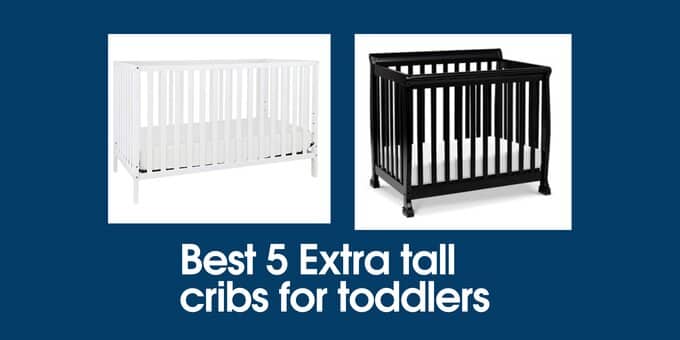 If you have a tall baby, you may be searching for the best cribs for tall babies that accommodate them longer. Even if your baby hasn't been born yet, with two tall parents, you might have a tall baby on the way, so it's worth considering the crib's height when selecting a safe sleep space for your little but not so little one.
While there are no baby cribs designed explicitly for tall babies, some of the cribs on the market are better suited to tall babies and fit them more comfortably.
As a twin mom, I researched all about the best convertible cribs for my tall babies, which can help you too! Below you can see my favorite, most comfy & extra tall cribs for tall babies.
Are There Different Crib Sizes?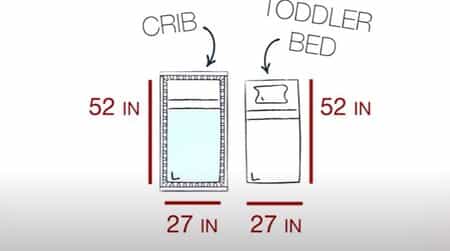 Luckily, yes!
There are typically three types of cribs available in the market: Mini cribs, Standard cribs, & Convertible cribs.
37 3/8″ – 38 5/8″ L x 23 3/8″ – 24 5/8″ W is a standard tiny crib size. Mini cribs, which are also known as portable cribs, are a good substitute for the larger regular cribs. They are ideal for tiny or limited room spaces due to their reduced size. They're small and light, and some can be folded, rolled into a corner, or stored away for travel or other long stays. Mini cribs are also less expensive.
Usually, a standard crib size is 51 3/8″ – 52 5/8″ L x 27 3/8″ – 28 5/8″ W. Standard sized cribs beat bedside sleeper bassinets in terms of long-term value, and they can be used until a child is 1.5 to 2 years old. The style and design of standard cribs are both conventional. Standard cribs are pricey, but they last a long time, making them a good investment.
Convertible cribs provide long-term convertibility choices and are similar in size to standard-sized cribs to accommodate your tall baby. But they do have the additional features of 3-in-1, 4-in-1, 5-in-1, and even 7-in-1 convertibility. You can convert them into day beds, toddler beds, and even full sized beds, depending on the options available. A 4-in-1 convertible cribs would be a perfect crib to invest in, and you'll be set until your baby crosses young adulthood.
Things You Should Avoid During Choosing a Tall Crib for a Toddler
When tall kids are in their cribs, they are frequently unsupervised. Therefore it should be a completely safe setting. Despite falls being the easiest to prevent, they are the most frequent harm related to cribs. When the crib mattress is placed too high for the tall kids's height or is not lowered properly as they develop, children are more prone to tumble out of the crib.
Use a baby crib that was marketed and sold after June 2011, when the current safety rules prohibiting the production or sale of drop-side rail cribs went into effect. An older crib, particularly one with a drop side, is likely to no longer fulfill all modern safety criteria.
There are no baby cribs explicitly designed for tall toddlers, but some cribs are just better suited to tall babies. For this reason, it's important to carefully check all features before choosing the best cribs for tall babies.
Avoid mini cribs and go for a standard or convertible design
For all the tall parents who are expecting tall babies, avoid mini cribs. While there is no specific solution or perfect crib for tall babies, there are items that parents should avoid. A mini crib is smaller than a standard-sized one and is designed to fit into smaller spaces. However, it would be no good for a tall baby because they would grow out of it even sooner.
With a tall baby, it is well worth investing in a convertible crib to make your baby sleep comfortably. Convertible cribs will buy you some extra time because you can simply switch them into a toddler bed once your child is taller than 35 inches.
Avoid cribs that have no taller back rail
If the baby crib has a taller back rail, you can turn it around so that the taller rail is at the front. This could give the cot a few extra inches of height will mean your baby can't climb over the side of the cot.
However, do pay attention to the smaller sides of the baby crib. If these are lower, your tall baby may be able to climb over them instead, so it is a great idea to move the lower side close to a wall.
Read: How to Choose the Safe Baby Cribs with Solid Sides?
Avoid cribs without adjustable mattress heights
Without adjustable mattress heights, the baby crib would be usable only for a short period. Check if your favorite crib has at least 3 (better 4) mattress positions for your fast-growing child. The lowest setting is suitable for a child who can stand up. If the mattress height settings are really low, together with tall rails, it should prevent children from climbing out for a long period.
Avoid Built-In Changer
If you have a tall baby, avoid cribs with built-in changing tables. The attached changer can make it easier as your tall toddler or baby climbs out of the crib.
Besides, the built-in changers are much smaller than regular stand-alone changing tables; therefore, they will quickly become useless as your tall child grows out of them.
5 Best Extra Tall Cribs for Toddlers to Stop Climbing Out of The Bed
As a mother myself, I know there is nothing more important than giving our baby a safe environment to grow. This is why all the best cribs for the tall baby I have listed down here are Greenguard Gold certified.
A Greenguard Gold certification verifies that an item has been examined for hundreds of toxins and VOCs, ensuring that as your baby grows, they remain safe and healthy.
1) Davinci Union 4-in-1 Convertible Crib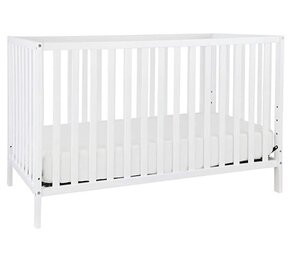 These baby cribs are the best cribs for tall babies. It is made of solid sustainable New Zealand pine wood, finished in a non-toxic multi-step painting process, and lead and phthalate safe. It has been tested for over 10,000 chemicals. It contributes to creating a healthier environment and cleaner indoor air for your baby to sleep, play and grow. JPMA certified for the utmost safety and meets ASTM international and US CPSC safety standards.
The Union convertible cribs are classified as 2-in-1, 3-in-1, or 4-in-1 convertible cribs, and there was a lot of confusion about the functionality. Actually, all three models of the baby bed were selling well. The last modification was added in 2021, making it a 4-in-1 baby crib.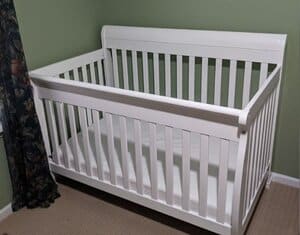 Thus, this convertible crib converts into a toddler bed, day bed, and full sized bed for your tall babies. Conversions are easy and shouldn't take you much time, but follow the provided instructions.
The baby crib mattress is supported by a metal spring structure, which allows for improved air circulation. The standard crib mattress height settings have four levels of support, so you may start with the highest level & work your way down for your taller babies. Union convertible crib is a simple but stylish baby crib. It has a simple design with rails all around the crib with no heavy construction.
The crib has clean, modern lines on all four sides, with no curves. It's the ideal baby crib for tall babies because of its structure. I know this from personal experience!
The Union convertible cribs come in a variety of colors to match your baby's nursery design. These convertible cribs are among the simplest to put together and shouldn't take more than an hour. You will receive a comprehensive instruction booklet that will guide you through the entire assembly procedure.
All the tools are included, though, toddler bed and full-size conversion sets are available for purchase separately.
Positives
GREENGUARD Gold certified and meets all required safety standards
Non-toxic, lead, and phthalate safe finish
4-in-1 design converts to a toddler bed, day bed, and full sized bed
4-level standard crib mattress support
Standard size crib mattress
Overally good value for the price
Best cribs for talll babies
Not so positives
It can scratch easily. Which I understand, given that the crib is painted with non-toxic paint. Such paint may flake more easily than traditional paint used in most cribs, which contains toxins.
Some visible screws and holes.
Why this is my top pick?
The Union convertible crib for tall kids is a DaVinci Baby product. It belongs to a well-known and respectable baby's nursery furniture company.
You are undoubtedly aware of the DaVinci baby cribs if you have done any crib research. After all, the DaVinci Kalani 4-in-1 convertible crib, as well as its vintage-inspired Jenny Lind crib are among the most popular baby cribs in recent years.
Tall parents with upcoming tall babies, listen up. I think the Union 4-in-1 convertible crib will be fantastic for your tall baby because you will be able to transform it into a toddler bed or a full sized bed adds to the crib's overall worth.
With a price of just over $139-$180 (depends on where you get it from), the Union baby crib stays one of the most affordable convertible cribs on the market.
I stopped using Union as a crib when my boy began to climb or reach 35 inches. Then I transformed the crib into a toddler bed and later into a day bed. Can you see now how convenient it was for us and why it is my top pick!
2) Delta Children Emery 4-in-1 Convertible Baby Crib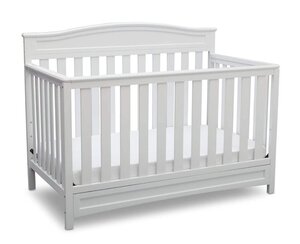 This award-winning crib for tall babies, which is robust, safe, solid, and attractive, is one of the best cribs out there. Delta Children's Emery 4-in-1 Convertible Crib will amaze you for years as your baby grows.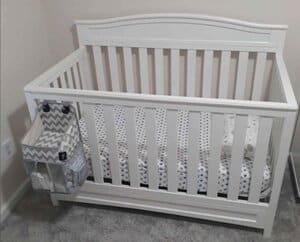 To provide a healthier environment for your tall baby, this baby crib meets or surpasses the most strict chemical emissions regulations. It has been tested for over 10,000 chemicals and volatile organic compounds (VOCs) that are known to harm indoor air, ensuring that it promotes cleaner indoor air.
Delta Children cribs for tall babies are built of high-quality, dense New Zealand Pinewood, which is both sustainable and long-lasting. Slatted sides & clean lines in a simple and subtle design mix perfectly with both classic and modern nurseries.
It has three-position adjustable mattress height settings, unlike the DaVinci Union 4-in-1, which has 4 adjustable mattress support positions that will accommodate your growing baby until their teenagehood. This crib fits a standard size crib mattress which is sold separately.
This crib for tall babies converts to a day bed, toddler bed, and a full sized bed easily (toddler guard rail & full sized bed frame sold separately). Delta Children is JPMA certified to meet or exceed all safety standards set by the CPSC & ASTM.
3) Babyletto Origami Portable Crib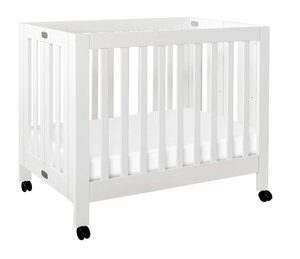 Babyletto Origami Mini Portable Crib is a perfect solution for families with limited space. This mini portable crib will not only save much-needed space, and you can easily move it around your home or fold it away when it's not in use.
The crib is the ideal, practical, and one of the best cribs for tall babies. It offers all of the necessary characteristics to provide a pleasant and secure resting environment while taking up little room space.
This one is great as a secondary crib for grandparents, daycare, or caregiver's home. Or even co-sleeping in the parent's bedroom instead of a baby bassinet while standing on smoothly rolling feet. They slide smoothly on the carpet, even when your baby sleeps on it.
The locking mechanism on the wheels holds the crib in place while your baby sleeps during nap time. Such a locking device is not required by safety requirements. As a result, it increases the worth of this miniature crib. Babyletto Origami is easy to move around the house on wheels, thanks to its basic construction with straight lines.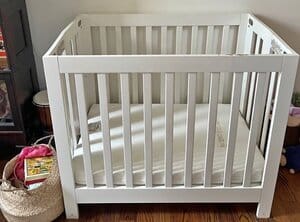 This baby bed is not like the Emery 4-in-1 Convertible Crib or the DaVinci Union 4-in-1, which has converting options of 4 and mattress level settings of 3 & 4 for your growing baby. So if you want a crib for a tall baby to use also as a crib, and later on as a day bed and an adult bed, this baby crib might not be the one for you to invest in.
Babyletto's collapsing mechanism is quality made that folds down for easy storage, and I didn't have problems with the crib's collapsing or setting it back up. The Babyletto Origami offers two-level adjustable mattress height settings. It is supported by a sturdy TSCA-compliant engineered sturdy wood construction.
Since it is a mini one, this crib fits a mini crib mattress. Look for a mini crib mattress measuring 37″ long & 23.875″ wide rather than a standard crib mattress. It also shouldn't be over 5 inches thick! The 1″ mattress pad folds into the crib, which is also quite convenient.
Babyletto Origami is normally suitable for tall babies from born to 18 months. However, this depends on the size of your child.
This tiny crib complies with all ASTM (American Society for Testing and Materials) and CPSC (Consumer Product Safety Commission) safety requirements. The crib is lead and phthalates-free, and it's painted in a non-toxic multi-step process.
4) Babyletto Gelato 4-in-1 Convertible Mini Crib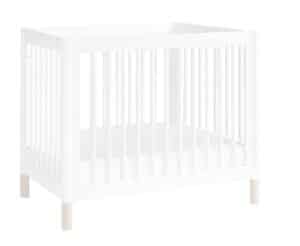 It's a mini design, but the Babyletto Gelato Mini is also an intelligent alternative to a bassinet with the added benefit of a 4-in-1 convertible design. It expands into a toddler bed, day bed, and then twin bed for all the tall babies (conversion kit-M5789 can be purchased separately)!
The Gelato Mini is, of course, the Greenguard Gold Certified as all the cribs I've mentioned here. And as one of the best cribs for tall babies, it contributes to clean indoor air and makes a healthier environment for your baby to sleep, play, and grow.
This one has all the features like 4-in-1 convertibility like the first two in the list and portability like the previous one I've mentioned earlier. But it has only two adjustable mattress positions, unlike the Emery 4-in-1 Convertible Crib with three and DaVinci Union 4-in-1 with four adjustable mattress positions.
It will come at a slightly expensive price, but it is fair enough for those who need versatility in a crib.
The Gelato Mini's rounded post design is highlighted with interchangeable and customizable feet. The crib will support your tall baby from newborn to beyond 18 months. Safe to use until 35″ tall or starting to climb.
They are made with sustainably sourced solid New Zealand pine wood, one of the most renewable woods available. The mattress support is TSCA Compliant engineered wood. Their construction smartly eliminates visible screws on the furniture exterior for a polished, clean look.
This easily assembled convertible crib is finished in a non-toxic multi-step painting. The staining process is such that it is lead and phthalate safe, exceeding ASTM International and U.S. CPSC baby safety standards.
5) DaVinci Kalani 4-in-1 Convertible Mini Crib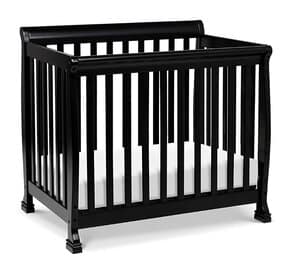 The Kalani Mini convertible crib for tall kids is elegant, durable, and reliable. Mirroring the Kalani 4-in-1 Crib's timeless design, the Kalani Mini convertible crib features soft, subtle curves and the same lifetime functionality. Beyond the baby's nursery years, the Kalani baby crib conveniently becomes a beautiful mini toddler bed, day bed, and twin-size bed (conversion kits can be purchased separately ).
Of course, this product is Greenguard Gold Certified which contributes to baby safety during your baby's childhood. They are made of sustainable and sturdy wood construction with New Zealand pinewood and TSCA compliant engineered wood. It is lead and phthalate-free, thanks to a non-toxic multi-step coating process. It meets and exceeds ASTM International & CPSC safety requirements in the United States.
You will be able to lower four adjustable mattress positions as your taller baby begins to sit and stand. In contrast, the Babyletto Gelato 4-in-1 Mini & Babyletto Origami Mini has 2 adjustable mattress positions.
Assembling is easy with great mattress compatibility. It comes with a 1″ waterproof mattress pad (24 "W x 38 "L). You don't have to do any compromise with this one, yet space-efficient and is a great choice to make traveling back and forth easy for the whole family.
Extra tall cribs Product Comparison Table
| | | | | | |
| --- | --- | --- | --- | --- | --- |
| Brand | DaVinci Union 4-in-1 | Delta Children Emery 4-in-1 | Babyletto Origami Mini Portable Crib | Babyletto Gelato 4-in-1 Mini Crib | DaVinci Kalani 4-in-1 |
| Number of conversions | 4 | 4 | 0 | 4 | 4 |
| Conversion types | Crib, toddler bed, day bed, full sized bed | Crib, toddler bed, day bed, full sized bed | Mini crib | Crib, toddler bed, day bed, full sized bed | Crib, toddler bed, day bed, full sized bed |
| Mattress height settings | 4 levels | 3 levels | 3 levels | 2 levels | 4 levels |
| Maximum weight recommendation | 50 pounds | 50 pounds | 25 pounds | 50 pounds | 50 pounds |
| Assembled dimensions | 53" L x 30" D x 33.5" H | 55.75″ (width) x 44.00″ (height) x 30.25″ (depth) | 38.62" L x 25.37" W x 36" H | 39.75″L x 26″W x 35″H | 40″L x 28.75″W x 38.25″H |
| Assembled weight | 36.9 pounds | 56 pounds | 49.6 pounds | 37 pounds | 37 pounds |
| Color | White | White | White | White | Black ebony |
How Can I Make My Crib Higher?? (DYI hacks)
Cribs and other baby products are made according to strict baby safety regulations, so they are safe to use. Remember, a brand new item meets safety regulations, but a customized one may not. Baby cribs are NOT supposed to be customized.
If you see your taller baby outgrows their crib, it is time to move him into a toddler bed. While this may not be something you're looking forward to, it may be something he is physically ready for.
But if you're in a pinch, extending the use of your existing crib can be your first option. You could need some time to look for a toddler bed, or you might have to wait until the weekend to change the crib with a new bed.
Utilizing the crib you have in creative ways might also help you get the most from it.
Let's look at a couple of options for working with your crib:
When my girl was 14 months old & started climbing out of his crib, I employed these ways. It earned us 6 months of safe crib use without him climbing out!!
Hack #1: Set your mattress height settings to the lowest point. If needed, remove your crib's mattress support completely, leaving the mattress directly on the floor.
Pro tip: This approach should not be used if the mattress is able to slip out from underneath the crib's bottom. You should keep everything hazardous away from the crib that you don't want your child to touch – especially outlets – because your child will be just a few inches off the floor.
Hack #2: If your crib has one side of the wall that is higher than the other, turn it completely around so that the higher wall is in front and the shorter side is against the wall.
It's not the prettiest display in the baby's room, but it's an easy solution that often works!
Hack #3: Use anti climbing pajamas. Anti climbing pajamas are a great way of keeping your toddler from climbing out of their crib.
Hack #4: Use a baby monitor so that you can monitor if your baby is climbing out or not.
Hack #5: You can use crib tents. But crib tents have been deemed unsafe to use. So I'll suggest you try to avoid crib tents as a way of keeping your toddler in the crib.
Baby Cribs FAQs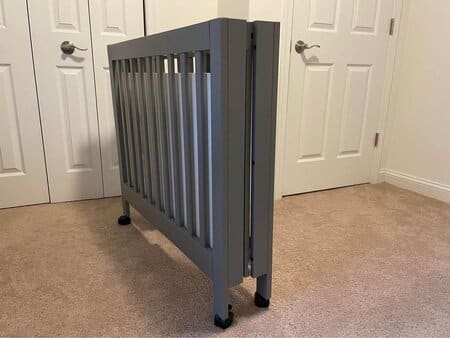 Is there a height limit for cribs?
In accordance with the baby's safety regulations, the height limit for a standard size crib is 35 inches. Once your tall child outgrows this height limit, you should move them into a toddler bed.
Tall babies will reach this milestone sooner, so you will need to think about toddler beds earlier with a tall baby.
How high should crib rails be for 6 month old?
The crib rails top should be at least 26 inches over the mattress at its lowest setting for 6 month old toddlers who can push up & stand.
If you have a drop-side crib, the crib rails top must be at most 9″ above the mattress support, according to KidsHealth.
How tall is too tall for a crib?
Once your baby has grown taller than 35 inches, they are too tall for a crib. Cribs are not designed for babies over 35 inches tall, so this environment will no longer be safe for your baby.
There is a risk that your tall baby could climb out and get hurt. Once your child grows over 35 inches, you should move them into a toddler bed or single big kid bed for safety.
What's the difference between a tall crib and a mini crib?
The variety of full-size or extra tall cribs is greater than mini cribs.
Your tall baby can use standard or tall cribs longer than a mini crib.
Full-size cribs are generally sturdier and more durable than mini cribs.
Standard or extra tall cribs have better value for the money. You get more for your money!
A tall, full-size crib can be the only bed for your child.
The dimensions of regular-sized and tallest cribs and their mattresses are standardized, so finding a proper crib mattress doesn't cause you problems.
Standard & tall size cribs weigh more and are usually more stable than mini cribs.
Final Recommendation
To make your decision making fairer and easier, I (in fact, many other moms) would say, if you are looking for a spacious convertible baby crib that you can use beyond your tall baby's infant time, then my top pick of the list- the DaVinci Union 4-in-1 Convertible Baby Crib will be more than perfect for you. It will give you durability & style in your home and safety & comfort for your tall baby without breaking your bank.
But are you one of those parents who needs to move frequently and want additional benefits like portability with all the following benefits? Then get ready to compromise some extra inches of bed for your tall baby and a few dollars from your pocket and buy the DaVinci Kalani 4-in-1 Convertible Mini Crib. It will be worth it!
Both of them will be great for your tall baby, especially as both of them offer 4 options of crib mattress leveling, which you can modify as your baby increases in height.
Except for this, all the cribs mentioned here are one of the best cribs on the market and will serve you as perfectly as they claim.
Other baby crip related topics: