If you are a new mom & shopping for your baby's crib, you probably are wondering and have lots of questions about it, as it is one of the baby essentials. Several years ago, I shopped for a crib for my daughter, so I know what it is like. Most parents appreciate having a safe area for their infant to sleep.
If you're looking for a crib and are feeling overwhelmed by the options available, remember, you're not alone. You will find a solid back crib, slats crib, upholstered, or crib that is super expensive vs. affordable. If you wish to have any safe cribs with solid sides but aren't sure if it's suitable for your baby, I've got you covered.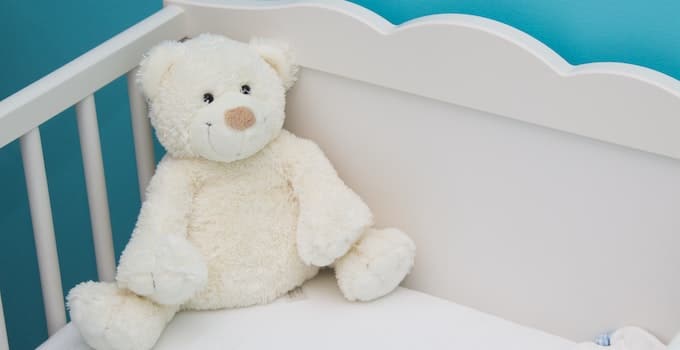 Are Solid Sides Cribs Safe?
Moms, If you want a quick answer, solid back cribs are safe for your infant as long as they fulfill the Consumer Product Safety Commission's (CPSC) standards and parents maintain sleep safety rules.
Because it cannot conform to the shape of the baby's body, cribs with solid surfaces are much safest for babies to sleep upon. As a result, even if a baby pushes against the solid headboards, she will be able to breathe because there will be space beneath her nose to breathe.
Additionally, if they are being sold, they are surely safe for babies to use because baby crib makers are obligated to adhere to ASTM F1169-19 full size crib safety requirements.
Don't worry; just continue reading to learn things to consider when choosing cribs with solid sides for your baby's safety.
Difference Between The Regular Cribs and Solid Sides Cribs
Cribs with solid sides or solid headboards are regarded as safer than cribs with slats or solid panels since they are more durable and less prone to come apart.
Another advantage of solid sided cribs is that your little one won't be able to put her or his legs through the crib slats.
Babies also enjoy throwing things out of their cribs. As a result, if parents use a crib with solid sides or solid headboards, their kids won't be throwing things out or even falling themselves. Because solid sides cribs tend to be higher.
When babies are old enough to stand on their legs in the crib, they enjoy biting on the crib rails. They won't be able to bite on a solid headboard, which is normally higher than the other cribs.
A solid back crib exposes the little one to more VOCs and hazardous chemicals than a crib with slats or solid panels since they have a bigger surface area.
As a result, parents should avoid babies' cribs made of MDF, composite wood, particleboard, or plywood.
My Favorite 3 Safest Solid Sides Cribs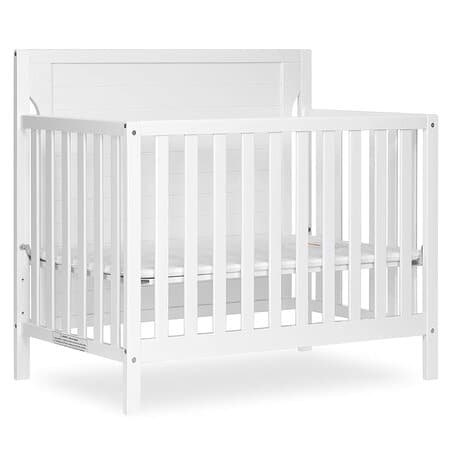 I originally wanted a bedside bassinet for my bedroom but went with this sturdy mini-crib with a solid headboard on one side instead, and I'm so happy I did. It's the perfect size for my bedroom (for the nursery too), sturdy, easy to put together, and stylish.
I converted this solid headboard crib into a mini daybed and a twin size bed later on as it has a convenient 3-position mattress support system. I had to buy the Twin Size Rail and Bed frame separately, though.
The Bellport 4-in-1 is JPMA Certified to meet or exceed current safety standards set by the CPSC and ASTM. Also great for moms who are in the post-labor period.
Good solid headboard crib for the price. Effortless setup. It came with a stripped bolt by mistake, and customer service was easy to get ahold of and quickly shipped out a replacement bolt in just a couple of days.
So far, my experience with this company and crib has been nothing short of wonderful!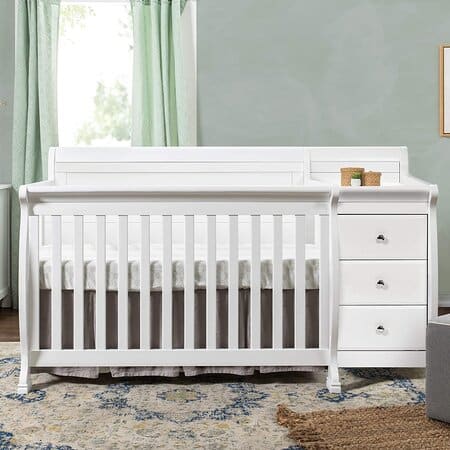 Made of TSCA-compliant engineered wood and New Zealand pinewood, which is solid and sustainable. Lead and phthalate-free, thanks to the non-toxic multi-step painting process. It exceeds all CPSC and ASTM safety standards.
I like that there is a solid headboard & a changing table along with drawers attached to the crib. This toddler bed will grow to match your baby's growth with its 4 position mattress support system.
It took me 1.5-2 hours to put it together by myself with all the hardware provided with the pack. It was quite durable, and I had no problems with it. I was afraid of moving it around the nursery because it's large and heavy, but it's solid. There was plenty of space, and other parents adored this solid headboard crib, too, according to my research of reviews.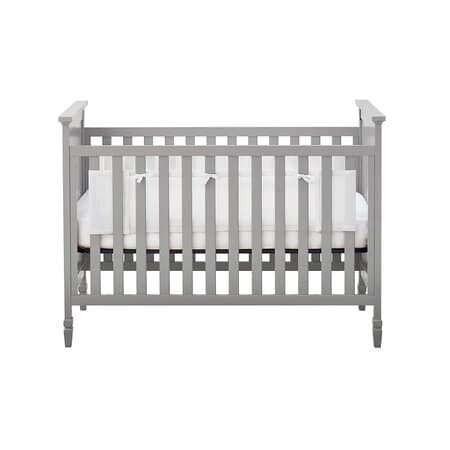 This solid headboard bumper is cute, neutral, and breathable mesh which is important. It works great for keeping little limbs out of crib bars. Most medical professionals would recommend this as this keeps the baby's limbs safely inside the crib (if that's an issue for you). This one is also good for the post-labor period.
This crib with a solid headboard will help your baby sleep longer since she's not waking herself up because she's caught.
This toddler bed is also one of the solid back panel cribs. Besides, it is constructed from a single-layer of Classic Mesh with A.C.T. Air Channel Technology. This means it is perfectly breathable and not risky. It maintains all the safety standards set by the CPSC and ASTM to keep your nursery free from toxicity.
BreathableBaby cribs with solid ends are super easy to install and smartly adjust to fit. Highly recommend this one because it's the best bang for your buck.
Safety Precautions to Follow Before Choosing The Cribs with Solid Sides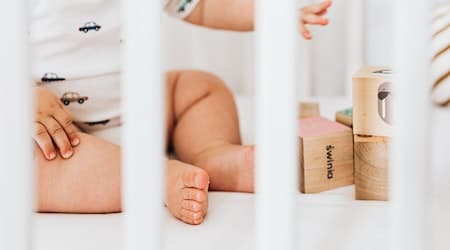 As previously stated, all baby cribs currently on the market (with solid sides, solid headboards, slats cribs, and upholstered cribs) are manufactured with safety regulations and are appropriate for a newborn.
Still, it is best to follow some precautionary matters before you spend in one.
Materials
The first and most important matter to be concerned about is materials. Parents should think about the type of material used on the solid back cribs.
VOCs or other harmful compounds, including formaldehyde, benzene, phenol, and toluene in cribs with solid sides may be released into the baby's sleeping environment depending on the type of fabric, batting, and glue used for upholstery. Chronic exposure to these hazardous substances has been related to the central nervous system, liver, & kidney damage in asthmatics.
Non-toxic organic or water-based pigments are safe to have on your baby's solid back crib. Solid headboard cribs that were painted before 1978 may contain traces of lead or arsenic, which was once a popular element in paint. Furthermore, if the paint on crib slats is damaged or cracked, your little one may ingest some particles of paint.
Check for Greenguard Gold certification on your solid back crib, in fact, any furniture that goes into your nursery. This seal of approval indicates which cribs with solid sides have been tested for over 10,000 substances & meet chemical emission standards. Therefore, maintains air quality.
Mattress fit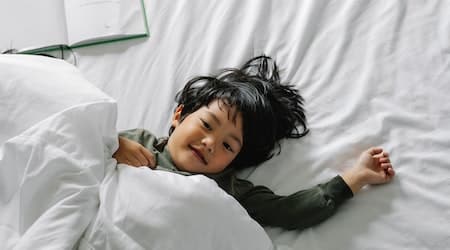 You should use a tight fitting mattress in your solid back crib. Between the sidewalls of the crib & the crib mattress, there should be no gaps larger than two fingers. The sheet that covers the mattress should be suited to the mattress and should not slip.
It's easy for a child to roll or slide between the crib side and the mattress and become jammed in the space if the crib mattress is too tiny for the crib.
Note that cribs with slats could be just as dangerous as solid back cribs in both of the above instances.
Loose items
It's crucial to keep any soft and squishy stuff like pillows out of your solid back crib. This precaution is important even for cribs with solid slatted sides. Stuff like blankets, pillows, plush animals, or crib bumpers all can increase the risk of suffocating.
Bumpers
The American Academy of Pediatrics (AAP) declared crib bumpers a suffocation hazard in 2007.
Crib bumpers were used by parents to keep their little ones from hitting the solid side of the crib, yet their softness is exactly what makes them so dangerous. The fluffy material functions like a pillow or blanket, trapping a newborn who is unable to turn its head against it and suffocating. Solid back cribs are risky to use with bumpers.
Design
Make sure the chosen solid back crib design has no cutout designs and gaps on the solid headboard/footboard. The cutaway crib designs put the baby's limbs and head at risk of becoming entangled.
Conclusion
As a mom, I would recommend going for a solid back crib model that is as recent as possible and meets the CPSC's latest and most stringent safety criteria.
Not only will following the most recent crib safety rules help your baby sleep safer in his/her nursery (which is out of your site), but it will also help parents sleep better.
Also read: