Pregnancy time can be full of stress for many women. Often, the only thing that they have to look forward to is their baby growing inside them and eventually being born. All the changes that happen to your body during this period can make it difficult to maintain a healthy diet.
This is where protein powders come in! Protein powders provide essential vitamins and are an excellent way for pregnant women to increase their protein intake. Hence, they don't have to worry about choking on food or forcing themselves into eating something they don't want.
There are so many protein powders available out there, but I am going to write about a list of the best 5 protein powders for pregnancy!
This article is only for informational purposes and I am just sharing my experiences with protain powder during my pregannacy.

I highly recommend asking a doctor or health professional before making a final choice.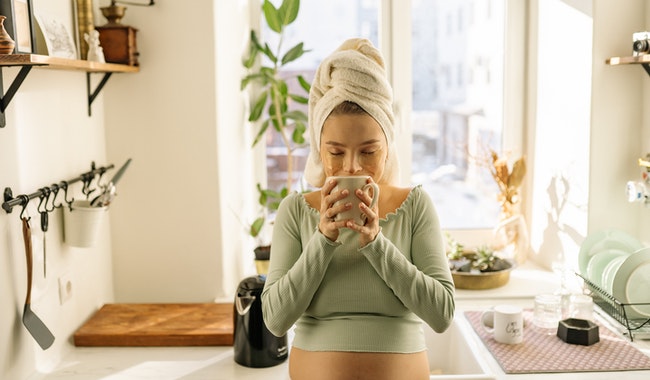 How Much Protein Do I Need During Pregnancy?
Protein intake is necessary as it is the main nutrient during pregnancy and can be found in plant and animal sources. It should make up around 25% of your daily calorie intake (around 80-100 g), as protein helps to build new tissues needed for the baby's body growth, such as muscles, bones, skin, and hair.
The amount you need depends on the trimester of your pregnancy and whether you are breastfeeding.
Is Protein Powder Safe During Pregnancy?
Protein powders come in many forms, including liquid, bars, or cookies. If you want to use it as a healthy snack throughout your pregnancy, then go ahead! It's vital to make sure you eat enough food. If using protein powder for pregnancy helps you reach this goal, then go for it!
However, make sure the ingredients are healthy and safe before adding them to your diet.
My Favourite 5 Best Protein Powders for Pregnancy
Olly 18g Plant Protein Powder for pregnancy: Gluten-free
Orgain Organic Plant Based Protein Powder for pregnancy: Healthy weight gain during pregnancy
KOS Organic Plant Based Protein Powder for pregnancy: Perfect for Vegan & Vegetarian
Garden of Life Raw Organic Protein & Greens: Boost energy
Vital Proteins Collagen Peptides Powder Supplement: boost your skin, hair, and nails
1. Olly 18g Plant Protein Powder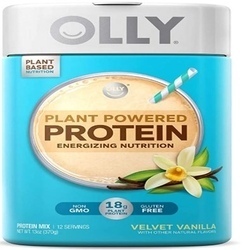 These plant-based protein powders for pregnancy are specifically formulated for pregnant women and are one of the best protein powders out there.
Olly 18g Plant Protein Powders contains 18 grams of protein of high quality. It will provide 18g vegan protein per serving to help meet your unique and complete proteins needs during pregnancy.
The Olly team knows how important it is to choose the right proteins throughout pregnancy and has made it easy with this simple product!
Olly 18g Plant Protein Powders are also gluten-free, Non GMO, and made with no artificial flavors or artificial sweeteners. It's great in protein smoothies, shakes, and even your favorite recipes!
Almost all of their products are formulated by a Registered Dietitian who understands the unique needs of a pregnant woman to ensure you have high-quality nutrition throughout your entire pregnancy.
Olly 18g Plant Protein Powder is also available in two delicious flavors: Vanilla & Chocolate! It's the perfect way to help meet your protein needs throughout all trimesters of pregnancy, postpartum, and beyond.
Health Benefits:
18g complete vegan protein per serving to help meet your complete protein requirements.
Gluten free & Non GMO for a clean, nutritionally sound product.
No artificial sweeteners or flavors, and made with natural ingredients.
Formulated by a registered dietitian who understands the unique needs of a pregnant woman throughout pregnancy, postpartum, and beyond.
2. Orgain Organic Plant Based Protein Powder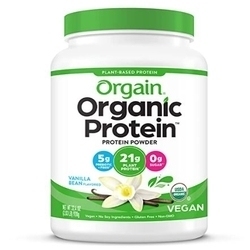 This plant based protein powder for pregnancy is the second-best protein powder in the market. It comes in pure chocolate, vanilla bean, and creamy peanut butter flavors.
The high protein content of the powder allows you to have enough energy throughout the day when you need it most – during your pregnancy.
In addition, Orgain Organic Plant Based Protein Powders has the perfect combination of nutrients and essential vitamins to prevent potential deficiencies because you need more protein than ever.
Their protein powders mix easily with water or other liquids, so it is easy to prepare a shake at any time during the day. You can also use Orgain protein powders in baking since it doesn't affect both the taste and texture of the final product!
Health Benefits:
Provides you with enough grams of protein per serving, as well as vitamins and minerals to make sure that the baby gets what it needs.
Ingredients: Organic Pea Protein, Organic Brown Rice Protein, Organic Chia Seeds Powder (Whole), Organic Hemp Protein or hemp Seed Powder (Whole), Acacia Gum (fiber), Organic Stevia Leaf Extract, Xanthan Gum (carbohydrate thickener), Natural Flavors.
Vegan & Vegetarian: Yes!
3. KOS Organic Plant Based Protein Powder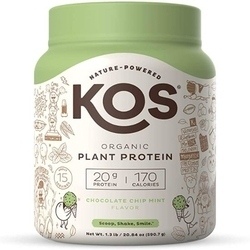 Their protein powders were explicitly designed for pregnant women to get the nutrients they need while avoiding potentially harmful additives or preservatives in traditional prenatal protein powders or vitamins.
This unique protein blend of ingredients like pea protein helps support healthy muscle growth during pregnancy through increased energy levels, improved mood, and increased focus.
The KOS Organic Plant Based Protein Powders can be also used by women who are not pregnant as well to help maintain health by taking certain grams of protein per day!
Health Benefits
Ingredients: Organic Protein Blend (Organic Pea Protein, Organic Flax Seed, Organic Quinoa, Organic Pumpkin Seed Protein, Organic Monk Fruit Extract
4. Garden of Life Raw Organic Protein & Greens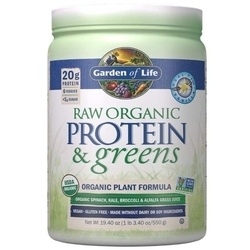 Garden Of Life Raw Organic Protein & Greens is also a great source of vitamins and minerals that help to keep you feeling energized throughout your pregnancy! It provides vitamin A, B-Complex Vitamins, C, D & E as well as Magnesium which helps provide health benefits like:
Their protein powders help to create new red blood cells that help carry oxygen throughout the body. This helps provide your baby with enough grams of protein per serving, as well as essential nutrients and energy!
Helpful in lowering inflammation while providing healthy digestive enzymes support for pregnant women who experience constipation, bloating, heartburn, etc. It's also gluten free and has pea protein, which is great if you're looking to avoid protein powders that have gluten.
Provides DHA and EPA Omega-Fatty Acids and other healthy fats that help improve infants' brain and eye health when consumed by pregnant women! It also contains vitamin A, which is essential for fetal growth and development during pregnancy
It helps increase iron absorption in their bodies. This makes it easier for pregnant women who are anemic or have a deficiency in iron to get the nutrients they need. This can help prevent fatigue and dizziness that pregnant women may feel during their pregnancy
Helps maintain a healthy pregnancy, healthy bones, teeth, and gums. It's also helpful for tissue growth, which is essential throughout your pregnancy! These benefits are significant if you plan on feeding your baby with your breast milk after they are born.
5. Vital Proteins Collagen Peptides Powder Supplement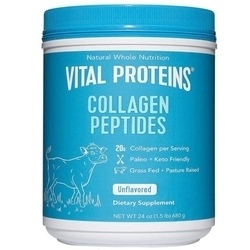 Vital Proteins protein powders brand is owned by a woman who was struggling with health problems. She turned to the benefits of collagen powder supplementation and quickly began feeling better, even before starting her own company!
Vital Protein's Collagen Peptides protein powders supplement is made from grass-fed, pasture-raised bovine hides in Brazil. The collagen is processed at low temperatures and dried with natural air, which preserves the amino acids.
This one comes in powder form and is easily mixed into smoothies or tea for easy daily use. Vital Proteins collagen peptides supplement contains 20 grams of protein per!
Health Benefits:
Gluten free
Vital Proteins protein powders will boost your skin, hair, and nails.
Promotes healthy bones, joints, cartilage & teeth.
Supports immune system health.
Keeps you full for longer time!
Things to Look for Before Taking Protein Powder During Pregnancy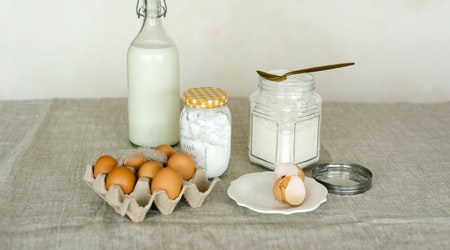 Brand: Not all protein powders are of good quality. Make sure that the brand is good and trustworthy. If you do not know about it, then go through its reviews to understand how safe/not-safe protein powders can be for your health.
Ingredients: It should contain a complete amino acid formula and no fillers or artificial ingredients. Moreover, it must be gluten free and processed soy free to be a safe protein powder for you.
Price: The price of protein powders during pregnancy has to be considered if you have budget constraints. Otherwise, go for the one that will satisfy your needs. Usually, high quality protein powders are a bit costlier than the normal ones. Other protein powders that are not plant based are less expensive.
Taste: It should have a pleasant taste so that you can enjoy it during pregnancy. You may choose from several flavors available if you tend to have sugar cravings. Or go for an unflavored one if its flavor is not acceptable to your palate. But choose one that contains no artificial sweeteners or flavors if you have blood sugar imbalances issues.
Calorie per serving: It should have around 120 calories per serving so that you can consume protein shakes without any extra addition to your daily calorie intake.
Protein per serving: It should have around 20-30 grams of enough protein per serving.
Calcium: It should contain a good amount of calcium so that the fetus can get enough calcium for its development. You will be safe from developing osteoporosis later in life.
Folic acid: The protein powder during pregnancy must not only contain folic acid but should also have folate.
Iron: It must contain a good amount of iron so that the developing fetus can get its share of iron from your diet, and you will be free from anemia during the pregnancy period.
Vitamin D: The protein powder consumption for pregnant women helps strengthen bones as it contains vitamin D. And vitamin D helps the body to ingest calcium.
Vitamin B12: It must have Vitamin B12 because it is helpful in fetal brain development, and deficiency can lead to developmental anomalies.
Iodine: The protein powder during pregnancy should contain a good amount of iodine so that the fetus can get enough iodine for healthy growth. You may also consult your doctor whether you need to take a multivitamin containing iodine or not.
Other nutrients: The protein powder during pregnancy should contain other minerals and vitamins as well such as zinc, copper, selenium, etc., which are helpful for fetal development. Moreover, it must have antioxidants to prevent free radicals from causing damage to your body cells.
Sensitivity: Prioritize on getting the safest protein powders while buying one during pregnancy. Ensure you aren't sensitive or allergic to any ingredients used in that protein formula, as they may not be suitable for pregnant women.
In addition, check whether there's any clinical research proving the protein powders safety and efficacy. Some protein supplements have been linked to miscarriages, so check and go for organic ingredients while purchasing!
Why is Protein Powder Important in Pregnancy?
Best protein powders can help pregnant women gain body weight.
Daily protein shake consumption is a convenient way to get the right nutrients for your baby and yourself.
Protein shakes mix easily with water or milk, making it an easy breakfast option.
Protein shakes can be used to replace a meal if you're not feeling well and need some nutrients.
It includes essential branched chain amino acids your body needs but cannot produce on its own.
Protein powder can help with morning sickness.
It's a great option for mothers who have trouble swallowing or digesting solid, healthy foods like lean meats.
How to make a Homemade Protein Shake for Pregnancy?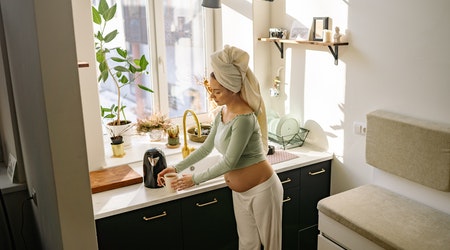 – First, you need to start with fresh ingredients. If possible, use organic and raw dairy products, as they are more nutritious than pasteurized ones. It's because, during processing, most of the beneficial microorganisms on them die.
So think about buying a separate protein blender for your protein shakes recipe, specifically if it is going to be made from raw milk or eggs.
– Second, to make protein shakes for pregnancy, you need to add at least one raw egg yolk or an organic pasteurized egg in the mixture. And mix it well with your ingredients before adding protein powder or any other ingredient.
Raw Egg Yolks contain high amounts of proteins and vitamin A and D, which are good for your hair, skin, and bones.
– Thirdly, to make protein shakes for pregnancy, you need to add some raw honey or organic maple syrup instead of any artificial sweeteners. Raw honey or organic maple syrup are some of the best natural sweeteners on earth due to their composition. Their composition contains high amounts of minerals like zinc, magnesium, and calcium.
A great combination with bee products is flaxseed meal, as it contains high amounts of Omega-Three fatty acids. Omega-Three fatty acids are great for your baby's nervous system development.
Whey Protein vs Plant Protein
Whey protein is made from cow's milk. It contains all the essential amino acid requirements needed for our body to build muscle tissue, recover after a workout, and so on.
Another benefit of grass fed whey protein is that it digests quickly due to its fast absorption rate than other protein sources like rice or pea. Grass fed whey protein has a high amount of leucine, which helps our body build muscle mass.
Source of whey protein
On the other hand, plant protein contains brown rice protein powder and is a good alternative to whey protein. Plant proteins are rich in fiber, iron, and B vitamins, but they lack essential amino acids like lysine or threonine. So you need to combine them with quinoa, for example.
Source of plant protein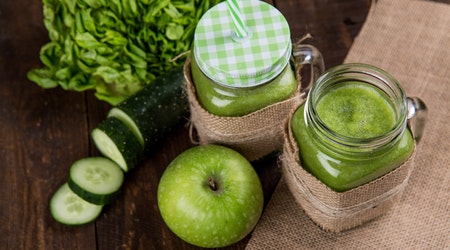 Soy
Pea
Brown rice
Lentil
Nuts
Oatmeal
Conclusion
You will need more protein during pregnancy than usual due to the baby growing and your body changing so much inside of you. This means that many mothers want a good source of this nutrient during their pregnancy. But some have trouble finding an easily digestible kind that you can take regularly throughout the day without worrying about stomach issues.
Hope you found this information useful and made the right decision when looking for the best protein powder during pregnancy!
Source:
Also read: