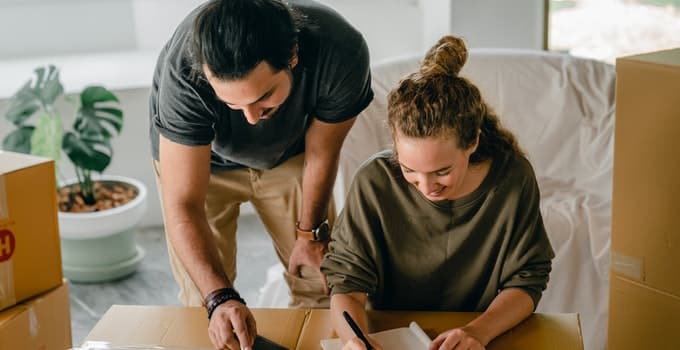 Congratulations – You've just moved into your brand new house. Now what? There are a lot of things to do now that you're finally in your new home. From changing your address to making sure your new home is protected, find out what you should do next with these 5 tips:
1. Change your address
If you haven't already, it's time to officially change your address. This may seem like a small detail, but it's actually quite important. By changing your address, you ensure that your mail will be delivered to your new home and that you'll be able to receive important documents like bills and tax returns.
The process is simple: just visit the post office or go online to the postal service website and fill out the necessary forms. Once you've changed your address, you can start enjoying your new home without worrying about lost mail or missed bills.
2. Get a home security system
Moving into a new house is the perfect time to take steps to ensure your safety in your new home. One of the best easy ways to do this is to install home security.
A security system can deter burglars and help to keep your family and new house safe. It will give you peace of mind when you're away from home.
There are a variety of security systems available, so it's important to choose one that meets your needs. Many home security systems also offer features such as motion sensors, 24/7 monitoring, and two-way communication.
A home security system is a necessity and a worthwhile investment that will help you to protect your family and your new property.
3. Unpack and organize your belongings
Moving into the new house is an exciting time. However, it can also be a bit overwhelming. To make the transition as smooth as possible, take some time to unpack and organize your belongings as soon as you arrive at your new home.
Start by unpacking the essentials, such as clothing and bedding. Then, begin to slowly tackle the rest of your belongings.
Make sure to label boxes so that you know where everything is going, and ask for help from family and friends. With a little bit of effort, you'll be settled into your new home in no time.
4. Clean up the new house
After you've moved all your furniture and boxes into your new home, it's time to start cleaning. This may seem like a difficult task, but with a little elbow grease and some helpful tips, you'll have your new home sparkling in no time.
First, start by decluttering each room. Get rid of the items that you don't need or that are damaged.
Next, do a deep clean of all the surfaces in your home, including the floors, walls, and windows. Pay special attention to the kitchen and bathroom, as these areas can collect dirt and grime more quickly.
Finally, make sure to vacuum and dust regularly to maintain a clean and healthy home. By taking care of the cleaning now, you'll be able to fully enjoy your new home even sooner.
5. Explore your new neighborhood
One of the best parts about moving is exploring the new neighborhood and all of the hidden gems it has to offer. Roam around and check out all the local businesses.
Maybe there's a new restaurant you've been wanting to try or a cute little coffee shop perfect for working on your latest project. Scope out the grocery store so you know where to go when you need to pick up items for dinner.
If you're feeling really adventurous, strike up a conversation with one of your new neighbors. They might have some great insights about the area that you would never have discovered on your own. Who knows, you might even make a new friend in the process.
Final Thoughts
The process of moving into a new house can be daunting, but with a little bit of planning and effort, it can be a smooth transition. Starting with taking care of some key tasks such as changing your address, getting a home security system to ensure your safety, unpacking and organizing your belongings, and cleaning up your new house will make a world of difference. After that, it's time to sit back, relax, and enjoy your new place. Welcome home!