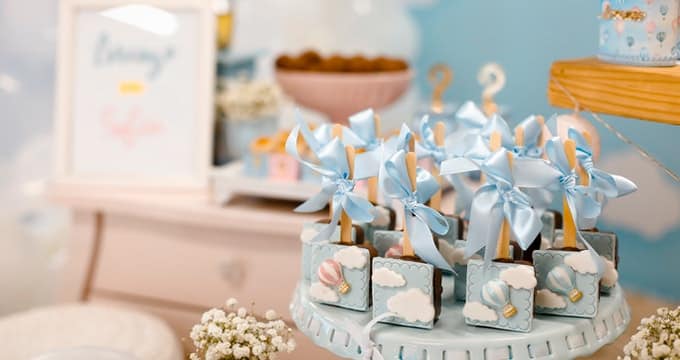 The internet is a wonderful place to make last-minute purchases, with next-day delivery frequently an option. This is no exception when it comes to shopping for a baby shower, as browsing online offers the chance to find special, one-of-a-kind gifts, deliverable to your doorstep. The only issue with shopping online is deciding on where to begin exploring; however, the following ideas are commonly gifted and well-received, so consider them a good starting point.
Gifts for Baby
Being invited to a baby shower is the perfect opportunity to spoil the new bundle of joy that will become part of your life, as well as show the family how much you care. This does not mean having to spend a lot of money, as it is mostly about the thought put into it.
Gift Hamper
Available for purchase in a range of budgets and possible to be put together at home, gift hampers are a thoughtful gift idea. Often presented in a basket, gift hampers will commonly feature a range of essentials like body creams and diapers, as well as cute additions like baby socks and teddies. 
Hampers are often finalized with transparent gift wrapping that creates the perfectly presented gift to bring to a baby shower. If time limitations are no issue, customizing the items for the baby can add a personalized touch.
Soft Toys
A popular choice that always goes down a treat is cuddly plush toys. These are made to imitate a variety of animals, but people usually go for teddy bears. Soft toys remain a classic gift idea for baby showers as they are adorable, snuggly, and safe for children of all ages. Providing a sense of comfort and helping to develop their social skills, babies and kids love soft toys, and they should not be overlooked when shopping for a gift.
Baby Clothing
It might sound typical to shop for baby clothing, but you can never have too many spares for when they make a mess. Although it can be practical, moms are usually fully stocked up on the basic sleepsuits and rompers.
Instead, it can be wise to consider buying for the season ahead to accommodate their rapid growth. For example, if the due date is leading up to months of warm weather, look for clothing like summer smocked dresses for girls or denim and cargo shorts for boys.
Baby Books
Books are a valuable gift that contributes to a baby's development. Having books to read to a baby has many benefits, such as encouraging them to listen, look, point, touch, and think while stimulating language skills, cognitive thinking, and memory.
Gifting baby books can also help a parent get into a routine of reading to their baby as soon as possible. Another excellent factor about books is they can be passed on and well-loved once they are no longer used, rather than going to waste.
Gifts for Mom
Although a baby shower focuses on celebrating a new baby entering the world, it is also to show appreciation for motherhood – and that's where presents for mom come in. In the midst of all the excitement of a new baby, it can be all too easy to forget about the person who actually brought the baby into the world.
Alas, please don't forget about mom – you can show her you care by buying her a thoughtful gift, which is the perfect act of love, admiration, and appreciation. And it doesn't even have to be anything expensive; even something as simple as her favorite snacks will be appreciated.
Pamper Set
Pregnant and post-partum life can be busy and tiring, so pamper gifts can help the soon-to-be mom unwind. Bath soaks and salts, body lotions, makeup, and perfume are just a few options available when shopping for momma. This can make a significant difference by encouraging self-care and some much-needed relaxation. Plus, new moms are likely to want to only spend money on the baby, so gifting her some luxuries for herself can be a wonderful treat.
Loungewear
As a lot of time will be spent lounging towards the end of the pregnancy and when settling in a newborn, so cozy pajamas will be appreciated. Loungewear is a thoughtful gift as it allows new moms to be comfortable when exhausted and experiencing the side effects of hormonal changes. What's more, maternity loungewear is ideal because it's soft and stretchy to accommodate physical changes whilst offering the same relaxing benefits.
Keepsakes
Pregnancy and the early years of motherhood seem to fly by, making it important to create and keep reminders of memories. Sentimental gifts with personalized boxes for storing small keepsakes and customized photo albums for holding special memories are excellent gift ideas that commemorate this incredible time in mom and baby's life. 
Plus, unique keepsake gifts can also include family casting kits and hand or footprint kits, which are easy to find online and make for an exceptional gift.
Attending a baby shower is an exciting time to celebrate the soon-to-be mom in your life and the baby soon to make an appearance. However, it can feel like there's an added pressure to choose the perfect gift. Buying a present for a baby shower is simple, and with the help of online shopping, there are endless options for a special gift.
Gift hampers, soft toys, baby clothing, and books will be well-loved by the baby and mom alike, and include a number of options to suit various budgets. And remember mom, too – it's worth considering a special gift for her as well, such as snacks, hamper sets, loungewear for comfort, and keepsakes for cherishing the memories that will be made.
Also read: